19 December 2019
New partner Helium 10: Powerful software tools for Amazon sellers
It took them only three years to grow from the listing optimization tool into the leading all-in-one software suite for Amazon sellers. ChannelEngine.com is proud to be a partner with Helium 10 and offers its users powerful software boasts to bring their sales to the new level in 2020.
Helium 10 delivers a high-level, data-driven software to Amazon sellers around the world. You can use highly integrated tools to improve your listings methodically. It is a comprehensive arsenal to conduct effective Amazon product research, keyword research, competitor intel, index checking, listing optimization, product launches, keyword tracking, refund management, "hijacker" and listing monitoring, email follow-up, inventory protection, financial analytics, and much more. The suite is comprehensive, easy-to-use, and highly integrated to save your time and budget.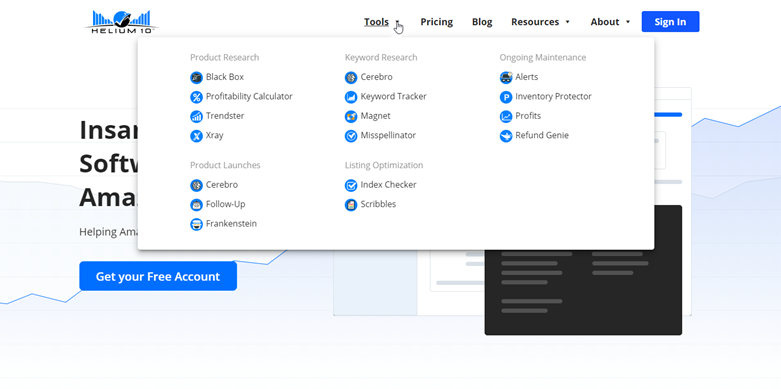 Among the most popular and useful features are Black Box, Xray, review downloader, magnet, Cerebro, Scribbles, Refund Genie, and others.
Also, one of the latest suite editions is Freedom Ticket Training. It is led by Amazon expert and thought leader Kevin King. It is one of the biggest promotions Helium 10 has ever launched. To have access to these training, you have to be a holder of Platinum, Diamond, or Elite account. Freedom Ticket is regularly updated to keep up with Amazon's constant changes.
While you are providing cutting-edge strategies for free, you'll be able to cookie your mail list. Join value-driven webinars by Helium 10: keyword research webinar, product research webinar, and listing optimization webinar.
Finally, use this link to get up to 50% off your first month of Helium 10.
It is crucial for ChannelEngine to make sure its customers get the most of the Amazon sales. Are you already selling on this marketplace? Do not hesitate to contact Helium 10 for further assistance. Considering to integrate with marketplaces? Watch this short video to get familiar with ChannelEngine.com and book a demo to learn about the best features of the platform.
Start the new year with the best choices and let your business flourish in 2020.