20 December 2019
Odoo connect 2019: follow-up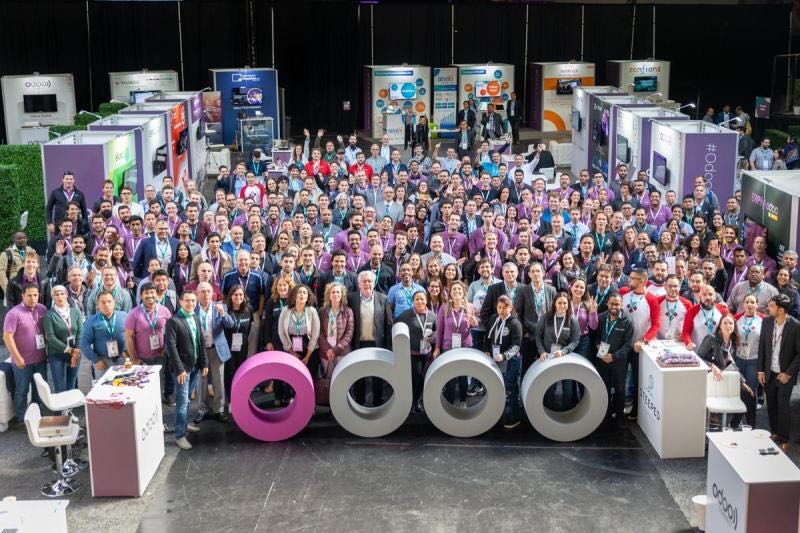 In November, ChannelEngine participated in the #1 open source ERP conference in San-Francisco, USA. Odoo Connect 2019 was a three -day event (the 5th -7th of November, 2019) that hosted speakers from all over the world and addressed a range of topics including development, functional capabilities, business development, partnership benefits, and onboarding. For Odoo itself, it was an excellent opportunity to introduce the launch of Odoo 13 version, which is up a running.
The conference featured inspiring talks and presentations from the field experts. Also, business owners, executives, and entrepreneurs shared a platform for live demos, intensive discussions, lightning sessions, concerts, and more! The demo booths played a key role during Odoo Connect 2019, increasing brand awareness and business expertise. In total, the conference included more than 30 exhibitors from around the world to develop professional connections.

What is Odoo?
Odoo is a Belgium-based company founded in 2005 as an OpenERP. It is going beyond traditional ERP-systems by offering an all-in-one business software, including CRM, inventory management, accounting, stock, manufacturing, website/e-commerce, billing, marketing, human resources, manufacturing, warehouse, and project management. The tool is customer-friendly, and consumers can benefit from simple instructions guiding them through the system.
Odoo offers both an open-source version as well as subscription-based enterprise software and SaaS. The company is growing at 60% per year, with an 83% gross margin product. As of 2019, it has about 20,000 active members that contributed more than 15 000 applications to the open-source version of its software. It has over four million users worldwide and provides companies with easy access to the software they need to run their business successfully.
ChannelEngine participation
Niels Floors, sales executive/partner manager at ChannelEngine, was one of the speakers at Odoo Connect 2019. He shared the main stage with Odoo gold partner ERPify on the last day of the event. Niels Floors gave a presentation followed by questions regarding the critical functionalities of ChannelEngine to fully automate marketplace sales with Odoo and Channelengine.com.
In his interview, Niels Floors mentioned that Odoo is one of the fastest-growing ERP packages in the market. "It is growing extremely fast, with more than four million users worldwide; therefore, it is beneficial to have them on board as a partner." He added that Odoo has its connectors for order handling on Amazon and eBay. However, Channelengine.com is the only solution at the moment providing full marketplace automation of 45+ marketplace for Odoo users, including content mapping & categorization, product filtering, automated repricer, Fulfillment by marketplaces, and much more.
In total, Odoo has more than 1200 partners worldwide. During an event in San Francisco, Floors managed to speak with about 30 gold partners that are in search of a powerful integrator like ChannelEngine.com. Among them were industry giants like OSI (Open Source Integrators) and Novobi.
He also mentioned that there is a great demand for marketplace integration platforms in the United States and Latin America; hence, the conference had an exceptional value in terms of developing the partnership in these regions. According to Niels, Odoo Connect 2019 was a great networking event addressing the fears of American companies that are still afraid to break the current distribution- and retail chain.
Ready to sell more on marketplaces? Contact us and request a free demo.