The European fashion marketplaces to watch in 2023
Learn about Fashion Marketplaces: Zalando, ABOUT YOU, Yoox, Secret Sales, and others.
Summary:
The most fundamental shift in consumer behavior is the unstoppable rise of online marketplaces in recent years, accounting for nearly a quarter of global online shopping orders. Let's explore some of the fashion marketplaces to watch in 2023.
The most fundamental shift in retail behavior over the last few years is the unstoppable rise of online marketplaces. With their excellent customer experience and wide variety of items listed, it's no wonder European fashion marketplaces have flourished.
Online marketplace growth was sustained even beyond the pandemic-related spike in 2021, with gross market volume (GMV) of $3.25 trillion in 20221, up 2.9% from the year before. The importance of marketplaces is forecasted to rise even further in years to come, accounting for 59% of the global ecommerce market2 by 2028.
However, this growth and opportunity come with fresh challenges for fashion brands. 2022 was a year defined by rising inflation3 and declining disposable income for consumers. Inflation has increased costs and eaten into profit, making strategic decisions (such as which fashion marketplaces to sell on!) particularly critical.
With that in mind, let's explore some of the European fashion marketplaces to watch in 2023. This list isn't exhaustive, and we strongly believe each marketplace needs to be considered within your overall strategy — but hopefully, it will provide inspiration and new ideas of where to play.
We've grouped them into 4 distinct categories — European fashion powerhouses, Newcomers, Off-price, and Horizontal — so wherever your business sits, there'll be something in this article for you.
European fashion powerhouses
Going global is easier than ever for forward-thinking fashion brands. To make your expansion a success, you should leverage the existing engaged audiences of European marketplaces.
If you're an Asia-Pacific or American brand, you might be considering Europe your next frontier. With the free movement of people, goods, and services in the European Union, expanding into one EU country enables you to sell to all 27 members, which include some of the wealthiest countries in the world.
The European Union alone allows you to sell to over 447 million potential customers4. Add the purchasing power of the U.K., with nearly 60 million eCommerce users5 in 2022, and it's an irresistible opportunity.
Are you a well-established European brand, or do you already have a foothold in Europe? Expanding into new fashion marketplaces in neighboring EU countries will enable you to reach new customers and sell more online: win-win.
Here are 3 fashion-focused marketplaces that demand serious consideration.
ABOUT YOU is a next-generation digital platform to watch. The company aims to digitize the experience of a shopping stroll, focusing heavily on personalization and engaging content. With more than 30 million unique monthly active users, German-born ABOUT YOU is one of the most significant fashion and lifestyle platforms in Europe. It is currently active in 26 European markets. We think it's one to watch, not only because of their impressive growth results6 but also because of their young consumer base. The focus on personalization helps to cut through an increasingly noisy market, and their commitment to conscious consumption helps future-proof growth strategies. As McKinsey7 put it: "More than ever, sustainability is dominating consumer priorities and the fashion agenda. Consumers want to know where materials come from, how products are made, and whether the people involved are treated fairly."
Spartoo is a well-established fashion marketplace, operating since 2008 with a presence in 30 European countries.. With 10 million monthly visits and over 8 million active users per month8, this French platform offers the opportunity for brands to reach a wide variety of European consumers. Named after the gladiator sandal "spartiate"9, Spartoo initially specialized in footwear, but has expanded its offering and now carries ready-to-wear fashion for men and women.
With a GMV of €14.8 billion in 2022 Zalando is a European fashion marketplace powerhouse. Selling on the marketplace means access to 1 of the top 3 marketplaces in 23 wealthy countries, over 420 million monthly visits, and a whole host of trading tools and customer insights to grow your business. Customers on Zalando — over 90% of them on mobile devices — order frequently, with average orders per active customer reaching a new all-time high of 5.1 orders over the past 12 months. Zalando can help merchants fulfill orders via their ZFS service and have a comprehensive partner program for retailers and brands.
Zalando is currently an invite-only marketplace, contact our Zalando specialist directly to discuss your plans.

Newcomers
One thing we know for sure: ecommerce moves fast. And there are few verticals faster than fashion. New marketplaces are constantly entering the game, to capitalize on the opportunity and offer consumers the seamless purchasing experiences they're looking for. Here are two fashion-focused newcomers to watch.
Yoox, part of Yoox Net-a-Porter Group (YNAP) is expanding its operating model10. Already a significant fashion webshop, they've opened up their platform to incorporate a marketplace in Europe. Positioned as arty and eclectic for those who love 'the thrill of the find,' they'll be capitalizing on their qualified global audience of 3 million newsletter subscribers and significant social media reach. Yoox will focus its efforts on enabling content creation, market expertise, and consulting brands. At the moment, the marketplace will focus on Europe — a massive market on its own — but has expansion aspirations to the U.S., Middle East, North Africa, and Japan. This is an excellent opportunity to get in early with a powerful newcomer.
Secret Sales, while not strictly a newcomer, is making some new plays with a launch into the Benelux region and some serious expansion. According to InternetRetailing10, Secret Sales has signed 75 new contracts with multi-brand retail groups and standalone brands in 12 months, launching 687 new fashion, beauty, and homeware brands.
Described by the CEO as a "clean and profitable exit strategy for sustainably selling non-full-price inventory," Secret Sales enables luxury brands to sell overstock without compromising the integrity of their luxury position. Using a shop-in-shop fascia, Secret Sales set out to build a digital equivalent to designer outlet destinations and create a shift in industry thinking around discounting.
Questions about scaling on fashion marketplaces? Talk to us!
Off-price
Discounting and off-price marketplaces such as Secret Sales are one element in the fashion industry's awakening to sustainability issues. By selling off overstock on separate discount destinations, brands can avoid some of the pitfalls of consumer culture — like burning billions of dollars of stock, as reported in this Vox article12. As consumers demand more transparency and ethical accountability, off-price markets are the ones to watch.
Named Vente-Privee.com until January 2019, Veepee-Privalia is a French retailer that sells products through online flash sales of 3 to 5 days to its 50 million website members. The company takes end-of-season and overstock products from major brands and sells them at discounts of up to 70%.
In 2019, Veepee- Privalia decided to exit the U.K. market13, focus on mainland Europe, serve European Union member states through its distribution centers in France, and launch a marketplace: Brandsplace. Doubling down on this strategy has rewarded Veepee-Privalia well. They have 5 dominant markets, focusing on France, Spain, and Italy. Combined, Veepee-Privalia has a reach of over 74 million members. With an expected annual growth of 40% in the region, Veepee-Privalia is a solid strategy for fashion brands looking to deal with overstocking and seasonality, while getting a foothold in Europe.
Afound is part of the H&M group, which gives it access to the resources of the well-established fashion giant. First launched in Sweden, Afound has already expanded into the Netherlands, Germany, and Austria,with plans to expand further into Scandinavia.
Afound aims to encourage a circular fashion economy by providing clothes, shoes, and lifestyle products from hundreds of well-known brands for women, men, and children at affordable prices. It features fashion pieces from the group's brands (which include H&M, COS, Weekday, Cheap Monday, Monki, and & Other Stories) in addition to external labels. The platform is all about reducing overstock, or as Mirakl described it14: "give fashion new life by offering products that have already been produced."
It's a big bet for the traditional retailer — perhaps inspired by the success of British brand Next or U.S. brand Anthropologie — to leverage the marketplace model and completely upend their relationship with customers, sellers, and manufacturers.
Horizontal marketplaces
There's no getting away from the power of one-stop-shop destinations. The familiarity of the interface and convenience of getting everything they need at once provides a great experience for consumers. Here are 2 horizontal marketplaces to watch that sell multiple categories for fashion brands.
Amazon launched a new fashion showroom in L.A., and is doubling down on the fashion category. Although the store itself raises questions about the tech giant's sustainability15, the marketplace is a huge opportunity for brands to leverage data for growth.
Amazon has truly begun to disrupt the fashion industry. Amazon's share of clothing spend — 14% in Q1 202216 — was more than double Walmart's (6.2%). Consumers flock to Amazon for a variety of reasons, mainly the familiar and easy search and delivery functionalities.
Amazon traditionally has not had the best interface to shop fashion, but they've invested in this area in recent years and now offer selected European sellers premium onboarding services. We've created a step-by-step guide to selling on Amazon with a wide range of fulfillment options to help you get started.
Netherlands-based Bol.com is our final one to watch in 2023. The Dutch marketplace launched a French-language site17 last year and expects revenues to approximately double by 2025. Bol.com is a solid choice for partnership in a local market for fashion brands, with significant expansion potential. In recent years, they've also made efforts to improve their platform specifically for fashion customers, making it easier to find sizes and filter by color.
Ready to scale your fashion business on marketplaces?
There are plenty more marketplaces to help your fashion business grow its online sales. To choose the right marketplace(s) for you, you'll need to think about your goals, your customers, weigh the opportunities, and consider logistics.
We do understand this can sound challenging, but we're here to help! ChannelEngine is your gateway to adapt to the shifting fashion landscape and generate new revenue streams. A single connection to your back-end systems is all it takes to access leading fashion marketplaces. But more importantly, our platform offers complete control over your products and pricing across all channels, from a central location.
Whatever your strategy, take the first step towards scaling your business and request a demo!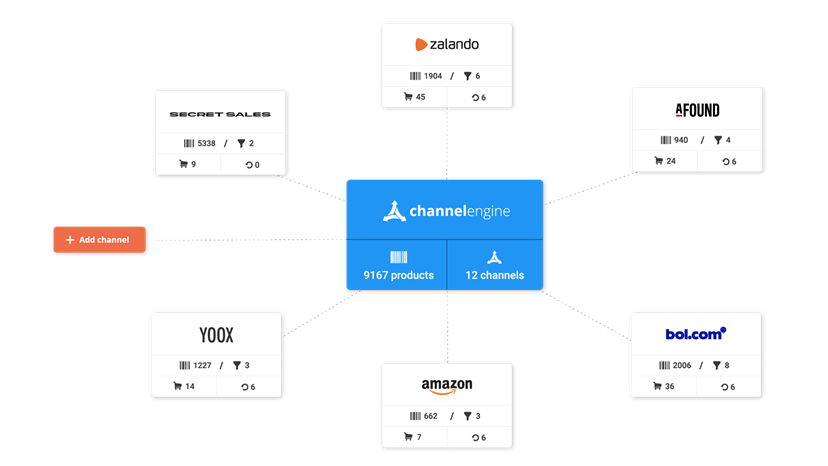 Sources:
1 What are the top online marketplaces?, Digital Commerce 360
2 Online marketplaces sales will account for 59% of global eCommerce by 2027 says Ascential report, Enterprise Times
3 The State of Fashion 2023: Holding onto growth as global clouds gather, McKinsey
4 Facts and figures on life in the European Union, European Unions
5 E-commerce in the United Kingdom (UK) - statistics & facts, Statista
6 ABOUT YOU reports strong Q1 2021/22 results and reiterates full-year guidance, ABOUT YOU
7 The State of Fashion 2023: Holding onto growth as global clouds gather, McKinsey
8 Sell on Spartoo, Spartoo
9 Spartoo UK, Wikipedia
10 Yoox Launches Marketplace, The Business of Fashion
11 Secret Sales adds 687 new brands in 2021 as consumers embrace marketplace luxury bargain shopping, Internet Retailing
12 Why fashion brands destroy billions' worth of their own merchandise every year, Vox
13 Why has flash sales retailer Veepee quit the UK?, Internet Retailing
14 H&M Group Brings a New Model to the Market With Afound. Mirakl
15 In Amazon's new store, where's the sustainability?, Vogue Business
16 Walmart, Target, Kohl's Look to Cut Amazon's Apparel Lead, PYMNTS
17 Bol.com launches French-language website, Retail Detail