How brands can learn from peak season shopping in Southeast Asia
Learn more about peak season shopping habits in Southeast Asia.
Summary:
Naturally, peak holiday seasons see shopping habits drastically shift from what they look like throughout the rest of the year.
In Southeast Asia, an eclectic region filled with so many different cultures, celebrations and festivities are common in the final months of the year, making the fourth quarter an incredibly busy, and potentially lucrative period for brands selling here.
With the dust now settled on the most recent festive period, Parcel Monitor shared with us their latest in-house data insights to unearth 3 key trends of what SEA consumers look for during peak season shopping, and how brands can capitalize on these findings to accelerate performance in the region.
Brick-and-mortar is going nowhere just yet
While headlines have been dominated by the skyrocketing growth and adoption of online commerce throughout the pandemic years, many would understandably have had concerns over the long-term future of brick-and-mortar stores, and whether physical spaces should still hold a place when shaping a long-term business strategy.
However, consumers in Southeast Asia have gone a long way in quelling those worries, offering clear proof that the in-person shopping experience is still highly valued alongside the online journey, with the majority of shoppers seeking products both online and in-store.
Consumers in Thailand lead the way on this front, with 74% preferring both in-store and online shopping during peak season, followed by 70% in Vietnam, 69% in Singapore and Malaysia, 65% in the Philippines and 57% in Indonesia.
The proof is overwhelming, and brands that are able to offer this dual experience are clearly in a strong position when it comes to setting themselves apart from competitors. Whether it's permanent stores, immersive physical activations or memorable pop-up experiences, the desire for in-person shopping remains particularly strong in Southeast Asia.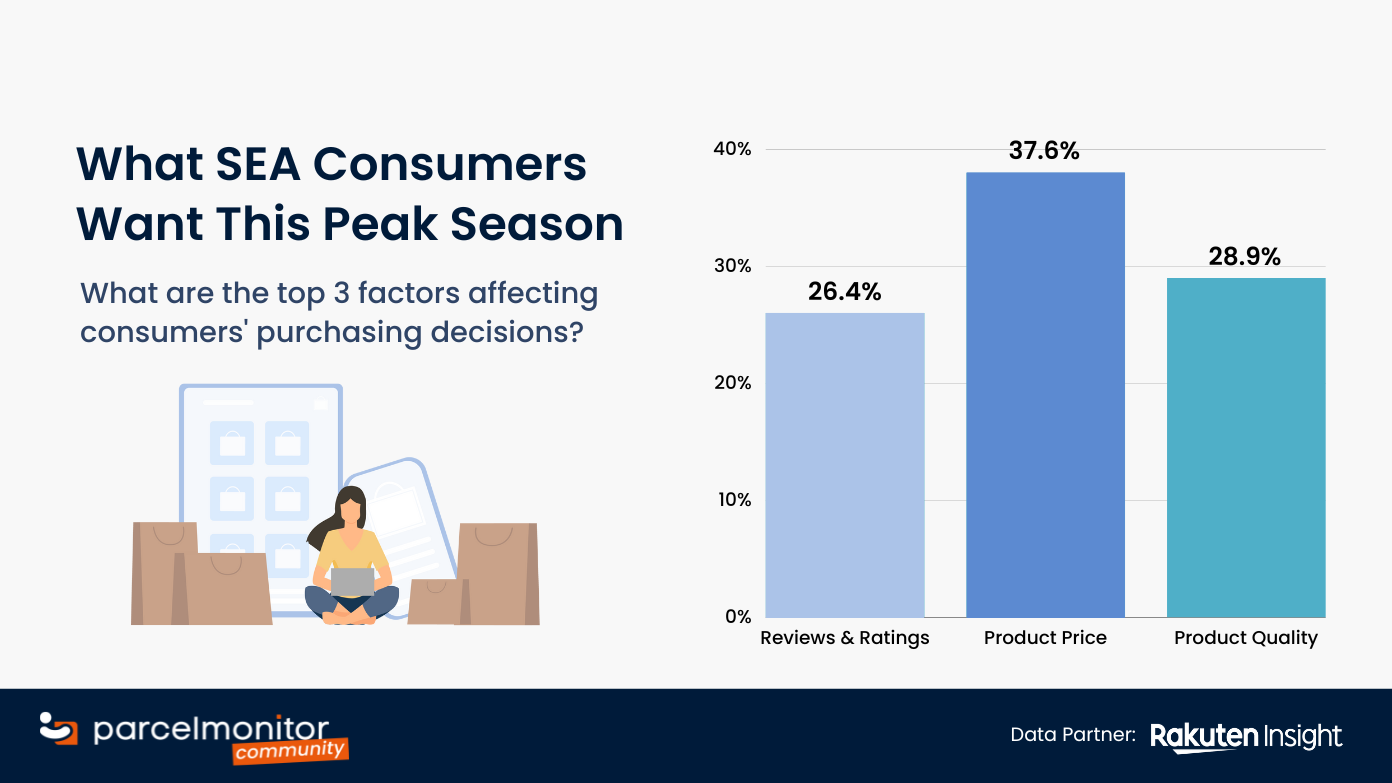 Delays are to be expected, within reason
Shoppers understand and accept that, within reason, delays are to be expected during peak shopping seasons as hundreds of thousands rush to buy gifts and businesses face increased pressure to meet tight delivery deadlines.
In Thailand, 55% of customers find that 3-4 days of delay from the estimated delivery date is acceptable during busy periods. This same view is held by 49% of Malaysian customers, 48% of Vietnamese customers, 47% of Indonesian customers and 46% of Singaporean customers.
However, in all the countries surveyed, less than 10% of respondents would accept a delay of more than 1 week, meaning while there is some buffer, expectations are still high.
In a region as vast as Southeast Asia, logistics can be tricky at any time of year and these hectic peak season periods amplify the challenges significantly. It's imperative to have a reliable logistical partner on call, or ideally a network of reliable partners able to handle these increased shipping volumes.
Not only is this vital in protecting your revenue by preventing canceled orders and the return of products no longer needed due to delayed deliveries, but also in cementing your brand's affinity in the region and building a base of loyal, repeat customers.
Most marketplaces will also penalize businesses for not being able to fulfill orders on time, which can be detrimental in the battle for the BuyBox and your overall visibility on the biggest platforms that are often the cornerstone to local sales strategy.
Pricing is make or break
Product pricing is the most decisive factor in influencing customers to buy from a brand in Southeast Asia, with 38% of consumers choosing to shop from brands that offer products at the most competitive price point.
This was followed by product quality, which was the most important factor for 29% of people in the region. Finally, customer reviews were the key consideration for 26% of those surveyed.
Striking a balance between all 3 of the above is crucial to brands being able to generate sustained sales and build a strong reputation within the region.
Employing a dynamic repricing strategy, in which product prices are constantly monitored and adjusted to suit market conditions and demand, is essential in gaining the edge over competitors operating across similar product catalogs. This is even more crucial in busy periods when masses of potential consumers are searching for the best deal.
Utilizing an automated repricing solution is the most efficient way to achieve this, particularly for brands with sizable product offerings. This approach is faster, relies solely on data, removes the chances of human error and frees up valuable time.
Navigating peak shopping season in Southeast Asia
While Southeast Asia offers an incredibly fruitful landscape for brands to tap into during peak shopping season, these periods do also come with a number of added and unique pressures.
The market is highly-competitive so product pricing must constantly be monitored to keep pace with competitors operating in similar sectors, while the fragmented nature of the ecommerce landscape can make logistical solutions difficult all year round.
Marketplace integrators like ChannelEngine can streamline vital elements like automated repricing during peak shopping season, while also offering brands access to expert logistics partners within the region like Parcel Monitor, to maintain reliable delivery when it matters most.
Interested in growing your sales in SEA and beyond? Chat with one of our experts!
This article is part of a series where ChannelEngine and Parcel Monitor share insights into the SEA ecommerce landscape.

Parcel Monitor is an ecommerce logistics community for consumers and professionals. For more exclusive reports, insights, and interviews on the latest updates in ecommerce and logistics, follow Parcel Monitor on LinkedIn or join Parcel Monitor's community as a member.