20 April 2021
How to start selling on Zalando (PART 3): Logistics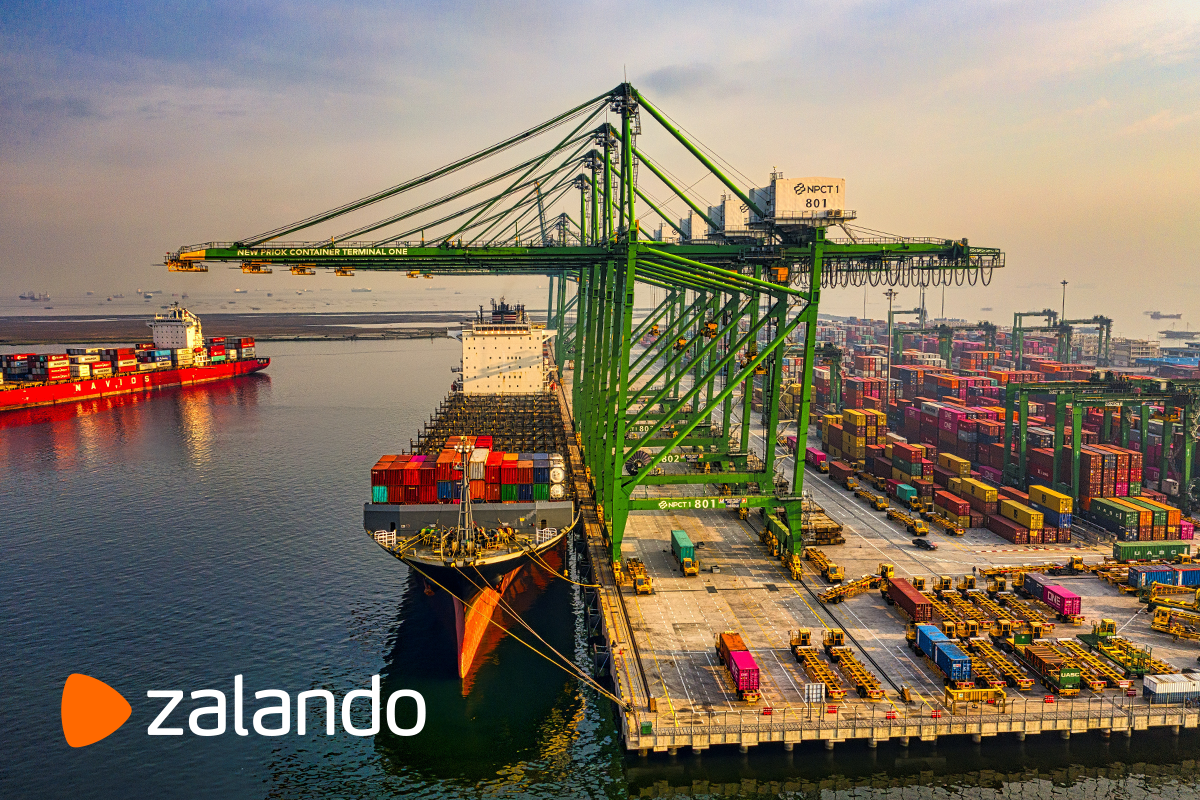 Achieving success on Zalando
As discussed earlier in this series ("Preparing for onboarding" and "Content tailoring"), there are many factors that contribute to selling successfully on Zalando. Each step of the process is essential, but this final installment's focus is that 'last mile of the sales journey: logistics and fulfillment.
Zalando has specific requirements for carriers, and dispatch processes need to be carefully adjusted to accommodate new processes. There is a strong business case for using Zalando's own services to accomplish this, but this depends on your business's specific situation and what fits best with your capabilities.
There are a lot of questions to consider: How do logistics work? What needs to be included with each parcel? Can you use your own carrier? Or is a third-party fulfillment a better option?
Whatever solution you opt for, make sure your logistics solution is well-organized as far in advance as possible. This will enable you to achieve the minimum standards (required by Zalando) and ensure your new customers get what they order quickly and efficiently.
Logistics: features to consider
There are a few different logistics options for brands selling on Zalando's marketplace. Each of these has distinct features and advantages or disadvantages, so it is vital to carefully consider which one suits your business.
An important consideration for all options is the high return rate on specific categories. This means that your logistics option should be cost-effective and efficient for returns.
Tracking is also a key feature (especially for returns). You need to ensure that your back-end systems can handle the printing of return labels (for each applicable country/carrier combination) and the tracking of these through your ERP. This is a real challenge for most ERPs (but ChannelEngine does have a solution for that). So, let's look at the options for logistics.
Logistics options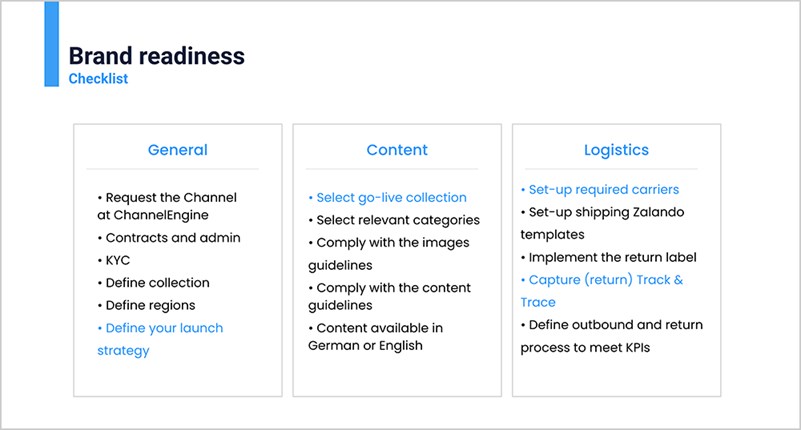 Image 1. Zalando Logistics options.
Own Logistics
This is an option many retailers already use; a contract with one or more delivery companies to enable fast and reliable shipping to each European country. Be aware that there are specific requirements for each country and carrier, and the documentation will all need to be correct for each scenario.
The primary features of using own logistics are:
Centralized inventory – shipping from your own warehouse ensures efficiencies gained from stock consolidation and warehouse space.
It is hard to expand into the EU – The piecemeal nature of sending to different countries with different contracts makes it harder. Separate contracts, terms and conditions, and rates will all need to be considered.
Required carriers for each country- There are specific carriers needed for each country; DHL for Germany, PostNL for the Netherlands, PostNord for Nordic countries, and La Poste for France.
Required documentation - Each carrier has its own requirements, and Zalando also requires specific documentation to be included.
KPIs – The Key Performance Indicators can be harder to compare, but you directly access the data because your contract is direct with the carrier.
Return label and Tracking – Both a return label and tracking need to be possible, which can be a challenge for most ERPs.
ZFS: Zalando Fulfilment Services
This is an all-inclusive service where your goods are warehoused and dispatched by a Zalando fulfillment center.
The primary features of ZFS are:
Decentralized inventory – Because your inventory is divided across multiple warehouses, stock levels and replenishment can be challenging to maintain and less efficient.
Easy EU expansion – Instant access to Zalando's fulfillment network means that EU expansion becomes super-easy.
The economy of Scale – You take advantage of the efficiency savings of doing business on a much larger scale, including the preferential shipping rates available to Zalando.
Shared outbound and returns – Because Zalando takes care of the outbound and returned goods, the costs for these are wrapped up together, making it easier to calculate pricing and margins. It also reduces the service burden to your business.
Extended forecasting – Zalando requires a 16-week advance forecast from the very start for each product. This is a part of 'regular business' for many brands already selling at this scale. Also, it can be a speed bump for retailers who need to do this for the first time.
Bulk shipment requirements – This can impact your replenishment, MOQs, and reordering processes. Your forecasting becomes very useful for this.
ZSS: Zalando Shipping Solutions
This option has the advantage of using the Zalando distribution network (preferential shipping rates, easy EU expansion) but still shipping from your warehouse. An order is sent to a Zalando location in Germany. Then, the order is sent to the customer.
The primary features of ZSS are:
Centralized inventory – You ship from your own warehouse, thus gaining efficiencies from using a centralized inventory.
Easy EU expansion – Using Zalando's delivery solutions from Germany to the customer means that you only need to ship to Germany to expand across the entire EU.
Cross-Docking – The shipping process and then reshipping do complicate the overall logistics process but means that stock does not need to be stored by Zalando in their warehouse.
Extended Delivery Time – There is ample delivery time on ZSS orders, which may impact conversion rates.
Short Deadline – You need to have a fast dispatch process. ZSS requires that you can get the orders from your location to the Zalando location in Germany within 48 hours.
Adjusted Pick-Pack Process – Orders are picked and handled differently from those being shipped directly to the customer. This can mean diminished efficiencies in your dispatch center as staff needs to use two different processes.
Documents
Each order needs to be shipped with certain documents. These are essentially the same as what you probably already include with an order, but you may need to make some adjustments to your process.
These required documents are:
Packing Slip
Return instructions
Return Label
Make sure your return instructions are clear to minimize customer service requirements. As mentioned above, both the return label (and instructions) need to be tailored to each specific country. Zalando's fulfillment and shipping services are attractive options because they unburden you of this requirement.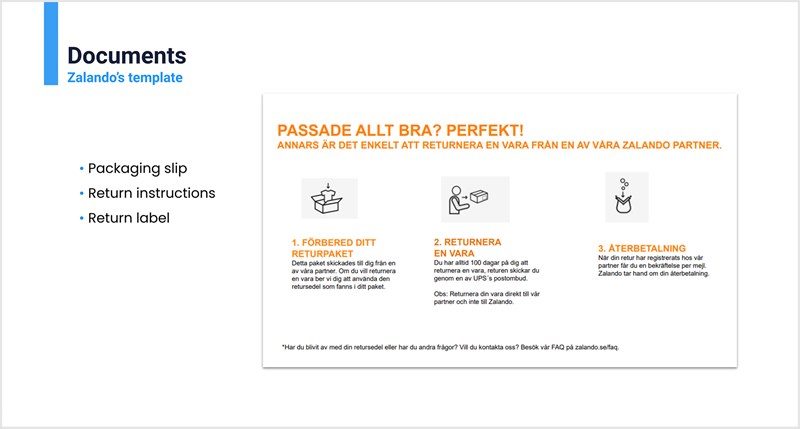 Image 2. Zalando shipping documents
Required Carriers
Finally, there are specific required carriers for each country – this is pretty restricted for returns, in particular. For instance, you can ship to France using La Poste (Colissimo), UPS, Colis Privé, and La Poste (Chronopost).
However, you can only offer returns with La Poste (Colissimo) to customers in France.
This means that you need to look at your contracts carefully to determine if you are getting the best deal and maximizing your margins. As the return rates can be pretty high (an average of 45% is typical for certain fashion categories), you should consider whether the benefits of using your own warehousing and logistics services is balanced against the benefits of Zalando's shipping options.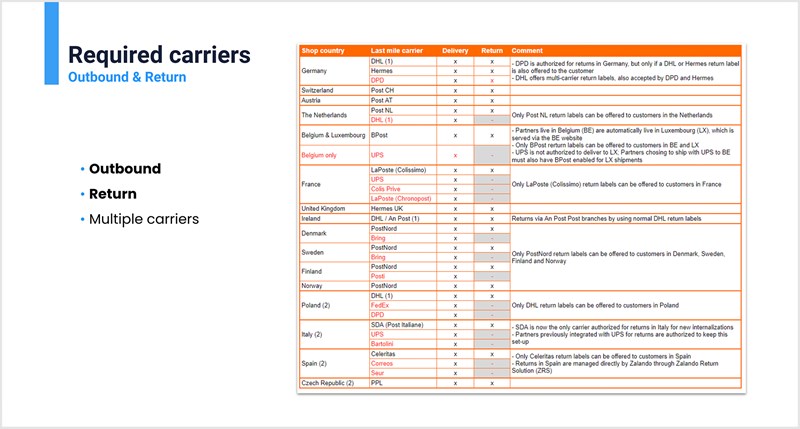 Image 3. Zalando required carriers
Hitting the right targets
Logistics is a pretty important part of the puzzle, but you still need all the pieces to make it fit together and work smoothly for you and your customers. Zalando offers unparalleled opportunities to expand your sales horizons, but it is also one of the most challenging marketplaces to get started on. It requires a dedication to high service standards and serious attention to the details when it comes to Zalando's own specific seller requirements.
The fashion segment will continue to grow in the next few years, with more than a third of sales going through the online channels. Don't hesitate to contact us or request a demo.
Are you interested in more tips on how to sell on Zalando? Check our previous article about Content tailoring or the following article about Expansion & conversion.
***This article was written in collaboration with our partner. Brandsom provides experienced marketplace consultants to lead and support marketplace integrations and optimizations.