14 September 2019
How to sell more on marketplaces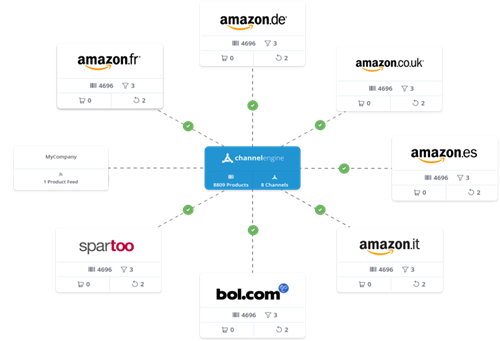 Marketplaces are widely used in e-commerce. Most consumers commence their online search on marketplaces. The reason for this is because online marketplaces have a considerable reach, make it easy to sell abroad and selling on marketplaces gives access to frequently visited sales channels: all the more reason to commence selling on marketplaces. To offer some extra help, ChannelEngine has some tips on how to grow sales.
Choose the correct marketplaces
The first key is to figure out which marketplaces are the most tactical to sell on. Selling on marketplaces like Amazon or Bol.com are most popular. Those kinds of marketplaces host sellers from almost all the categories. The risk of selling on these popular marketplaces is that high competition is inevitable. An important thing to take into consideration before choosing a marketplace is that it is necessary to analyze if the marketplace will connect your products to your target audience. The product categories of the marketplace have to coincide with your company and its product categories.
Ensure fast delivery
Most people know that companies compete on prices. Nowadays there is also competition in delivery time. Moreover, fast delivery is the key to success. Making purchases at the last moment is widespread, especially among the millennials. When someone has purchased a new phone, it is obvious he would like to use it directly. If the customer needs a phone case, same day delivery would be the perfect outcome for him. Therefore, enrolling for fast delivery programs ensures to generate higher visibility on marketplaces.
Offer good customer service
Customer service is an essential factor for reaching a high conversion. Customers feel more appreciated when the shop or marketplace offers them excellent customer service. The most critical points to online buyers are on-time shipment, fast response on e-mail and chat, quick refund upon returns and last but not least, the possibility to send and return for free. In this way, the retailer satisfies the customer, and that ensures there is a higher chance that the customer will make repeat purchases in the future.
Optimize product content
Standard product properties are descriptions that every single product on marketplaces has. Furthermore, category mapping is something that almost all of the sellers do. It is vital to offer some extra information — for example, additional attributes or product tags. The advance attributes work as adjectives to the products to increase search visibility. ChannelEngine has an attribute option that empowers sellers to enter the details to their products on marketplaces.
Sell more with ChannelEngine
The last tip is to become a customer of ChannelEngine. ChannelEngine is a marketplace integration platform that enables sellers to connect their products to worldwide marketplaces using a single link. The smart tools allow retailers to benefit from the growing marketplace dominance. That makes it possible to increase revenue using proven and innovative methods on other sales channels, specifically on marketplaces.

In short
To summarize, it is essential to choose the right marketplaces and remember that it is necessary to find a market that connects to the buyer person the company wants to reach. Secondly, ensure fast delivery. Enrolling for fast delivery programs provides to generate higher visibility on marketplaces. In third place, offer excellent customer service. In this way, the retailer satisfies the customers that possibly leads to repeat purchases in the future. Fourthly, optimize the product content with additional attributes or product tags to increase the search visibility. At least, become a customer of ChannelEngine. ChannelEngine enables sellers to connect their products to national and international marketplaces. Invest more, sell more!