24 November 2021
From social commerce to same-day shipping: Eight trends dominating US marketplaces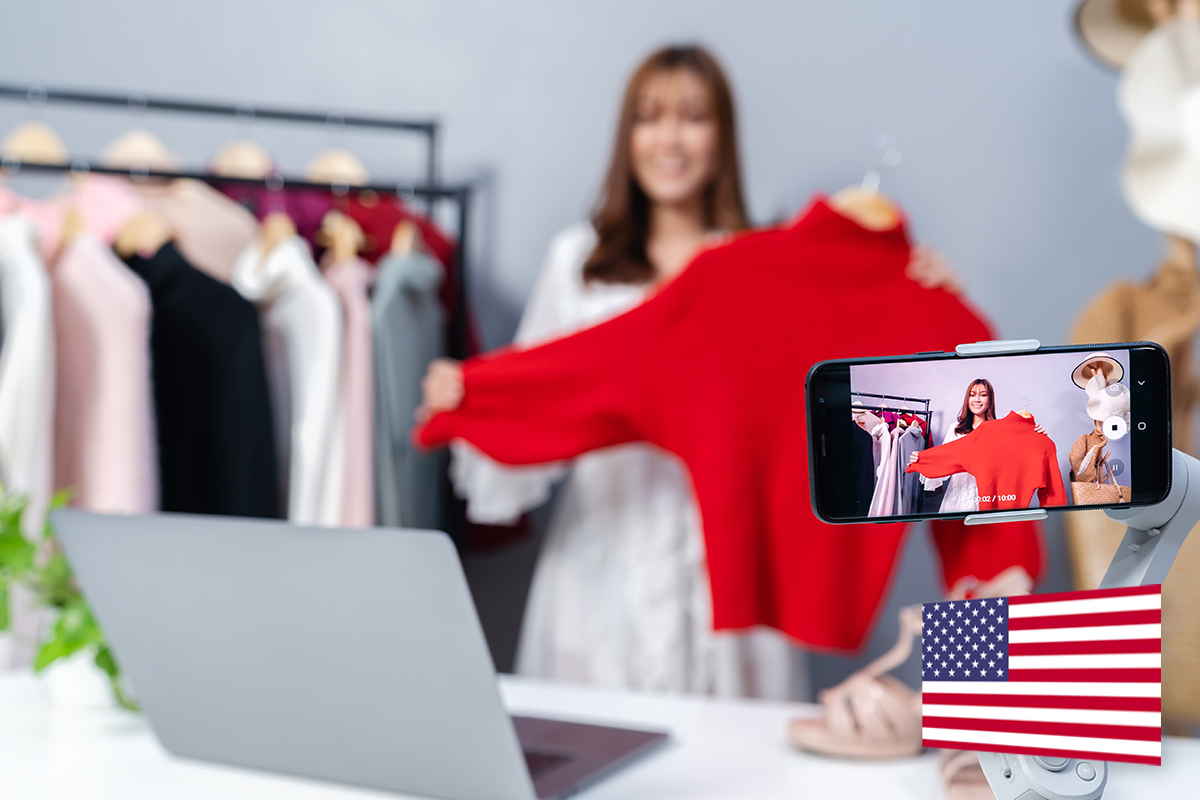 The United States boasts the second-largest market for e-commerce globally—with a revenue of $538 billion in 2020, only China is ahead in terms of overall value.
Like all global markets, COVID-19 accelerated the need for US brands to embrace e-commerce at a rate that no one could have predicted before.
Throughout the pandemic, global e-commerce sales grew by more than 25%. As a result, the US is predicted to deliver its first-ever trillion-dollar year in 2022. Highlighted below are a few of the key trends expected to dominate US e-commerce landscape in the coming months and years.
AI and the value of a personal touch
Chatbots are a prime and probably the most familiar example of how AI has revolutionized the entire e-commerce industry.
According to Drift's 2020 State of Conversational Marketing report, the use of chatbots in brand communication increased by a staggering 92% compared to the year before. According to IBM, the technology holds the potential to save businesses as much as 30% on customer service costs.
AI also holds a vital role in meeting the increasing demand for a more personalized journey for consumers. Recent findings showed that 72% of participants would only interact with brands if they offered personal messaging.
Along with that, this desire for personalization applies to the products themselves. Brands such as Nike and Vans already allow customization of their products before purchasing, and many other smaller brands will almost certainly follow in their footsteps. Influencer culture, precisely the skyrocketing popularity of 'unboxing videos,' means custom packaging will likely become an even bigger consideration for many brands, especially those who rely heavily on influencer marketing as a critical awareness driver.
Say it louder: The acceleration of voice commerce.
Nearly 50 million Americans now have access to a smart speaker of some kind, equating to around 20% of the adult population. While we're yet to see the market fully utilize the capabilities of these speakers from an e-commerce perspective, as the public's general use of this technology continues to increase, like most innovations, it's only natural that this will lead to greater shopping integration.
Voice commerce sales are expected to reach $40 billion by 2022. Given the relatively uncrowded nature of the space currently, we'll likely see brands and marketplaces fiercely competing to ensure their offering is fully optimized to offer customers this service as it inevitably becomes more commonplace.
Unlocking the true potential of immersive AR
Interactive user manuals, virtual wardrobes, super-imposing furniture into a room before you buy—the benefits of AR in e-commerce are endless, and we've only just started scratching the surface.
Given the extra reassurance, AR can provide before making a purchase, 71% of consumers say they'd shop more often with brands that offer the feature, and investing in immersive AR can boost conversion rates by up to 40%.
No surprises then, that Statista predicts that the AR market will reach $15.5 million by 2022 and over $18 million by 2023.
Shopping with a cause
More than ever, we're paying closer attention to who and where our purchases are coming from—in the US, 41% of online adults say they prefer to buy environmentally sustainable products.
This trend, in particular, will amplify significantly as Gen Z gains more buying power. According to a report by First Insight, a demographic renowned as the most environmentally conscious, 73% of Gen Z consumers are willing to pay extra for sustainable products, more than any other generation. Despite many still being in education, they are willing to spend the most in added costs, with 54% saying they would pay more than a 10% increase for a sustainably made product.
Bricks and mortar fighting back
Given the pandemic's clear detrimental effect on in-person shopping, combined with the uphill battle physical stores were already facing to compete with online retailers, fearing the worst would be understandable.
However, the pandemic also reinforced the value of human interaction—with 52% of US consumers revealing that they would make the majority of their department store purchases in person this holiday season.
When appropriately combined, a seamless online-offline experience can be incredibly lucrative for brands. Taking an omnichannel approach that incorporates physical stores is still hugely worthwhile. 55% of consumers said that they sometimes go to a bricks-and-mortar store to check out a product before buying it online, and 61% rely on physical stores to meet their families' demands.
The rise of social commerce
Over the last couple of years, we've seen Instagram, Facebook, and TikTok pivot their offering to accommodate better buying and selling directly in-app. In 2020, social commerce sales in the US reached an estimated $27 billion, a figure that is expected to explode soon, with projections upping that amount to nearly $80 billion by 2025.

According to a survey of Chief Financial Officers, nearly half said their company had increased investment into e-commerce since the coronavirus hit. 54% of them had plans to invest more in mobile commerce, with a further 42% citing social commerce as a key area of funding focus.
Same-day shipping to become standard
Surging demand in online orders brings the obvious and often difficult hurdle of competitive fulfillment options. 66% of customers expect free shipping on all online orders regardless of total spend, and 56% of 18-34-year-olds expect the option of same-day delivery.
More than half of retailers now offer same-day delivery, with a further 65% planning to offer it within two years. The service is now one of the most in-demand trends in e-commerce, and by 2024, this market is forecasted to reach $15.6 billion.
Marketplaces eclipsing Google
$2.67 trillion was spent globally across the top 100 online marketplaces last year—50 of those operate out of the US, and they saw a 40% increase in total sales in 2020.
Sites like Amazon and eBay have now become a starting point for 44% of all product searches, comfortably overtaking search engines (19%) and brands' own websites (just 9%).
Final word
Given the seismic demand for seamless marketplace integration, brands that aren't properly utilizing these channels are set to be left behind in a rapidly evolving e-commerce landscape.
Statista expects multichannel selling will exceed $491 billion in 2022—a 15% increase in the current year. This is further evidence of the need for businesses to optimize their strategy to cover multiple marketplaces, and in the wake of COVID, be able to do so with agility.
ChannelEngine empowers Brands, Retailers & Wholesalers to connect to marketplaces and other sales channels worldwide. It offers the most complete marketplace management solution with seamless integration so businesses can expand their reach internationally, grow their customer base and sales, all while staying in control of their branding and optimizing profits. ChannelEngine clients include Bugaboo, Hunkemöller, Brabantia, Bosch, JDE, and Reckitt.
Does this sound like a good opportunity for your business? Request a demo and learn how to make a smooth connection to some of the most promising APAC marketplaces. Get in touch and start expanding your business globally!