The future is social: selling on social media platforms in 2023
ChannelEngine explores the growing & evolving social commerce landscape and its benefits for brands who want to sell on TikTok, Facebook, Instagram, etc., in 2023.
Summary:
The steady growth of social commerce makes it easy for sellers to reach new customers and build brand awareness on popular social media sites like TikTok & Facebook. Learn more about the benefits & challenges of selling on social media in 2023 and make the leap!
From independent creators and entrepreneurs to some of the world's biggest brands, everyone's selling their products on social media platforms today. It's no surprise why — in 2023, 4.89 billion1 people are expected to use social media, and this number is only set to increase rapidly to 5.85 billion people by 2027.
What is social commerce?
Social commerce, or the act of selling products and services on social media platforms, isn't new by any means. Meta's Facebook and Instagram, as well as its competitors TikTok, Snapchat, and Pinterest, are all platforms with built-in social commerce features. Simply put, along with sharing pictures and memes, people can directly purchase products within the apps.
Global sales through social media platforms are estimated to hit $1.3 trillion2 in 2023, and this figure is only set to rise with a CAGR of 30.8%, reaching a whopping $2.9 trillion by 2026.
Whether it's news or product recommendations, social media has become how most of us get our updates. Moreover, Gen Z and millennials now use social media as search engines3. So, when almost everything can be done on social media — why wouldn't a potential customer want the added convenience of shopping there too?
In Asian countries, social selling is one of the most popular ways to buy products. According to recent research, nearly 9/10 online shoppers4 in Thailand have already purchased via social media platforms, and nearly 62% have confirmed that they checked out on the platform itself. 36% of internet users5 in the US are expected to become social buyers, while in the UK, 54% of users have purchased from a brand after seeing it on TikTok6.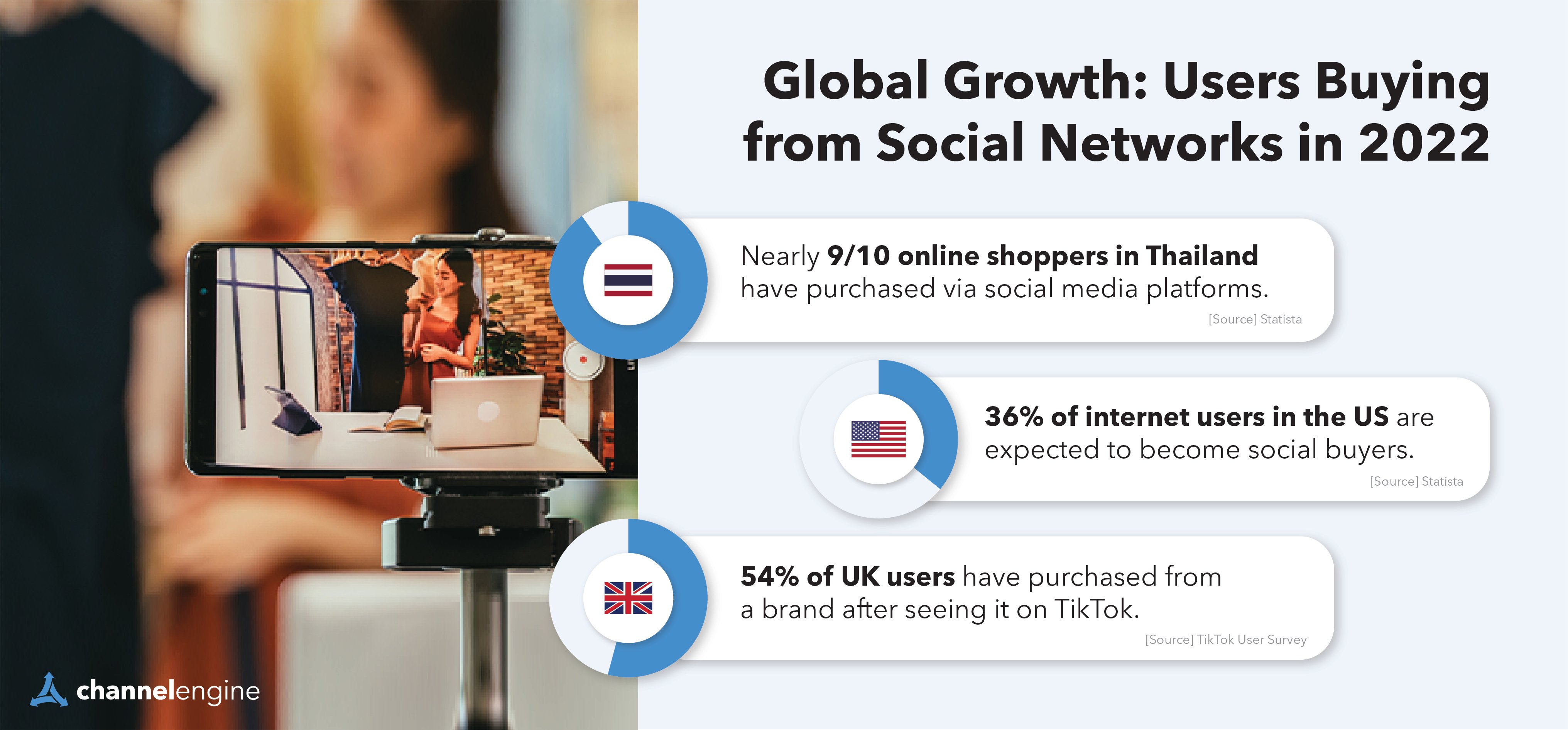 Image1. Global Growth: Users Buying from Social Networks in 2022
A different, more organic shopping experience
On platforms like TikTok and Instagram, celebrities and influencers routinely engage with users and encourage them to purchase products they're affiliated with. From personalized promo codes to individual storefronts with products linked on marketplaces, social media users are presented with a plethora of choices when it comes to shopping.
Wondering what you can achieve with social commerce?
During the pandemic in 2020, influencers realized they could better engage with their users in real-time via live streams. This trend of 'entertainment selling' has since continued, leading users to shop for products that influencers recommend or use more frequently.
As Mitchell Dröge (Channel Partnerships Lead at ChannelEngine) puts it, "This style of buying is more impulsive — it leads to faster purchase decisions because of the natural way the short-form videos appear on someone's 'For You Page' (FYP) or their main feed."
Most of these in-feed videos target the right audience using machine learning algorithms. As a result, consumers feel more inclined to make purchases when relevant products that may be a good fit for them appear organically on their screens.
For instance, TikTok Shop, the shopping feature on the app used by billions every day, allows sellers to showcase and sell products directly on TikTok through in-feed videos, live streams, and the product showcase tab. As one of the few global TikTok Shop integrators, ChannelEngine has seen first-hand the huge potential for growth that retailers can unlock when they choose to sell on TikTok Shop. Social commerce marketplaces have begun collaborating with ecommerce platforms to help sync their backends and fulfill orders faster and better.
Like TikTok Shop's product showcase tab, several social media platforms now offer a specific 'Store' section on their apps. These sections allow users to treat the social media app like they would a marketplace — you can go and browse through the offered products and directly purchase them on the same platform.
Benefits of selling on social media
If the sheer size of the social commerce industry and its growth potential have you intrigued, here are some things to keep in mind when expanding on social media platforms:
1. Make it easy for your customers to buy from you
Social media is often where you first engage with potential customers and make a positive impression. The next step is to direct them to visit your website or storefront on a marketplace to buy your products. However, when you sell on social media, you can save them time and energy (going to another website, closing numerous pop-ups, finding the product again, etc.) and let them check out right then and there.
If you want to get technical and think strategically, selling your products on social media makes for a frictionless buying experience, making it easier for customers to buy from you time and again.
2. Build a customer base and a community at the same time
Brands and businesses are on social media to reach a wider audience. The goal is to remain top of mind via social media interactions so customers remember and choose your brand when they have to shop. When you sell on social media, you can kill two birds with one stone — you can engage with prospective customers already on the app while selling directly to them on the same platform.
Social media is one of the best ways for companies to improve brand awareness. Not only can you reach existing customers on social media, but you can introduce your brand to new and prospective customers too. We've seen this in action on TikTok, where 79% of UK TikTok users7 discovered new brands to shop at through the app.
3. Glean important customer data to improve performance
Most brands use social commerce as part of their omnichannel sales strategy. From experience, we know that brands that sell on three or more channels have a 494% higher8 order rate than single-channel strategies.
Insights from social media platforms can tell brands which products to highlight, which platforms to focus on, and how best to encourage customers to buy from them over competitors. You can get this high-level information by interacting with followers (who might be existing or future customers) via direct messages (DMs), live streams, targeted ads, etc. This also gives you access to customer likes/dislikes, purchase patterns, and more, which can help you tweak your brand's advertising strategy to send targeted ads to the right people at the right time.
Things to keep in mind
Despite the higher discoverability and ease of use, moving into social commerce may not be the right move for every single business.
"It's all about finding the right platform fit for your product and your target audience," confirms Dröge. Every brand may not find success on the biggest, most popular social media platforms. Success with social commerce lies in clearly targeting the platform where most of your audience already spends time on — whether that's TikTok or a small, regional, or local social media platform.
Selling on social media is no different than selling on a new marketplace. Most brands have to deal with fulfillment or integration needs — not to mention aggregating orders across multiple platforms (website, marketplaces, etc.) when making the leap to expand on another platform.
Of course, with the right tech partner (and we're speaking from experience), setting up shop on social media isn't too difficult. When clients find Channelengine, they need a connection between their storefront and the marketplaces they want to expand on — something that works with their existing backend systems.
Over the last decade, we've specialized in helping brands identify new marketplace trends and expand on them with our single API solution. Now, with the opportunity to help brands drive sales on social media, we've been lending our expertise to partner with platforms like TikTok Shop to make selling on social media easier.
Almost every company selling a product or service has a site that allows people to purchase products directly. However, a website alone doesn't help customers find your product. That's where ecommerce marketplaces, social media platforms, and physical stores come into play. Social commerce complements your primary sales channel while improving brand awareness and customer experiences.
After all, doesn't it make sense to use an existing audience, your reach, and engagement levels on these platforms to improve discoverability, boost sales and create better customer experiences?
Start Selling on TikTok Shop
If you're a brand or seller looking to expand into the UK, Indonesia, Thailand, Vietnam, Malaysia, Philippines, or Singapore with TikTok — let us help you! With one ChannelEngine connection, you can sell on TikTok (as well as 250+ other marketplace and online sales channels) and reach millions of customers already searching for and ready to buy your products. Take the first step with a free ChannelEngine demo.

{This article was originally published in Cross-Border Ecommerce Magazine, Issue 25- Credits: Text: Nia Lizia Carnelio // Images: Yurim Kim}
Sources:
1 4.89 billion social media users in 2023, Statista
2 Value of global social commerce sales, 1.3 trillion in 2023, Statista
3 For GenZ, TikTok is the new search engine, NYT
4 Social buyers in Thailand, Statista
5 Percentage of internet users in the US shopping on social media, Statista
6 Percentage of TikTok users buying from a brand after seeing it on the app, TikTok User Survey, 2022 (MarketingWeek)
7 Percentage of TikTok users discovering new brands on the app, TikTok User Survey 2022 (MarketingWeek)
8 Higher order rate with an omnichannel strategy, Omnisend
9 Press release: ChannelEngine Partners With TikTok to Drive Social Commerce