Inspiring a better ecommerce delivery experience with Parcel Monitor
Get an inside look at Parcel Monitor's story. Learn how they became a thriving logistics community that brings value to ecommerce professionals using data, collaboration, and innovation.
Summary:
Today our partner Parcel Monitor shares their story — how they started, how they bring value to ecommerce professionals, and how they've become a thriving logistics community driven by a combination of data, collaboration, and innovation.
The growth of the retail sector, particularly ecommerce, has raised the importance of logistics. Today, ecommerce logistics professionals face a greater need to stay informed about the latest trends, market insights, and industry developments. Now that ecommerce is a part of our daily lives, end-customers want and need to monitor their package deliveries. This is where the Parcel Monitor Community (PMC) comes in.
Initiated by Parcel Perform, PMC is dedicated to all things ecommerce logistics. Driven by a combination of data, collaboration and innovation, PMC aims to inspire the ecommerce logistics ecosystem to deliver a better experience for everyone.
The story behind Parcel Monitor
Parcel Monitor started out in 2016 as a free parcel tracking platform for consumers to monitor the status of their ecommerce shipments. Building on the wealth of parcel data accumulated over four years, PMC was launched in 2020 to foster transparency and collaboration within the ecommerce logistics sector.
It's now a thriving hub where logistics professionals can come together to share industry insights, connect, and collaborate through various initiatives. Today, millions of global users depend on PMC not just for delivery updates, but also to make more informed decisions using its data and resources.
How ecommerce logistics professionals use Parcel Monitor
Professionals in ecommerce logistics use Parcel Monitor's tools to gain market insights and build fruitful partnerships with other members of the sector. The exclusive data insights available through PMC empower experts to drive innovation and deliver exceptional ecommerce experiences for customers around the world.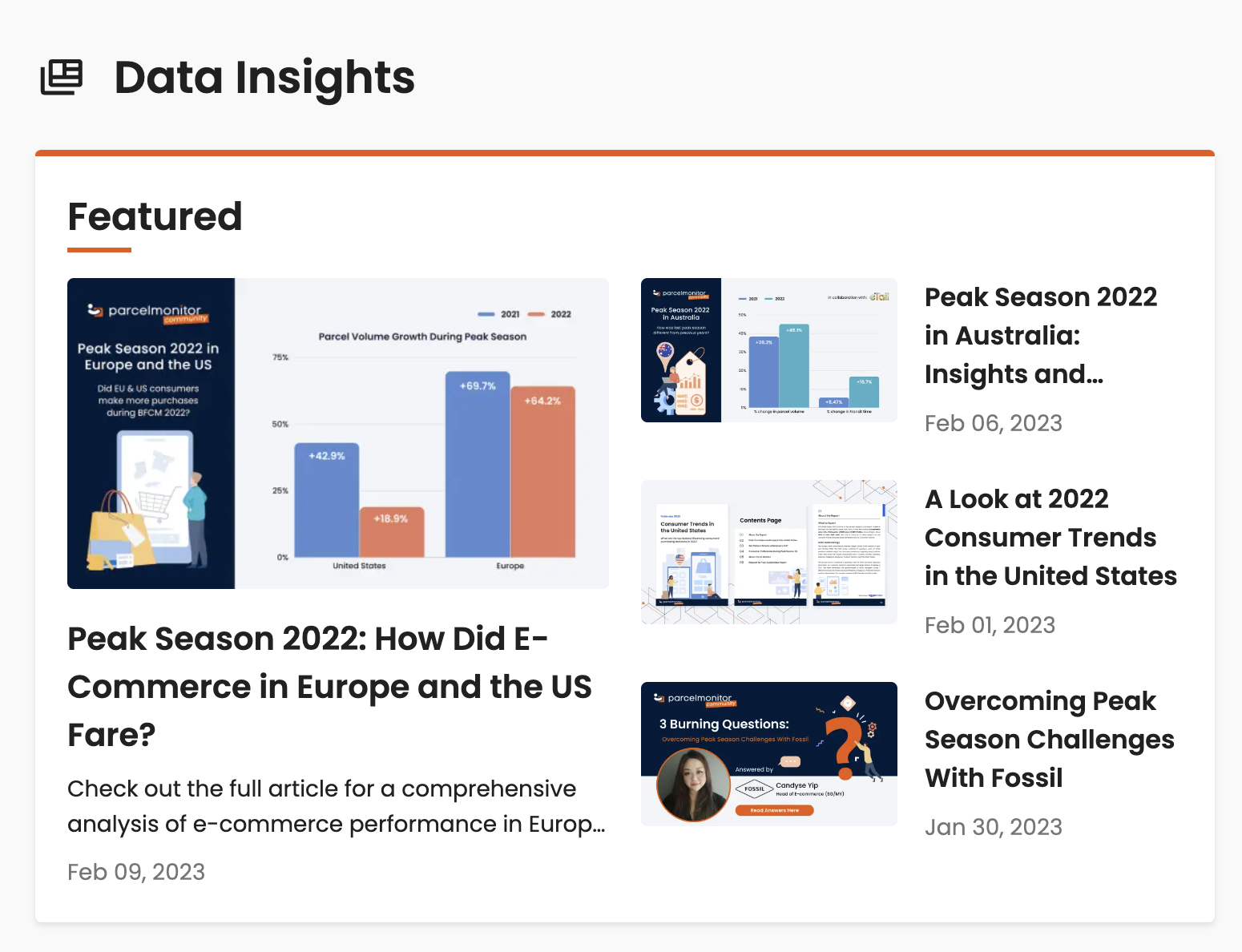 (Image Source: Parcel Monitor)
PMC users can also search through past and upcoming events in one location thanks to the Event Directory. The "Unpacking Ecommerce Logistics" series breaks down essential ideas from a range of popular subjects, including omnichannel developments in retail and ecommerce, and supply chain digitization for micro-retailers. Also included are one-of-a-kind event themes like "Ask Me Anything" sessions, where participants can ask thought leaders a variety of questions: from their professional paths, to challenges they've experienced, even their future plans. The episode with ChannelEngine CEO Jorrit Steinz provided great insights into streamlining ecommerce operations, as well as useful advice for D2C brands just starting out.
Parcel Monitor's partner ecosystem
To foster transparency, openness, and collaboration within the ecosystem, Parcel Monitor partners with leading players in retail, ecommerce, and logistics industries. PMC collaborates with event organizers to help boost their reach and enhance attendee engagement through joint marketing efforts. Additionally, Parcel Monitor works with renowned data and research partners to co-produce data-driven insights for the industry. In return, these partners leverage Parcel Monitor's rich ecommerce logistics performance data in their research, which is regularly shared with the community.
Parcel Monitor for consumers


(Image Source: Parcel Monitor)
Parcel Monitor's free parcel tracking tool is used by millions of customers to keep track of their packages in real time. Customers can opt to receive email notifications on the accurate location of their packages, and can even share their tracking experiences with the rest of the community after delivery. As of today, the service covers packages shipped through more than 950 carriers including USPS, UPS, FedEx, China Post, and Yun Express.
Customers can also access retailer-specific tracking pages to view their delivery history and track their latest order.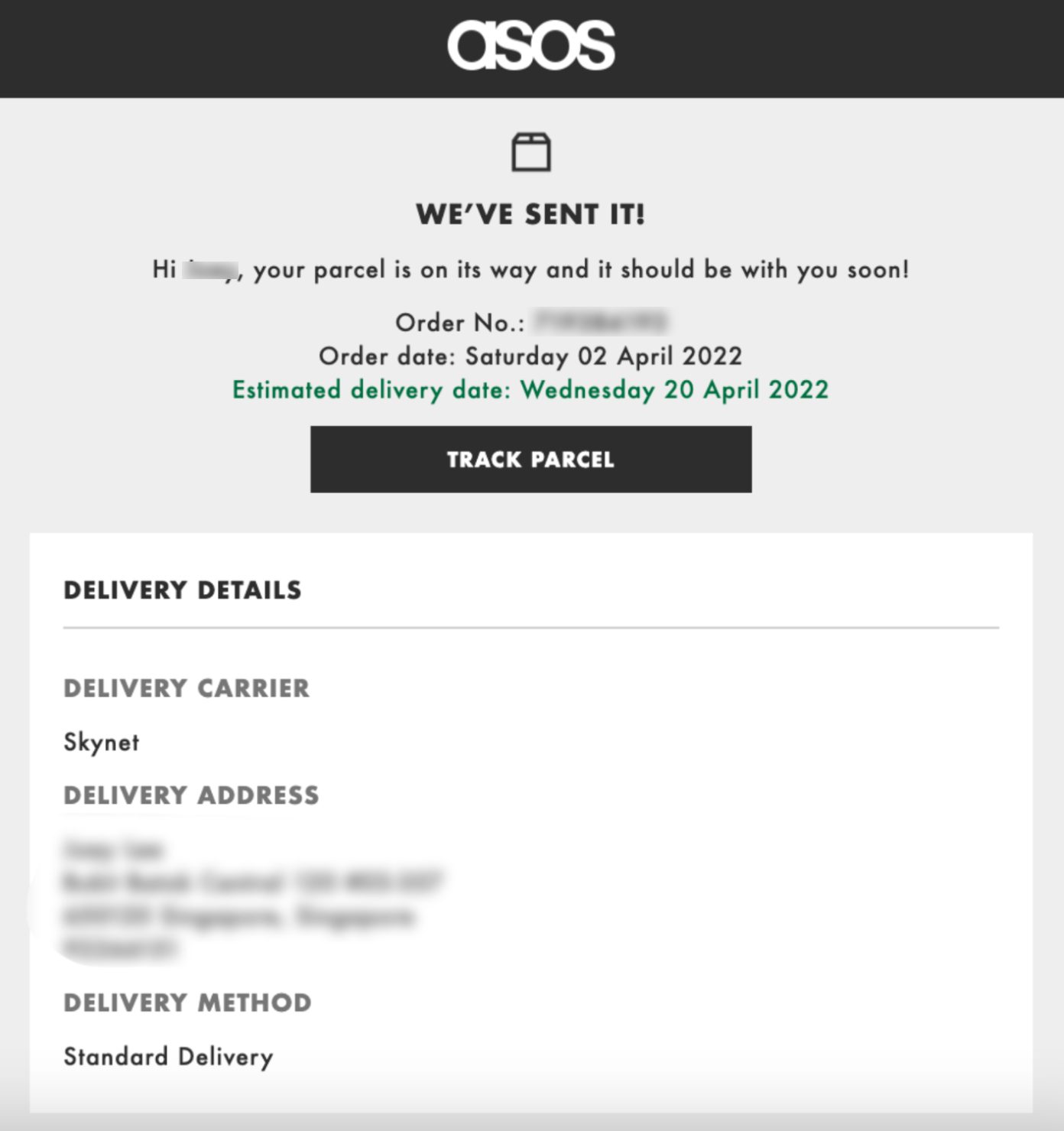 (Image Source: ASOS)
Join Parcel Monitor in their mission to inspire a better, more transparent ecommerce logistics experience for consumers, merchants, and carriers all around the world!