20 December 2019
Amazon in the Netherlands: what to expect and how to get ready?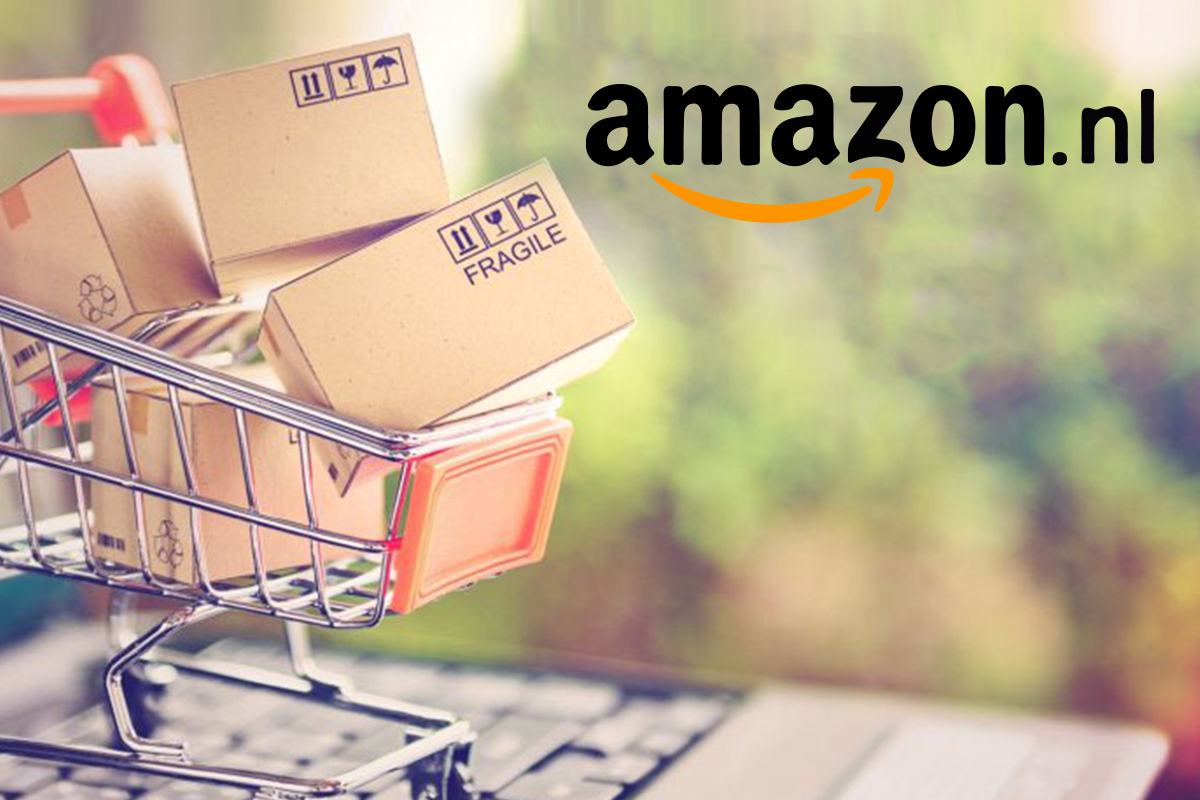 Index:
Amazon at a glance
Once founded in Seattle, the company started as a small online bookstore but has become a global retail empire. According to Marketplace Pulse research, there are almost three million active sellers (worldwide) on the Amazon platform. The study showed that this number is expected to increase by up to 18% in the coming year.
In the US, the sales volume reached the highest number in the history of Amazon.com. Also, the company was ambitious enough to invest in physical stores such as Amazon books, Amazon 4-star, and Amazon pop-up.
In the US, the sales volume reached the highest number in the history of Amazon.com. Also, the company was ambitious enough to invest in physical stores such as Amazon books, Amazon 4-star, and Amazon pop-up.
Marketplace Pulse research showed that the situation in Europe is also promising. In all European countries with the local Amazon domain, this marketplace is currently the largest. The United Kingdom, Germany, Italy, France, and Spain are growing at a rate of 17-34%. A similar tendency can be seen in India, Japan, Canada, and Mexico.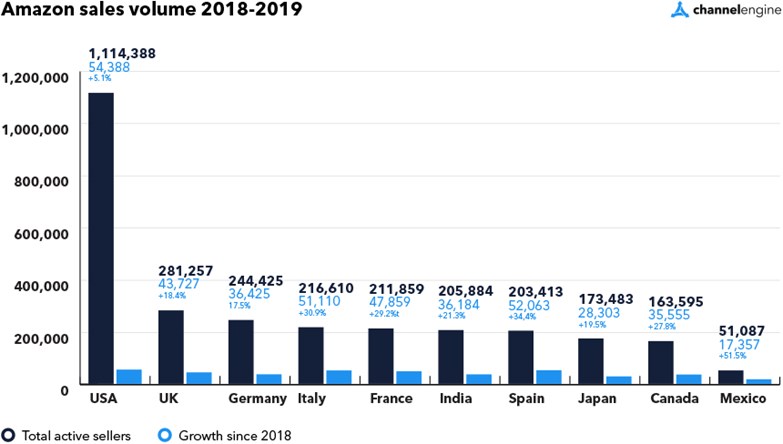 Amazon coming to the Netherlands
Amazon.nl is not entirely new to the Netherlands. It has been around for quite some time, used for selling e-books. In 2018, the company translated about two million German product pages into Dutch, added IDEAL as a payment method, and introduced Amazon Prime Day for the local market.
The Dutch customers who needed to purchase other products usually got them on Amazon.de. However, the company is about to launch a fully-fledged marketplace service in the Netherlands in Q1 of 2020. According to sources, there is not yet a distribution center in the Netherlands. Products will be delivered from the warehouse, which is close to the German border.
The web store giant holds the sixth place in the Twinkle Top 10; however, the Dutch channel market is more fragmented than the other Western European countries, where Amazon is active. 75% of the online customer journeys start there, in comparison: for the Dutch market, only 60% do.
Also, in Western countries, more than half of all purchases are made online, versus 42% in the Netherlands.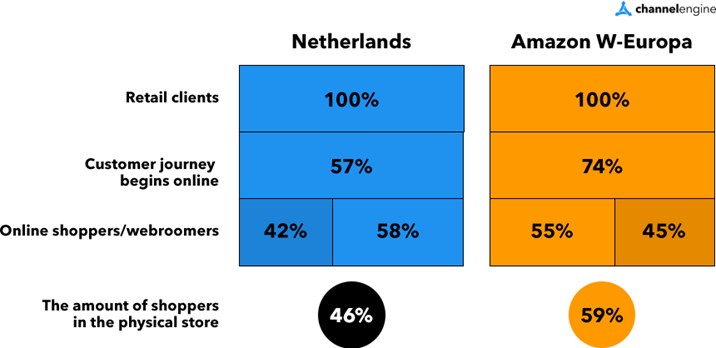 According to the Customer of the Future 2019 report from Wunderman Thompson Commerce, online marketplaces have a bright future ahead for Dutch online shoppers. This situation is expected to increase even further with the arrival of Amazon.nl
There has been a longitudinal Retail Buying Study for the European countries where Amazon has been active for a while. Based on the results, a similar tendency can be expected for Amazon.nl in the Netherlands. In particular, the study showed that Amazon was one of the marketplaces stimulating online purchases.
Impact of Amazon: opportunity or threat for local marketplaces?
Should Dutch sellers be worried about a new successful performer leaving its competitors behind in all other countries? There is no single answer to this complicated and multi-angled relationship between Amazon and other e-commerce players.
In one of his recent interviews, Jorrit Steinz, the founder and CEO of ChannelEngine.com, mentioned that other marketplaces could also benefit from the arrival of Amazon in the Netherlands. "Both bol.com and Amazon will grow considerably in the Netherlands. Only 10 percent of retail is online. I do expect that it will have much impact on smaller webshops as well." Steinz also addressed the question of whether sellers are stuck with a tricky choice between Amazon or bol.com. "Why should you choose? You must be everywhere you search. In addition, companies sell entirely different things in one marketplace than in another. So, there are significant differences between them. "
Also, while Amazon offers free delivery with Prime accounts, Bol.com has the same service with Select. So, Amazon Prime shouldn't be much competition for Bol.com or Coolblue.
A retail expert, Cor Molenaar, also supports the idea that there should not be a competition between the platforms. According to him, marketplaces such as Bol.com and Coolblue are successful enough with positioning themselves as e-commerce platforms. Molenaar also mentioned that there are multiple channels in Germany and the US as well, who are doing just fine even with smaller market share.
Next to that, Amazon.nl may start with a limited product listing, focusing on items from well-known global brands, while leaving smaller brands to the local marketplace players. Likewise, if Amazon decides to go with smaller producers, they will be equally interested in both local marketplaces and Amazon.nl.
On the other hand, local marketplaces may have to look at their business models and wonder what makes them unique to Amazon. First, there might be some price tension between the platforms, since large manufacturers will be more interested in Amazon, than in Dutch marketplaces; hence, there will be better pricing.
Another benefit of Amazon.nl is a direct delivery from the producer versus Bol.com and Coolblue having their stocks (which is a more expensive option). Finally, Amazon is famous for its operational marketing, inventory management, logistics, and planning.
In short, Amazon will give a hard push to the e-commerce landscape in the Netherlands, making it more significant for everyone, but is also demanding its growing part.
How can you prepare for Amazon arriving in the Netherlands?
How will Amazon.nl benefit local companies?
Amazon is all about opportunities that you can adapt to your own business. It is quite easy (even for some small companies) to sell your products through this channel and increase the customer base. For instance, while the brand registry permits you to manage your content on this platform, fulfillment by Amazon allows keeping your stock in the Amazon warehouses for a minor fee.
Dutch suppliers and sellers can already become eligible for a Central Account for the Amazon in the Netherlands. Contact us if you are interested to participate in the launch through ChannelEngine. Among the account benefits are:
Similar conditions as for the Amazon.de (such as days payment terms, damage allowance, marketing)
Delivery to the Amazon.nl warehouse will be coming from German warehouses close to the Dutch border
German ASINs will be reflected in the NL account with correct Dutch translation
No brand registry will be required for the activation process
The activation started on November 1st, 2019, with all accounts going live once the Amazon.nl is launched.
3 steps to prepare your webshop for Amazon arriving in the Netherlands
Offer products on Amazon:
You can import your information via a product feed management tool such as ChannelEngine.com. This way, you become one of the suppliers for the product that you offer. The process is more straightforward if you want to sell an existing item with available information for Amazon. However, if your product has a unique ASIN code, the set-up will take longer, but there will be less competition on unique products.
Make sure you offer a differentiated value proposition:
There is no easy way to compete with Amazon. Neither for the price nor for assortment. Thus, it is vital to brainstorm on added value over Amazon.
Offer a decent service (online help desk option) for products that require seller's expertise during the purchase process (for instance, expensive, high-quality cameras)
Provide an omnichannel approach for product items that require trying on beforehand. Take Coolblue.nl for example, who has both their online store and physical experience centers.
Offer a decent selection and use product bundles for items that are more likely to be discovered than searched for online (for instance, a customized range of home & deco products).
Optimize and polish your technology and logistics up-to-date
Amazon is famous for its high standards in online user experience. Think of one-click-checkout, fast delivery, and smart suggestions. Also, according to the Future Shopper report, it is expected that online shoppers will be even more demanding due to the high service standard of Amazon. So, you should be able to provide smooth flow and competence for your customers as well.
ChannelEngine.com is getting ready for Amazon's arrival in the Netherlands. If you want to know more about how to be successful on Amazon.nl or you need help with setting up your Amazon account, please contact us and ask for Amazon management. Let's do more on marketplaces together!