17 March 2020
The best European marketplace trends: 2020 report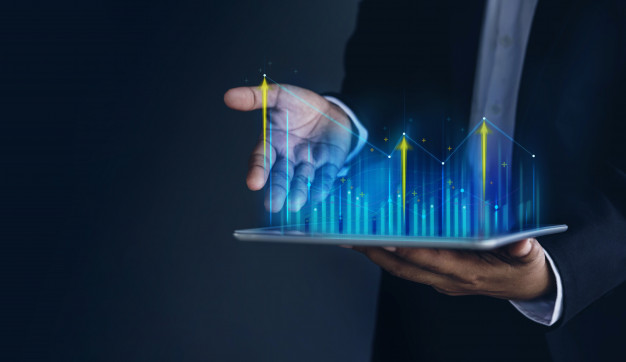 The e-commerce sector is booming with dozens of new marketplaces. The study showed that retail e-commerce revenue will grow from US$2.208.5 billion in 2020 to US$2.958.8 in 2024.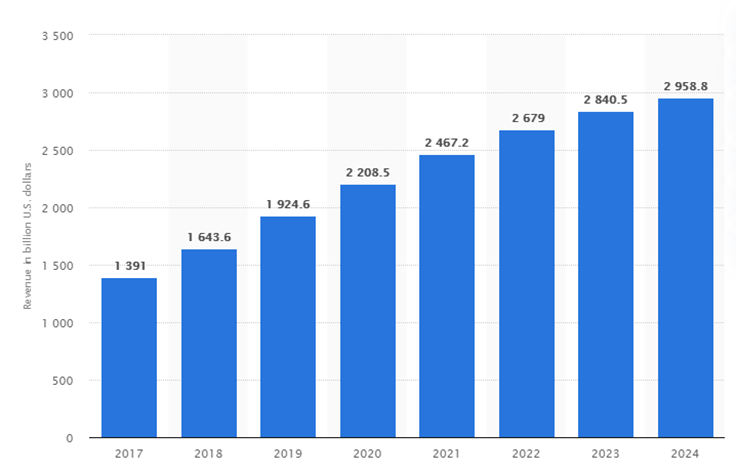 According to Statista research, the revenue in Europe amounts to 384.8 billion in 2020. It is expected to show a steady annual growth of 6.7%, which brings us to a market volume of US$499,5 billion by 2024.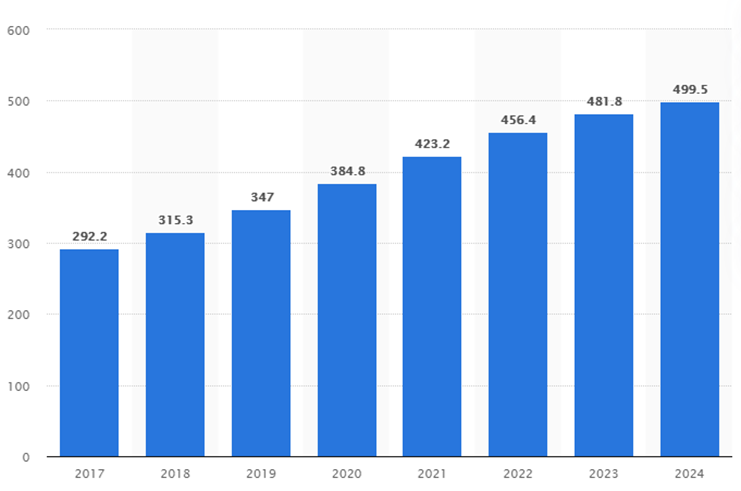 A similar study showed that in the Netherlands, these numbers equal to US$15,948 million in 2020, with expected growth of 5.6% over the following four years. Hence, the Dutch e-commerce will account for US$19,846 million by 2024.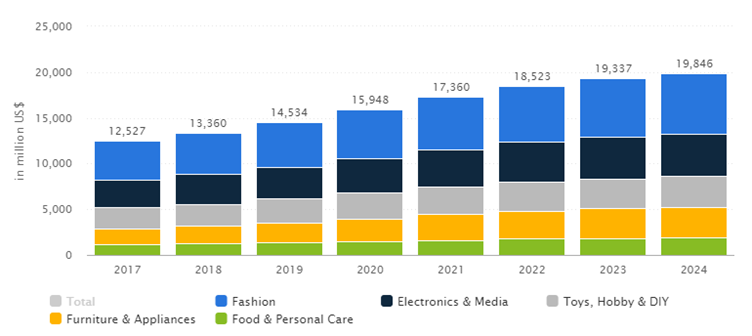 What do these statistics mean?
Along with this rapid flow comes a bunch of developments and standards in the way businesses should operate to become more competitive and goal-oriented. Therefore in 2020, it is crucial to use the best strategies to stand out and make sure they are present in consumers' preferred ways. One of the most practical approaches is to stay alert with the most recent trends.
A few things to keep in mind when going with the times:
Customer experience is the number one priority, calling for more creativity in adding value and services to online channels.

Convenience and relevancy are the keywords for online marketplaces to bring in and retain their buyers.

Unique offers allow online businesses to conquer their market rivals.
What trends to follow?
There are quite a few articles addressing dozens of e-commerce trends. However, our goal is to present you with the most progressive and relevant developments that will undoubtedly make a difference in 2020, and pave the way for sustainable expansion in upcoming years.
Dynamic pricing
As we proceed into 2020 and beyond, there is a big chance that personalized pricing will continue to be a powerful tool to strive for. The goal here is to nail down the optimal price for a particular product automatically based on the competitors' rates, market demand, and other conditions. The term "optimal" refers to the price at which your chances to sell the product are highest, with the possible profit from the sale.
It is wise to look at them per industry standards, market conditions, and consumer expectations to get a full picture of the different factors.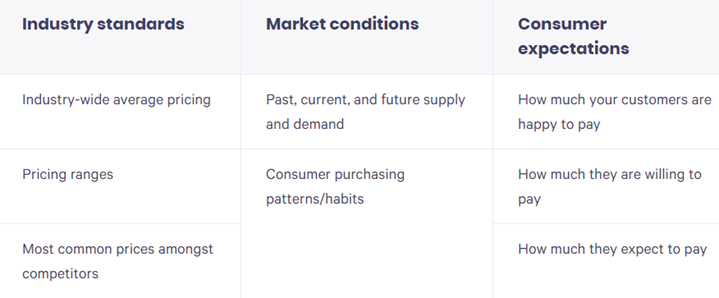 What are the benefits of adopting dynamic pricing as your go-to strategy?
The main advantage is the ability to boost the profit margin and increase the sales volume throughout your company
Alongside this, it allows you to stay competitive regardless of the present market conditions. Your algorithm will always generate the most appropriate price for both your company and the buyers.
Moreover, it is an efficient strategy if you are an e-commerce niche business dealing with constantly adjusting the product rates.
What should you do?
The better course of action is to have dynamic pricing technology and strategies in place. Your pricing software must be comprehensive, thorough, and intelligent. This way, it will let you easily collect all data needed to strategically adjust the prices in real-time (competitors' prices, competitors' availability, margins, and perceived product value). Also, it should be able to translate these data points into meaningful and comprehensive information and apply it for automated predictions.
The rise of the second-hand market
The online market for second-hand, or re-commerce has never seen more significant growth. According to the research, it is primed to boom in the years to come. The demands for these goods are spread far and wide.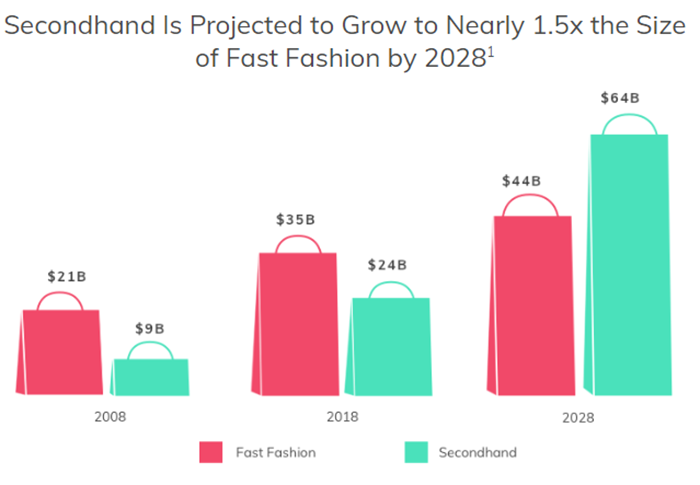 A "Second Hand Apparel Market 2020" study is also in line with this prediction. Its results are based on SWOT analysis, confirming that the re-commerce market is expected to flourish due to the high urbanization rate, demand for luxury goods in emerging economies, and rising demand from the population of the working women. Among the vital marketplace, players of second-hand goods are general marketplaces like Fnac, Amazon, and eBay but also niche marketplace for electronics: Backmarket.com, Refurbed.de, and fashion: Afound.com.
3 factors leading to second-hand market development
An increased focus of buyers on sustainability: according to the research, more than 50% of customers expect retailers to create clothes in an ethical and sustainable way
The opportunity for customers to purchase fashionable products at lower prices
The high necessity to keep ahead of fashion trends and other industries
What should you do?
If you decide to go with this trend, think about a marketing approach to your new re-commerce initiative. It does not matter if your focus will be on sustainability or lower costs, you should always keep in mind that it should bring value to the customer experience (which takes us back to fundamentals at the beginning of the article).
Social media commerce
E-commerce platforms have always been chasing social media to generate leads and traffic. However, there was a substantial shift towards using them as transactional platforms for selling goods. This trend started a few years ago and kept on steadily picking up the speed. It is vastly developing in the United States. According to the data from the previous years, about 55% of buyers made their online purchases through a brand's social post.
The critical success of this development was a long and slow transferring process on regular selling channels. It made customers close the window, causing high attrition rates long before the checkout stage.
What are the most popular social media platforms?
Instagram, the largest photo and video sharing social network, offers a shopping option that transfers potential buyers from the app to the actual website to complete the purchase. Also, there is a newer feature available, as well. Instagram Checkout allows you to go through the whole purchasing process without leaving Instagram.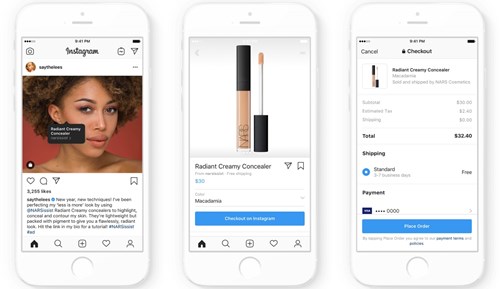 Similarly, another social media giant, Facebook, implemented the feature initially called Canvas and lately renamed into Facebook Instant experience. It allows shoppers to do shopping right in the application and showcases products in a grid layout so people can scroll horizontally and pick the most relevant items.
Private messaging tools like WhatsApp and Snapchat are also on their way to become transactional platforms. According to the Facebook Survey 2019, about 40% of e-commerce customers globally start shopping with chat messages. A similar platform, called WeChat, has already been flourishing in China since 2011. Its accessibility ease, user-friendly appearance, and social sharing features are three keys to its growing success. It is extremely easy to accomplish mobile transactions without leaving the app. Chinese brands and retailers gladly take advantage of this golden selling opportunity. They use WeChat stores to gain more control over their brand stores and minimize customer acquisition costs. Also, they are in charge of user interface design and consumer data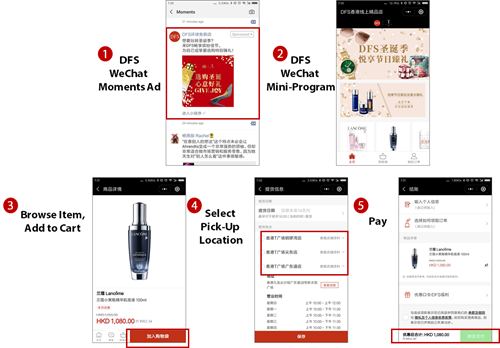 What should you do?
Do market research to see where your customers are most active and how you can use the platform's features to spark conversions. Next, you will have to make some investments in tools and technology for better engagement on these platforms. Be on top of this movement to promote your business growth in a modern, yet elegant way.
Top three online retail categories
According to the latest Cross-Border Commerce Europe study, the third most selling category is Sports / Leisure. It accounts for 10% of the total sales with 50 online stores. The Top 3 brands are Thomann, Suunto, and Blue Tomato. The second prize goes to the Home / Garden / DIY categories sold by online Ikea, Casa, and Wayfair. Finally, the 'fashion/jewelry/baby' category takes a significant share of the cake.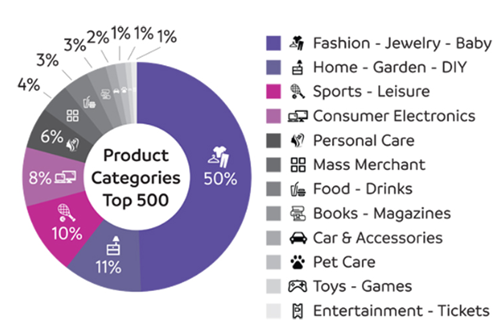 Online fashion buyers are expected to make about 113 billion euros in revenue by 2025 (compared to the current revenue of 68 billion euros). The rise of cross-border marketplaces and artificial intelligence in fashion continues, with Zalando, H&M, and Zara being prominent influencers in the purchasing process. Zalando is approaching an 11.5% online fashion market share by 2025 (the current mark is 7.9%). Also, it is expected to hold about a 2.8% share of the total fashion sector (today, 1.2%).
According to the study, fashion revenue in the Netherlands amounts to US$5,348 million in 2020 and is expected to show an annual growth rate of 5.2%. Hence, by 2024 a market volume will reach US$6,544 million. Also, research showed that the largest segment of the fashion category is apparel, with a market volume of US$3,500m in 2020.
The final word
It is crucial to understand buyers' preferable ways of shopping and strive for more personalized experiences to address their needs to set your business up and have a productive year ahead. Remember, when it comes to adopting the trends, it is always about making things better for your customers.