16 February 2022
Stick or twist: In-region growth versus European expansion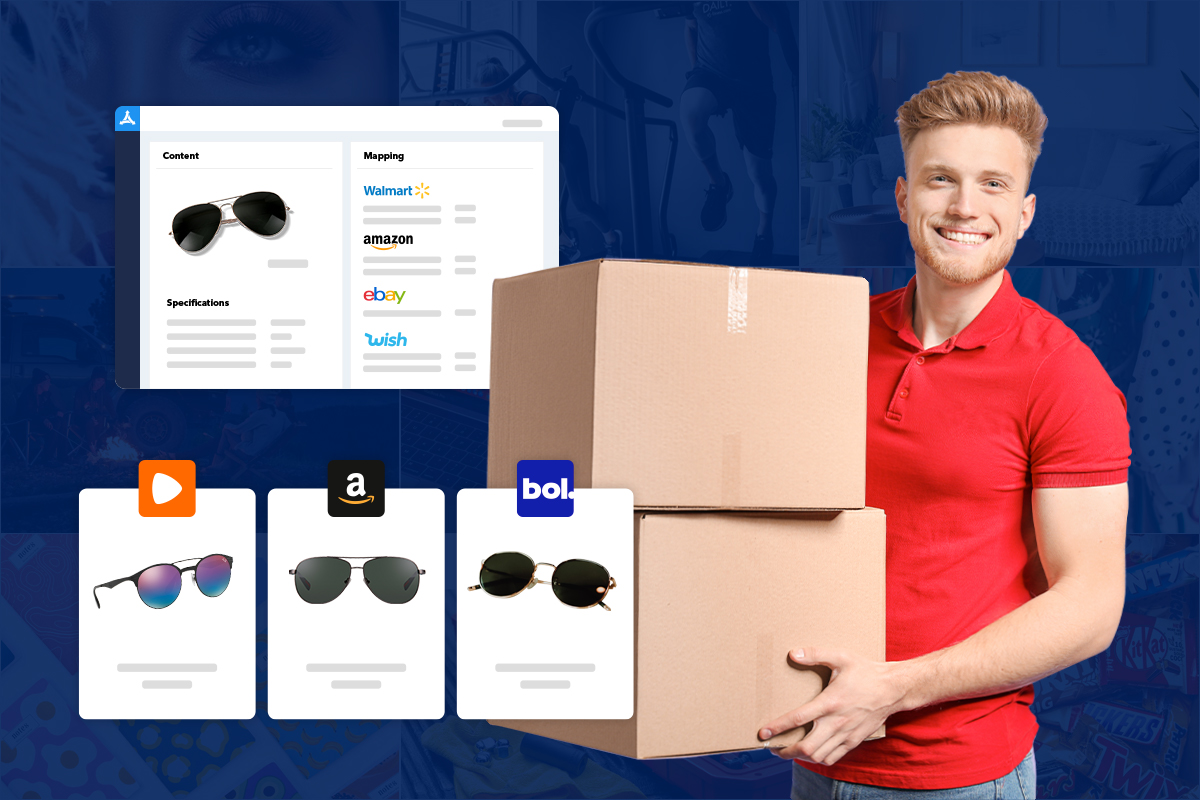 In recent years, we've seen the retail landscape go through changes at speed like never before, with an ever-changing list of external factors shaping and reshaping how brands approach selling to both businesses and consumers.
The pandemic triggered seismic shifts across global e-commerce that no one could have predicted. The race for companies to ensure their model meets sustainability standards has intensified as consumers become more environmentally conscious.
Also responsible for massive disruption has been the continued emergence and constant evolution of online marketplaces, which have become an even more dominant force across global e-commerce. A combination of convenience, greater product selections, competitive pricing, and fast delivery times all play a crucial part in attracting a greater share of the overall retail market.
According to Statista, online marketplaces accounted for nearly a quarter of global online shopping orders.
It's a significant portion of a big market. In 2021, retail e-commerce sales amounted to an estimated 4.9 trillion U.S. dollars worldwide. This figure, accelerated by the COVID-19 pandemic, is forecast to grow by 50 percent over the next four years, reaching about 7.4 trillion dollars by 2025.
Of the nearly $5tn spent globally on marketplaces last year, U.S. marketplaces accounted for around $1tn of that. The data is a clear indicator that the pandemic-fueled spending heights aren't fading anytime soon—U.S. e-commerce sales are sustaining at 18% year-over-year growth, and forecasts point to roughly $500bn YoY growth through 2026 globally.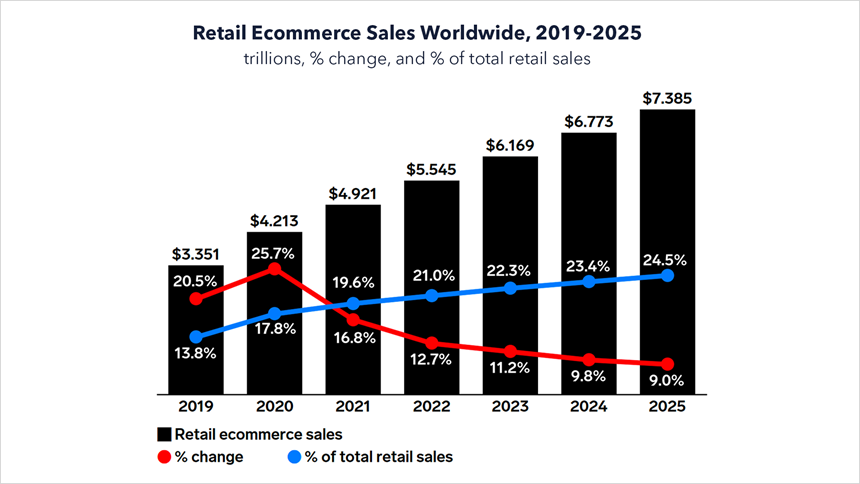 Figure 1. Retail e-commerce sales worldwide, 2019-2025 [source]
Unsurprisingly, European marketplaces have played a major role in this prosperity. Even before the pandemic, marketplaces in Europe were witnessing impressive growth. However, in 2021 e-commerce revenues jumped by 30% in the continent, and research from RetailX credited around 50% of total e-commerce sales to marketplaces.With Europe's e-commerce segment predicted to reach $570bn by 2025, US brands hoping to scale must ask themselves a potentially tricky question; in-region growth or expansion into Europe?
The ups and downs of selling in the US
It's no secret that the major US marketplaces have flourished throughout the pandemic, with the top 50 growing their sales by a staggering 40% in 2020. The big players in the region unsurprisingly skyrocketed in terms of sales last year, Amazon jumping by 15.3% and Walmart by 21.2%.
The US is recognized as the land of opportunity for a reason—boasting the world's largest economy and an exceptionally tech-savvy population, the buying power that brands can tap into here is unrivaled by a considerable way.
Last year, 14% of all US consumer spending took place online, and around one-third of all US business now flows through e-commerce, 63% of which is through marketplaces.
As of 2021, in North America, 59% of the top 500 retailers were selling on marketplaces. It is a testament to the true power of these channels within the region and a clear indicator of the incredibly high levels of competition in an extremely saturated region.
There are several other unique challenges to deal with regarding e-commerce in the US. For example, sales taxes, along with other laws and regulations, can differ on a state-by-state basis, making things a little more complex depending on where your business is based, where your stock is held, and where your orders are shipped to.
Given how competitive the US market is, ensuring your brand is heard ahead of your competitors can be incredibly costly and requires a high level of expertise. For instance, after recently announcing their Q4 and full-year earnings, Amazon revealed the staggering amount they make in advertising revenue for the first time. Generating $31.16bn, the advertising side of the business was more profitable than its AWS in 2021, which had previously been thought to be the most lucrative arm of Amazon.
The sheer size of the US can become another hurdle. While the region may offer access to the world's largest economy, that in itself comes with difficulties. Due to the low population density and large distances between major cities, shipping can be slow and expensive—a factor that could explain why online retail as a proportion of total retail is much less (14%) in comparison to China (25%) and the UK (23%).
Ironically, the overwhelming success of online retail has likely led to one of its biggest challenges. 66% of customers expect free shipping on all online orders regardless of total spend, and 56% of 18-34-year-olds expect the option of same-day delivery. While this is no major issue for the e-commerce superpowers, smaller brands and startups may struggle to meet such high, potentially costly expectations.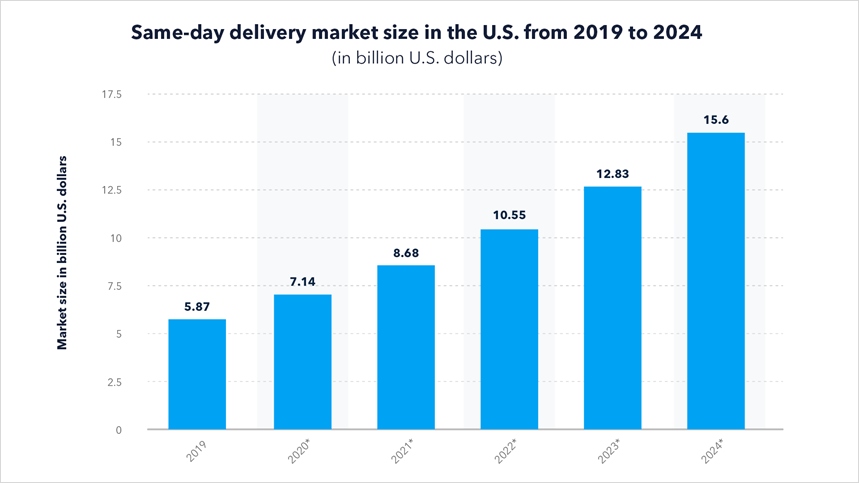 Figure 2. Same-day delivery market size in the U.S. from 2019 to 2024 [source]
Finally, the US is a highly mature market, and it will begin to plateau at some point. It may be years before we begin to see this happening, but there's no doubt that Its current growth rate simply cannot continue forever. When that does begin to happen, businesses will be looking to add alternative market regions to their strategy, naturally leading to an influx of new names entering the European market.
With that being said, shifting at least some attention towards expanding into Europe before an inevitable wave of your competitors does the same is something that could be well worth considering.
Cracking Europe via North America
Undoubtedly, one of the biggest selling points of the European market is how many hurdles the European Union removes for businesses. The union, which features some of the wealthiest countries in the world that unite to create the world's largest single market, allows a business to operate across all 27 member states by complying with a single, overarching set of rules.
This allows for free movement of people, goods, services, and capital, bringing significant benefits in terms of easier access to funding, clearer rules and regulations, greater protection for shareholders, creditors, and employees, and much less administrative burden. Using a single currency, huge chunks of Europe are another massive benefit to businesses, removing charges for currency conversion when selling cross-border.
Last year, the share of internet access had risen to 92%, and the continent overwhelmingly embraces tech when it comes to buying habits. This rings especially true in the more mature markets, like the UK, where e-commerce sales are expected to make up 36.3% of total retail this year.
Other big names like France and Italy have also witnessed a big jump in e-commerce penetration, hitting 48% and 41%, respectively, keeping up with the UK, which was also at 48%. Following on from that trend, nearly half (44%) of product searches in Europe now begin directly on a marketplace.
What must brands consider when selling in Europe?
First of all, businesses will need to research and test which are the best marketplaces to sell their products or services. While in this phase, don't just consider the big names, local research marketplaces devoted to specific verticals.
Demand for in-depth product descriptions is also a key component to success in Europe. Two-thirds of shoppers say they decide against a product due to poor descriptions, so it's wise to ensure this side of things is up to scratch when selling here. This can be a little tricky to navigate given the multiple language barriers, something that also must be tackled when it comes to customer service.
Be aware of cultural differences when communicating with both consumers and employees. Attitudes tend to differ from country to country, which means there's a considerable amount of sensitivity that needs to be taken. This also applies when trying to secure business deals—decisions tend to come down to concrete numbers here, while it's easier to 'sell a story' in the US.
In terms of other regulations you'll need to follow, make sure your business is VAT registered and that it adheres to the latest GDPR privacy regulations.
What's the next move?
Whether you choose to grow in-region or expand into Europe, taking a multi-platform approach is often the most effective way to operate.
Statista predicts multichannel selling to exceed $575bn by 2023. Given that there are over 2.1 million e-commerce sellers in the US and over 800,000 in Europe, brands wanting to break through the noise have a much better chance of doing so by optimizing their offering across a number of different marketplaces.
ChannelEngine connects global e-commerce with its software as a service (SaaS) solution for complete marketplace management. By creating a seamless integration between businesses and marketplaces, ChannelEngine empowers brands, retailers, and wholesalers to connect, automate and optimally sell on marketplaces worldwide.
Our partnership network comprises 65+ full-service agencies, 25+ integration partners, 15+ logistic partners, and 10+ tools & service partners. It provides access to industry leaders across strategy, content, translations, fulfillment, and customer support.
Headquartered in Leiden, the Netherlands, ChannelEngine has offices in Munich, Dubai, Singapore, Melbourne, and New York. ChannelEngine facilitates the sales of more than 3 million products from 1,500 brands on 200+ sales channels. ChannelEngine clients include Bugaboo, Staples, Reckitt, JBL, Polaroid, Bosch, Hunkemöller and Brabantia.
ChannelEngine expands to the US market, empowering brands, retailers, and wholesalers to connect to global marketplaces and sales channels. We have created a seamless connection to Amazon, eBay, Walmart, Wish, Back Market, Buy on Google, Newegg, and Shopify in the past years. Currently, we also have Wayfair, Mercado Libre, Target, Bed Bath & Beyond, Best Buy Canada, Belk, The Bay, and other big e-commerce players on our roadmap.
Does this sound like a good opportunity for your business? Our complete marketplace management solution, strong partner ecosystem, and the local team will help you rapidly grow your customer base and sales. Request a demo and learn how to make a smooth connection to some of the most promising US and European marketplaces.