22 March 2021
How to sell on Zalando: The ultimate guide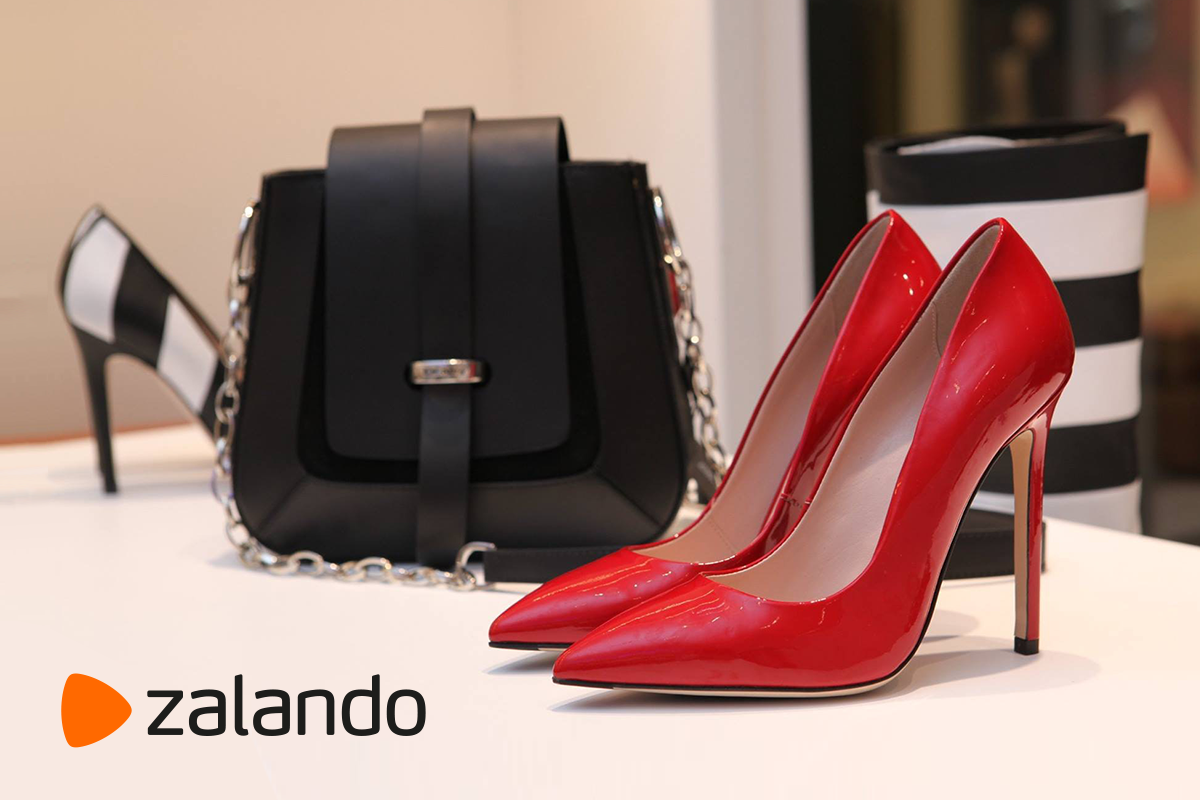 The online segment of the European fashion market is expanding rapidly; brands today have a unique opportunity to reach more customers with marketplace selling. There are numerous marketplaces in Europe where fashion brands can thrive, but the biggest player by some way is Zalando.
This marketplace alone captured €10.3 billion of revenue across the European region in 2022, and this amount has been growing more than 20% each year for several years. With more than 50 million registered customers, the Zalando marketplace must be a priority for brands.
The fundamentals of fashion ecommerce

Ecommerce makes up 18.5% of global retail revenue, amounting to $4.9 trillion in 2023.

About 58% of these sales occur on marketplaces, and this share is expected to exceed 75% as more consumers flock to the trusted and familiar shopping environments they offer.

Fashion is one of the strongest segments in ecommerce, with solid growth of 8.4% and an online share of 24% of all fashion retail.
By targeting the largest marketplace for fashion, brands can tap into a ready audience of fashion consumers.
For sellers that can meet the demands of selling on this platform, a tremendous opportunity awaits. While it takes some work to achieve success on Zalando, it's definitely worth it for quality brands with something special to offer.
To make this opportunity easier to understand (and attain), we've defined the 5 key competencies you need to master to get the most from Zalando's fashion marketplace. These are:
Brand readiness

Content tailoring

Logistics

Expansion & conversion

Pricing, returns & marketing
Let's dive straight in, and see what you need to succeed on Zalando.
Brand readiness
Good preparation is key to success, and this starts with the preparations needed before onboarding can happen. To give you an idea of what's required, these are the 4 steps you'll need to take.
4 Steps to prepare for Zalando onboarding

Step 1: Admin integration
Before the technical integration, your admin needs to be set up, so it works efficiently and processes orders and returns properly for Zalando.
Step 2: Technical integration
This step should be effortless, provided your own systems are already running smoothly and are up to date. ChannelEngine perfectly connects your own systems (PIM, ERP, WMS, etc.,) to each marketplace with robust API connectors.
Step 3: Article onboarding
This stage has a massive impact on your overall success. It requires working diligently on your content, categories, and mapping, but saves money time in the long-term. This is covered in detail in this Zalando guide.
Step 4: Launch and Test
And now you can get selling! Make sure you test operational effectiveness by making test purchases from your listings and measuring the results. This can give you an idea of the customer experience and how efficiently dispatch and customer service is working.
Preparing your brand for selling on Zalando
This initial stage involves tackling the technical requirements for selling on Zalando. Following this guide to selling on Zalando will help ensure the smoothest onboarding and optimized selling results from the beginning. You can also get a detailed overview of what's needed with this checklist for Zalando sellers.
Content tailoring
Zalando has crafted a user experience that intuitively connects shoppers with the items they want, so your brand will get the best sales results by investing in tailored content. By matching Zalando's guidelines and preparing the best possible content, you'll achieve more sales and fewer returns.
Zalando content requirements
1: Images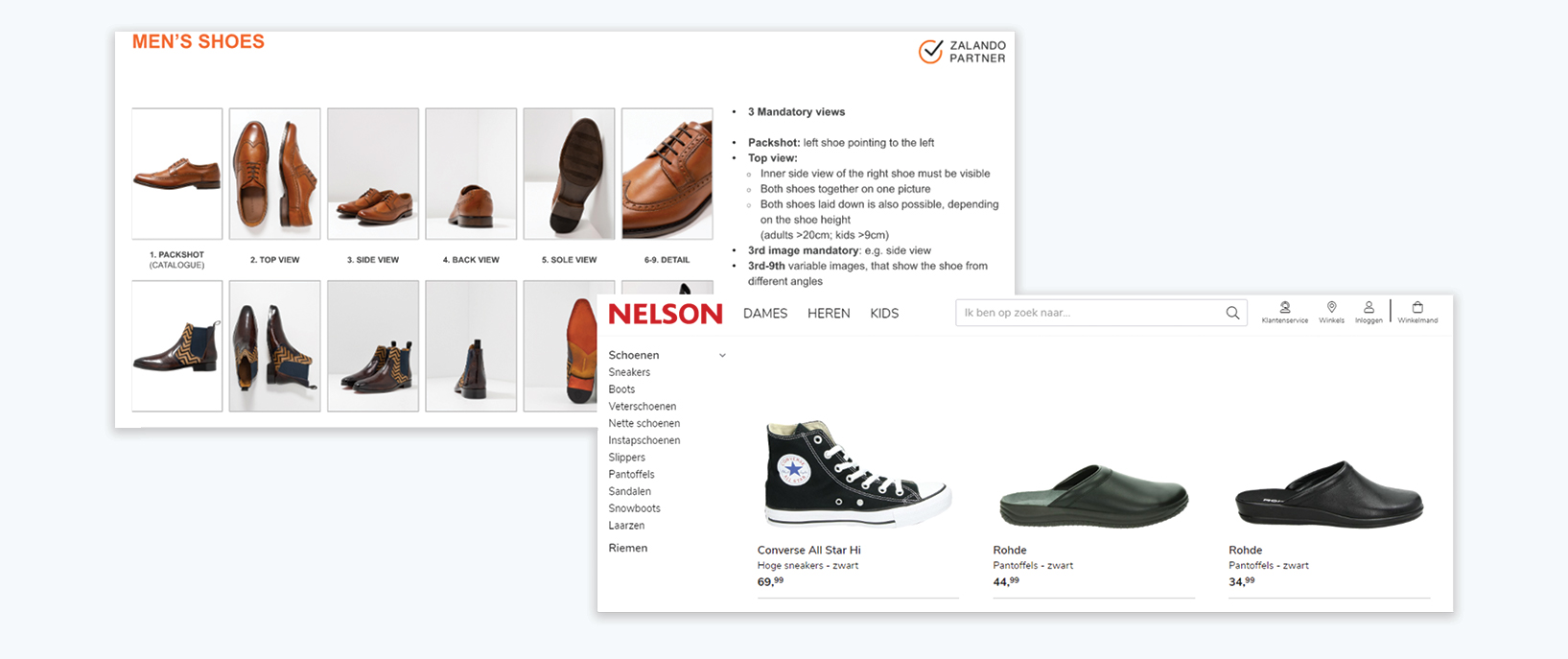 Invest in high-resolution, detailed images that show all the right views. Check the specifications for each category, and look at your competitors' images. Ensure products meet these standards before launch.
Zalando's requirements may be different to what you already use on other selling channels, but it's essential you follow them. For example, for shoes, the primary image should be the left shoe, and other detailed images of the sole (and other views) are also needed.
Tips for product images Zalando:
Create a comprehensive checklist for each product type, so it's clear for your photography team from the start what's needed

Use rational file names that indicate the order images are shown in

Use consistent lighting, to avoid accidental misrepresentation of shades

If using a live model, create a sense of scale by stating their height

Regularly check requirements for revisions, so you stay compliant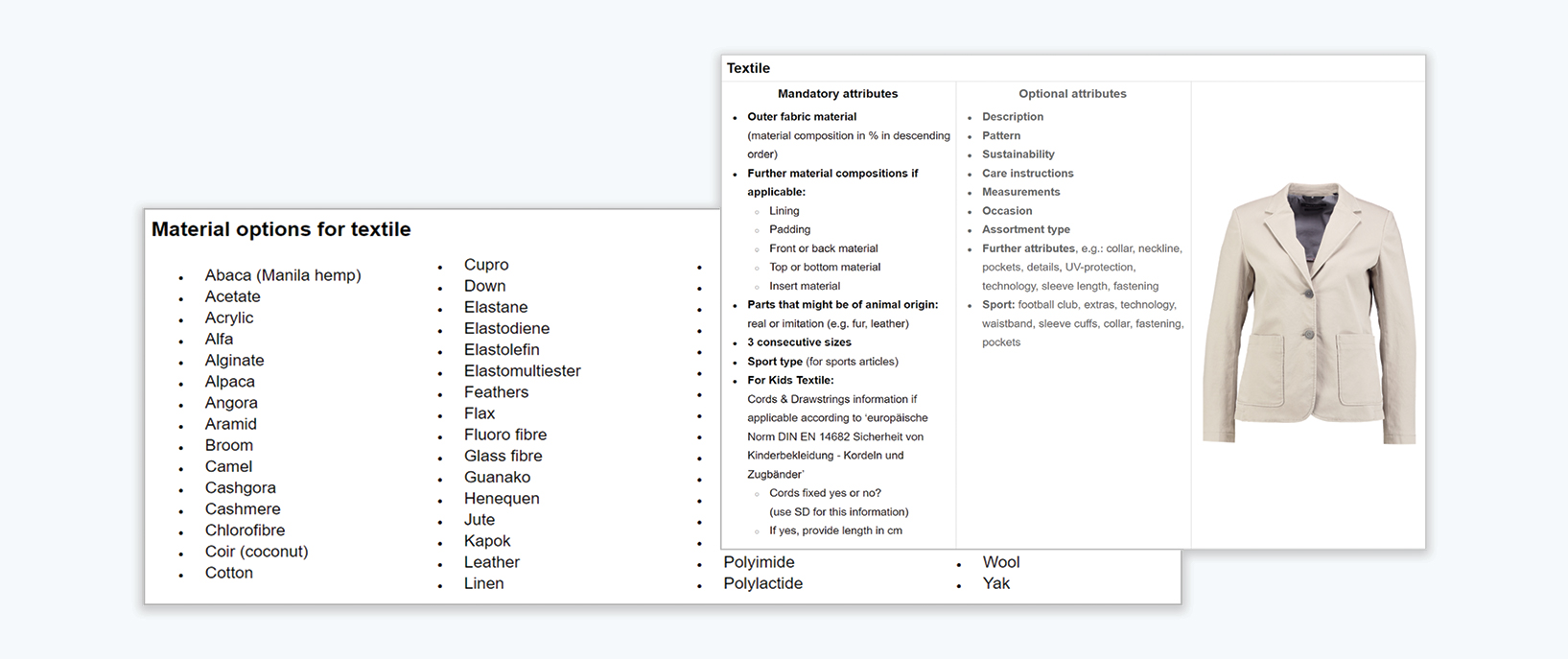 Having the right attributes has a very positive effect on conversion and return rates, by connecting your products to what consumers are searching for. Without them, your products are invisible. There are mandatory fields and some fixed options, but also a lot of optional attributes you can use.
For example, a child's hooded sweater with a fixed cord needs to specify the cord length. It can be hard to get this information when stock is still in production. Requirements also change regularly, so be prepared to go back and regularly revise listings.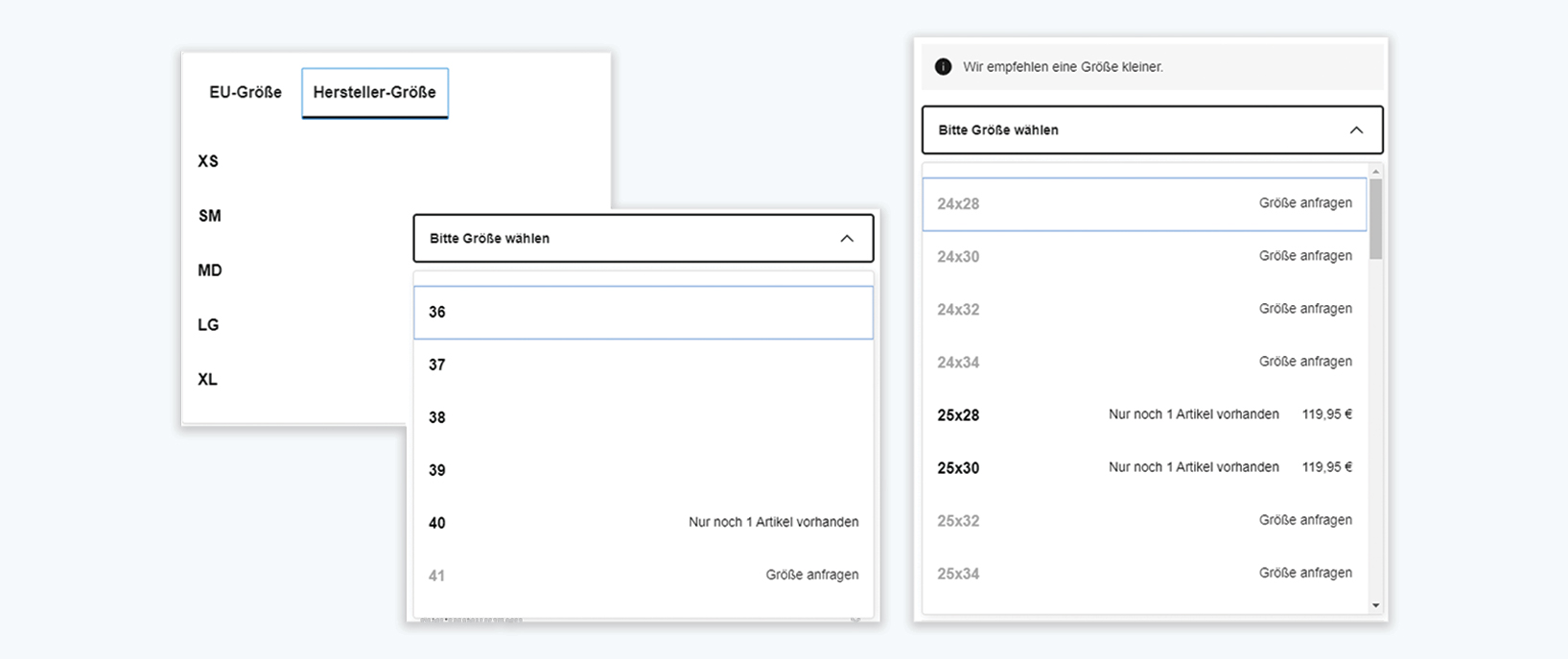 Good size information can increase profitability. Without it, customers will order multiple sizes just to try them out. The better the size advice you offer, the more sales and fewer returns.
Some products have a minimum requirement for the range of different sizes you offer. Without meeting this minimum number of sizes your products will be disqualified.
Selling on Zalando: Logistics
Getting your products into the hands of customers is, naturally, an important piece of this puzzle. It's important to know that Zalando sellers need to meet specific requirements for couriers, and dispatch processes must accommodate new processes. Many brands use Zalando's own logistics services to solve this, but you can also use your own infrastructure.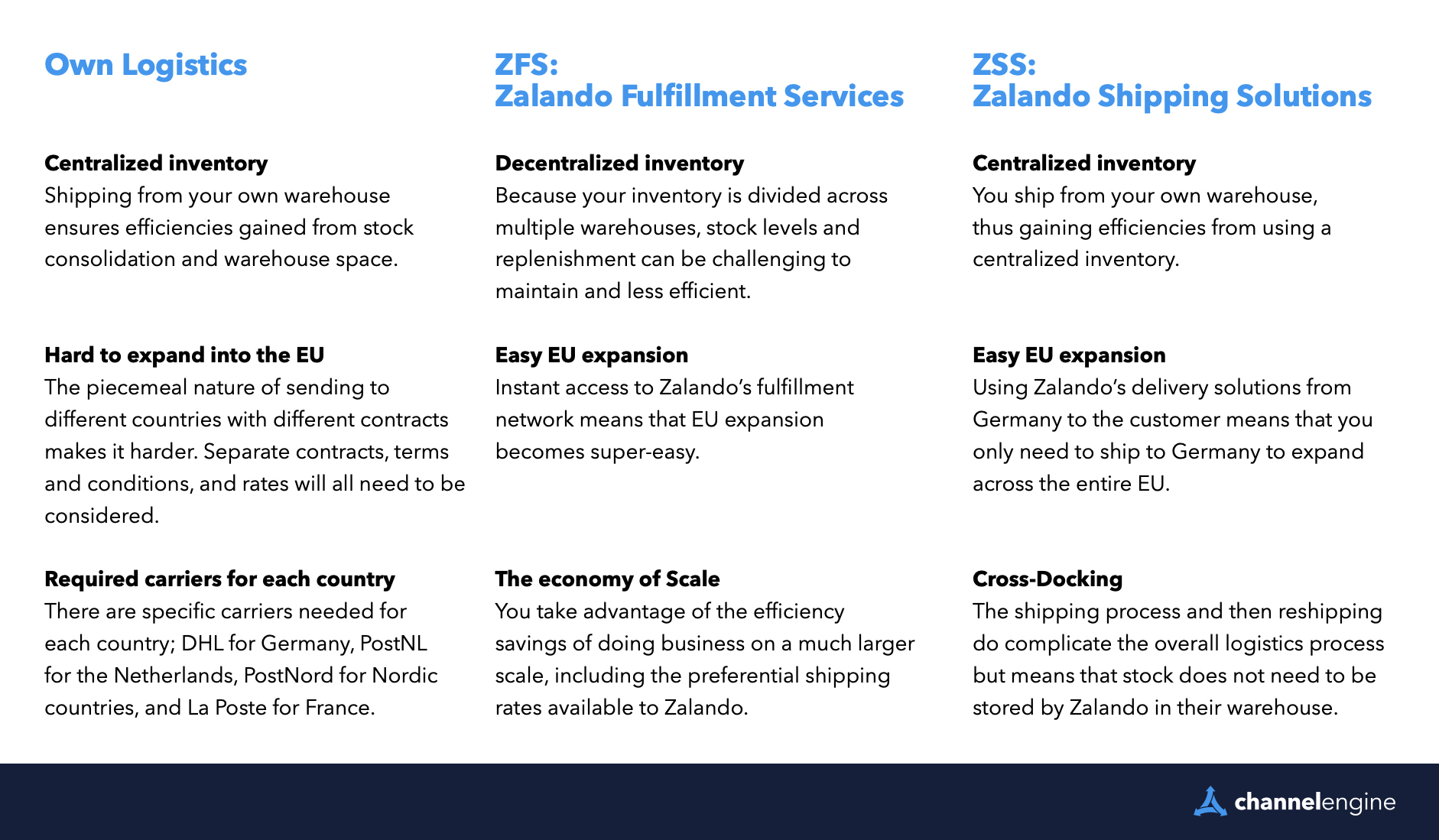 Option 1: Own Logistics
Many retailers use their own delivery companies for fast and reliable shipping across Europe. Specific requirements for documentation apply, and approved couriers are needed for each country, especially for returns: DHL for Germany, PostNL for The Netherlands, PostNord for Nordic countries, and La Poste (Colissimo) for France.
There is more scope for delivery couriers, but you might want to streamline as much as you can with fewer contracts.
Some recommendations for this option:
Set up your logistics solution well in advance, so everything is ready for speedy dispatch and delivery.

Account for the typically high return rate of specific categories (this can be 45%), using a logistics option that is cost-effective and efficient for returns.

Ensure your backend systems can print return labels and track returns through your ERP (if needed, ChannelEngine has a solution for this)
Option 2: Zalando Fulfillment Services (ZFS)
This is an all-inclusive service where your goods are warehoused and dispatched by a Zalando fulfillment center.
Easy EU expansion – Zalando's fulfillment network makes EU expansion super-easy.

Economy of Scale – efficiency savings from partnering with Zalando, including the preferential bulk shipping rates available to Zalando.

Shared outbound and returns – Zalando takes care of the outbound and returned goods, with consolidated costs and lower service burden to you.
Disadvantages of ZFS:
Decentralized inventory – inventory is divided across multiple warehouses, making stock levels challenging to maintain and less efficient.

Extended forecasting requirement – you must provide a 16-week advance forecast from the very start for each product. This can be a speed bump for retailers who need to do this for the first time.

Bulk shipment requirements – This affects replenishment, MOQs, and reordering processes.
Option 3: Zalando Shipping Solutions (ZSS)
ZSS uses the Zalando distribution network but still ships from your own warehouse. Each order is sent to a Zalando location in Germany, then forwarded to the customer.
Advantages of ZSS:
Centralized inventory – using your own warehouse consolidates costs.

Easy EU expansion – Zalando's delivery solutions mean you only need to ship to Zalando in Germany to reach customers across the entire EU.
Disadvantages of ZSS:
Cross-Docking – this complicates the overall logistics process

Extended Delivery Time – ZSS orders take more time, which may impact conversion rates.

Short Deadline – a fast dispatch process is required to get the orders from your location to the Zalando location in Germany within 48 hours.

Adjusted Pick-Pack Process – orders are handled differently, with potential for diminished efficiencies in your dispatch center.
Required documents for selling on Zalando
Each Zalando order needs to be shipped with certain documents. These are:
Packing Slip

Return Instructions

Return Labe
Both the return label (and instructions) should be very clear, and need to be tailored to each specific country (translations, couriers, etc.,). If you choose ZFS, these are all taken care of for you.
Selling on Zalando: Expansion and conversion
Once you're selling on Zalando in one of their main markets (like Germany), it becomes very straightforward to expand into other European markets.
If you're testing a new market and don't want to commit to a new contract with an approved carrier, it can be wise to start with Zalando's logistics services.
Here are some of the most important things to address when expanding into new markets on Zalando:
Shipping Templates - these need to be translated into the required languages and formats for each country. Both address formats and return labels need to match the destination country.
Product Content Translation - primary content information should be available in German or English, but you should also translate this for each new market you expand into.
Prices - prices need to be converted into the right currencies (EUR, SEK, DKK, GBP, and CHF), and made to look 'rational' for the market. ChannelEngine can automatically convert and round-up prices using custom rules and a live currency price, which is regularly updated.
Go-live Strategy - Zalando customers can become loyal repeat clients if you can make an excellent first impression. You only get one opportunity to launch, so do it right with a strategy that adds some excitement. Think about 'launch' pricing or another event to start selling with momentum.
Analyzing Zalando conversion
Boosting your conversion can improve sales and optimize profitability. The Zdirect Dashboard gives retailers valuable analytics including your Conversion Rate, which indicates whether there's room for improvement.
Start using this straightaway, and track progress over time, benchmarking your conversion rates against the product category average. Most categories have a conversion rate of 4 to 5%, but it can be quite different for certain categories.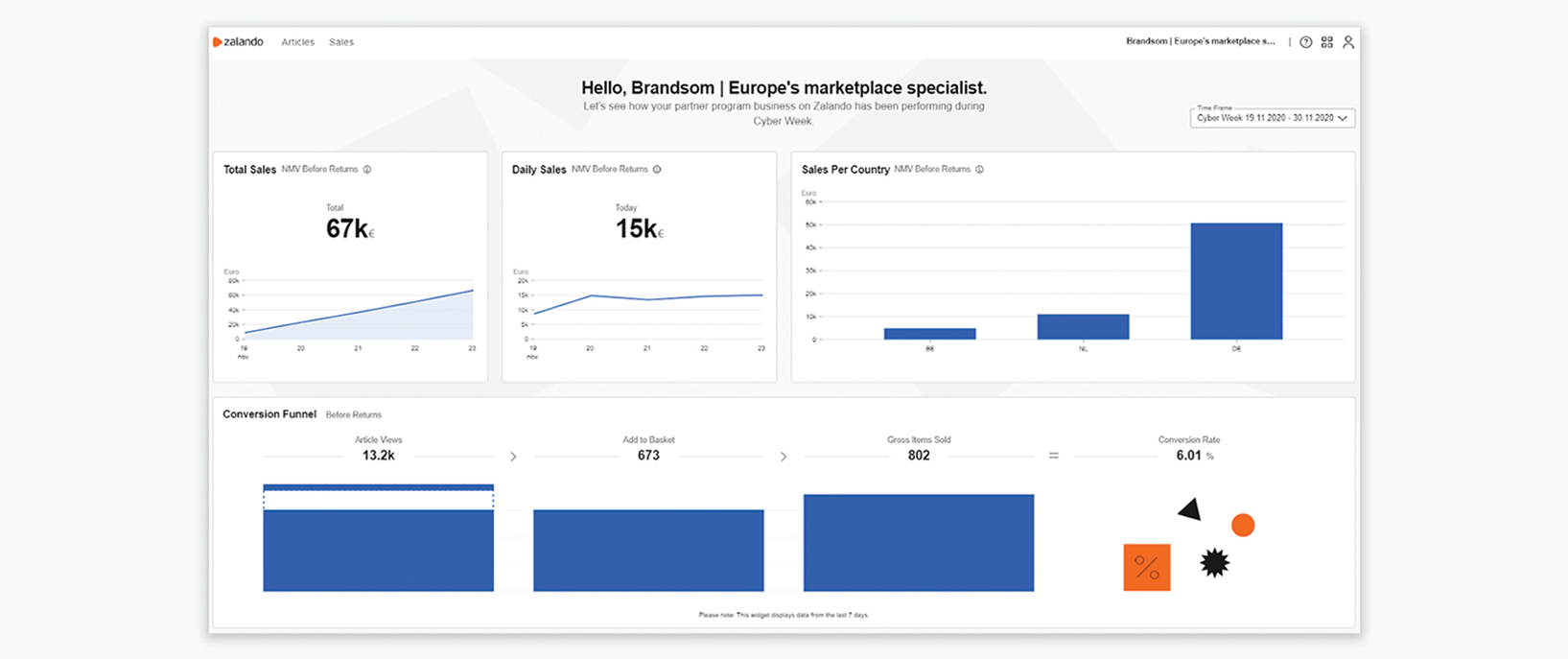 When the conversion rate indicates that improvement is needed, the first thing to do is go back and check your content:
Product Defining Attributes – Are your attributes specific enough? Do you use all the optional attributes? Think about how they search, and if your attributes cover all the bases. Include details like material, and qualities like 'waterproof', even when these are in the description.
Images – Check you provide all the right requirements. As the requirements change, ensure you meet the current guidelines, and compare against your top-performing peers.
Sizes Grids and Size Advice – Is something wrong with the Size Charts you offer? Is it clear what the customers are getting? Do they know how to choose?
The Zdirect Dashboard gives you both average conversion rates and conversion rates for specific products. You can also compare your rates to those of your peers on the marketplace. Using these insights, you can revisit your content and other things like customer service or logistics solutions to fine-tune your sales results.
Pricing, returns, and marketing
These might seem like an odd collection of tasks, but all these directly affect your bottom line. Creating a business structure that manages and optimizes these processes is essential to healthy margins.
Pricing on Zalando
Shoppers on Zalando tend not to shop around, so the pricing strategy on Zalando is quite different from other marketplaces like Amazon.
Here's a quick checklist for getting your Zalando prices in order:
Recommended Retail Price (RRP) - This is the basis for your pricing strategy because it puts all other prices on a 'relative scale', and defines a baseline for discounts and promotions. Consistent pricing also inspires more confidence in the consumer. Pay attention to the technical side of your integration and make sure you can maintain a consistent RRP for items within the same basic range. This can be a problem if your integrator doesn't offer enough options.
Sale Price – Using your RRP, it's sensible to set a predefined 'sale' price. This is easy if you have the correct integration solution. Discounting can stimulate short-term sales and long-term interest and 'stalking' behaviors in shoppers. However, the discount is only visible to them if the structured price (RRP) is already established.
Dynamic pricing – This can ensure your products retain visibility during intense sales periods. If your sales start to drop off, your competitors may be offering your product for less – dynamic pricing is a solution to this.
Price consistency - Many third-party model (3P) sellers sell across multiple platforms. So, how do you handle pricing on 20+ marketplaces? Marketplaces like Amazon are more competitive, but the service burden and returns are lower. By contrast, Zalando customers happily pay more for good quality and hassle-free returns. Our advice: price this in with higher prices on Zalando, and use these to leverage tantalizing discounts.
Sales events/Campaign planning – Schedule your sales events and promotions in advance to boost sales. Zalando supports these promotions with reduced fees, meaning it's as profitable to sell with a 30% discount as it is with a 25% discount.
Tackling returns on Zalando: a checklist
Returns on Zalando are relatively high compared to other marketplaces, but with the right pricing structure, this can be mitigated. Reducing unnecessary returns is just good business - so here's a quick checklist to tune up an unfavorable returns rate:
ZDirect Return dashboard – This provides insights that show how your products perform across different categories. This can help identify actions for reducing returns and costs.
Returns analysis – Returns can be analyzed by country, and product details like size, color, or style. When outliers emerge, check items with the next steps in this list. If you still see no improvement after taking remedial action, consider removing the item from Zalando.
Size advice - Make sure size advice gives a realistic expectation and guides them to the right purchase.
Product content and attributes - Check your content and attributes to make sure it all lines up, with the right images and descriptions for the product.
Pricing – Your pricing sets expectations. If your prices are premium, consumers expect premium quality. Consider this when setting out your pricing strategy, and make sure it sets the right expectations.
Marketing on Zalando
Marketing and promotions increase your brand awareness, which reduces returns. Zalando offers brands an extensive range of possibilities for marketing and branding – far more than most marketplaces.
Some tips for successful marketing on Zalando
Set clear goals

Define a budget

Target the best time for campaigns

Measure your progress

Use the right tool for each task, such as CPC for specific products or CPM for brand-based banner campaigns
3 pro tips for success on Zalando
Retagging
This is essential to keep your products online. Zalando retags products every season to keep up with search trends, so make sure you do the same.
Manage product performance and reviews
Aim for many reviews and a 4-star rating or better. This increases sales and decreases returns.
Experiment with price points and Zalando special events
This can be done monthly, not just during defined promotional periods. Sales data across pricing variations should help you define the optimum price point based on stock.
Why wait?
Zalando is a challenging marketplace to start selling on, but its position as Europe's #1 fashion marketplace makes it an incredible opportunity with great chances of success when the time is taken to invest in your process.
While it may be tough to meet these requirements as a seller, it is just as hard for your competition, and it also means you are better prepared to tackle more marketplace integrations in the future. In short, the rewards are worth every ounce of effort it takes to attain them - and remember - you have the experience and expertise of ChannelEngine on your side.
The fashion segment will continue to grow in the next few years, with more than a third of sales going through online channels.