25 March 2021
How to start selling on Zalando (PART 2): Content tailoring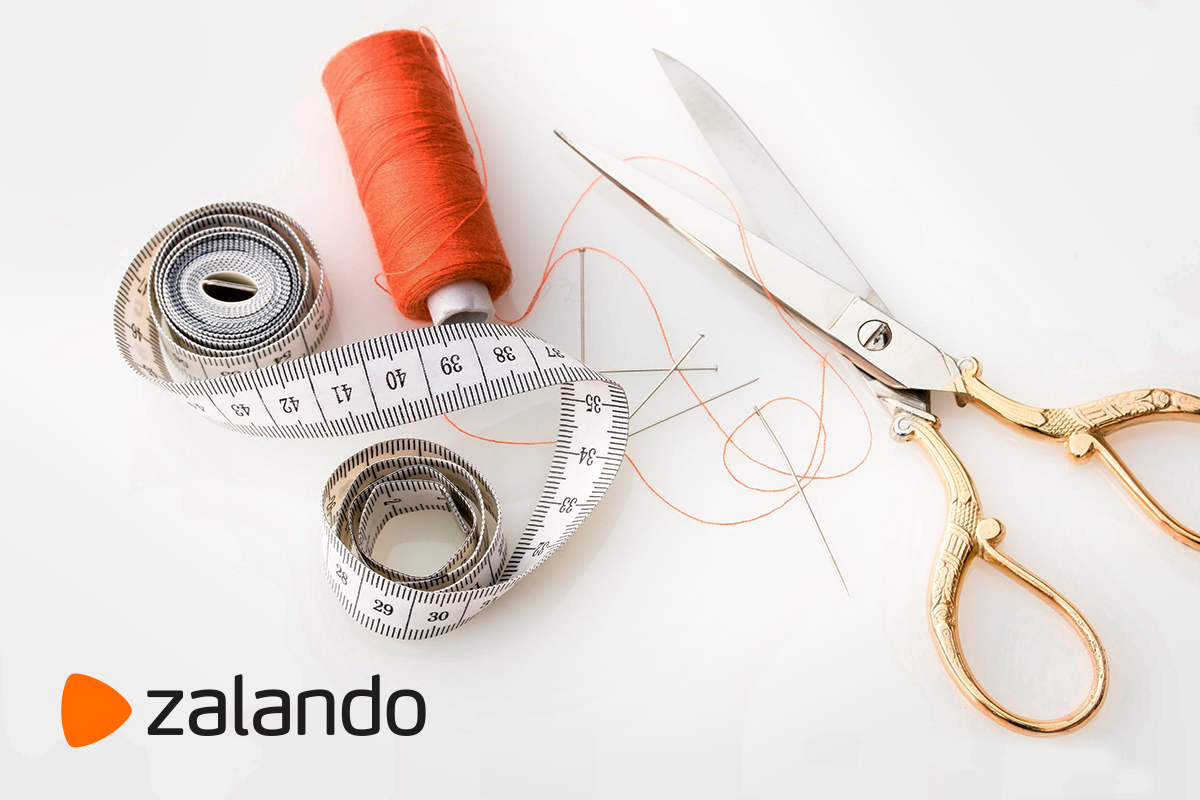 You have already taken the most important step by deciding to sell on Zalando's marketplace. This is one of the greatest opportunities to expand your fashion brand sales across the entire EU. In the previous Zalando blog (PART 1), we discussed how you can prepare for onboarding. In this article, we look at the next steps you need to start selling on Zalando: preparing your content. Let's start by looking at the content requirements.
Content
Zalando has very stringent and specific requirements for your product content. It means that your product images, attributes, and sizes need to be harmonized with the Zalando guidelines. By being aware of these and preparing in advance, you can make this process as smooth as possible.
Meeting the Zalando quality standard for your product content will have positive effects on you and your customer. The customer experiences a seamless Zalando marketplace, where there is no obvious distinction between marketplace items and Zalando's own product range. It makes the shopping experience easier and more pleasant. Also, it means that your product listings will not stand out as being 'substandard.' For your business, the reward is a higher conversion rate and a lower return rate because the customer can see what they are buying.
Once you have mastered the Zalando brand readiness process, you will find it much easier to integrate with other marketplaces. Although Zalando has by far the toughest requirements for marketplace retailers to meet, it will ensure your enterprise has the maximum success, with fewer returns and higher margins.
Be prepared to hit some obstacles along the way and be aware that they can be easily overcome with an informed approach and the proper integration partners. So let's dive in and see what the requirements are and how we can meet them!
Detailed images
All your images need to be sufficiently detailed and show specific views. This can vary slightly for different product types, so a successful marketplace launch will depend on making sure you can meet these specifications. There can be a difference between what is normal on Zalando Marketplace versus what is expected on other marketplaces or your own website.
There are also specific requirements for each category, so structure your tasks with this in mind. You should consider making a checklist for each product type so that the photography team can produce the required images as efficiently as possible. The image order is also essential, so it is worthwhile ensuring the images are saved with rational file names that reflect this.
In the example of shoes, the primary image should be of the left side of the left shoe. This is different from other marketplaces where it is the other way around or with no specific requirements. There should also be a detailed image of the sole and a particular selection of different views.
For all images, the resolution should be pretty high so that the customer can use the 'zoom view' function to really see your product's details.
Lighting is also essential. Make sure you use consistent lighting for all images taken of the same product. If there is a difference in lighting, this can cause a change in the overall color tone.
During the coronavirus crisis, Zalando determined that product images should not include a model to ensure that people did not feel compelled to do a photoshoot that was unsafe due to the virus's risk. It may continue for some time, so be aware of it.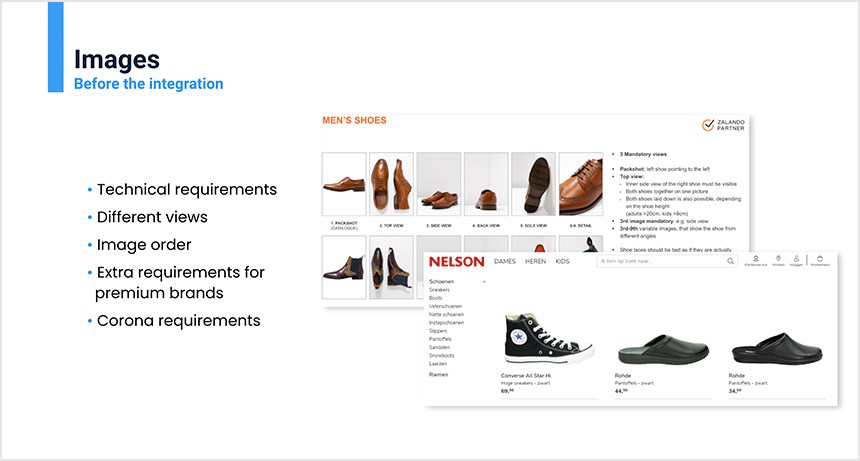 Figure 1. Examples of the specific image requirements for Zalando
Attributes
There are very specific requirements for product attributes too, and these vary across different categories. Remember that customers use them to filter their selections, so if the proper attributes are not being used, the product will not be visible to them. Having the right attributes can substantially impact your conversion and return rate because the customer needs to be sufficiently informed to purchase or keep a product. There are certain fixed options and also specific mandatory fields.
To give an example of the specificity of certain attribute requirements, a child's hooded sweater with a fixed cord needs to list the cord length for this product type. It can be difficult information to find, especially for new ranges which are still in the factory. You should be prepared to be flexible with product attributes, which may mean going back and changing what you have. Zalando does change the requirements frequently, so expect your attributes to need regular maintenance.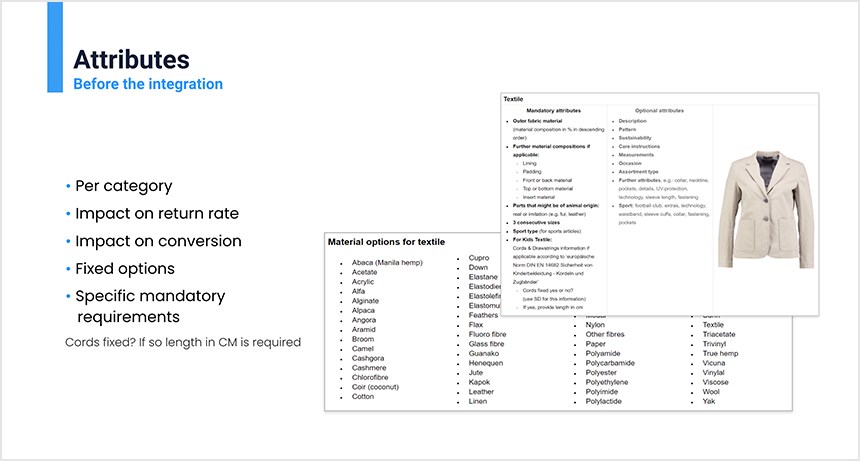 Figure 2. Product attributes for Zalando
Sizes
Zalando is a global marketplace and has customers who are accustomed to different size charts. You can use a single-size chart or multiple charts – but make sure you do it right to avoid returns!
Something to be aware of is the requirement for a size range for different products. It is much better to have a full range of sizes, but there are minimum requirements for the range of sizes you have to offer. It means that if your product is not available in a minimum number of sizes, Zalando will not allow you to list it, and this slows down the integration process. Currently, this means a minimum of 3 sizes per product for apparel, 4 sizes for shoes, and 1 size for accessories and underwear. If you can offer better size advice, this will boost your conversion rate and decrease returns.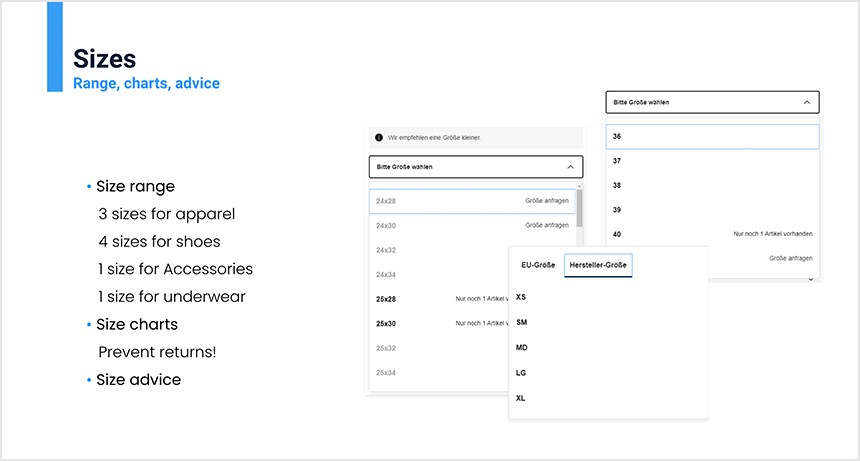 Figure 3. Sizes on Zalando: range, charts, advice
Conversion
Understanding your conversion rates is the key to seeing what needs improvement and optimizing your future sales success. Thankfully, Zalando provides the ZDirect tool with a simple dashboard. At a glance, you can gain insights into sales, returns, and conversion rates.
This tool can break down the data based on overall rates and right down to specific products. You can also compare your rates to those of your peers on the marketplace. Using these insights, you can revisit your content and logistics solutions to fine-tune your sales.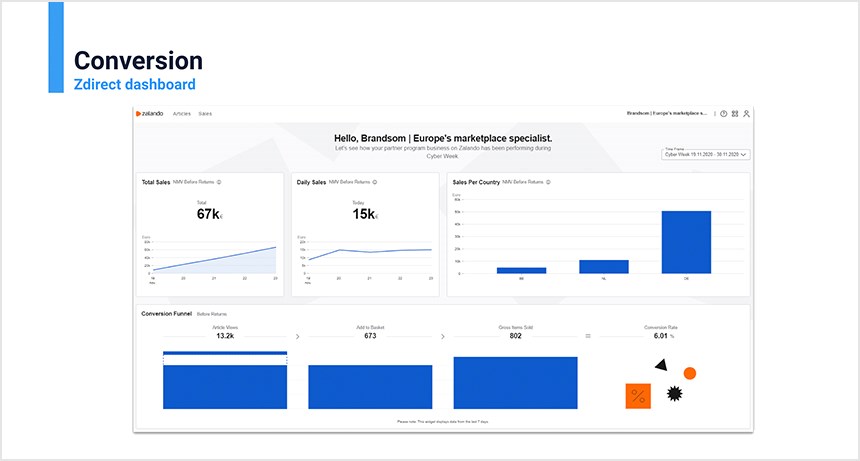 Figure 4. Zdirect dashboard
Conclusion
Zalando is a challenging marketplace to start selling on, but this is also a strength - once you are established on it. Its position as Europe's #1 fashion marketplace means that it strives to maintain a consistent, high-quality customer experience. So, while it may be tough to meet these requirements as a seller, it is just as hard for your competition, and it also means you are better prepared to tackle more marketplace integrations in the future.
The onboarding process is a challenge, for sure - but that's why you should stick with it. This exclusive marketplace is only accessible to those brands that are serious about achieving success through dedication and attention to detail.
In short, the rewards are worth every ounce of effort it takes to attain them - and remember - you have the experience and expertise of ChannelEngine on your side.
The fashion segment will continue to grow in the next few years, with more than a third of sales going through the online channels. Don't hesitate to contact us or request a demo.
Are you interested in more tips on how to sell on Zalando? Check our previous article about Preparing for onboarding or the following article about Logistics.
***This article was written in collaboration with our partner. Brandsom provides experienced marketplace consultants to lead and support marketplace integrations and optimizations.