23 September 2020
TIPS: How to get ready for the e-commerce fall peak season 2020?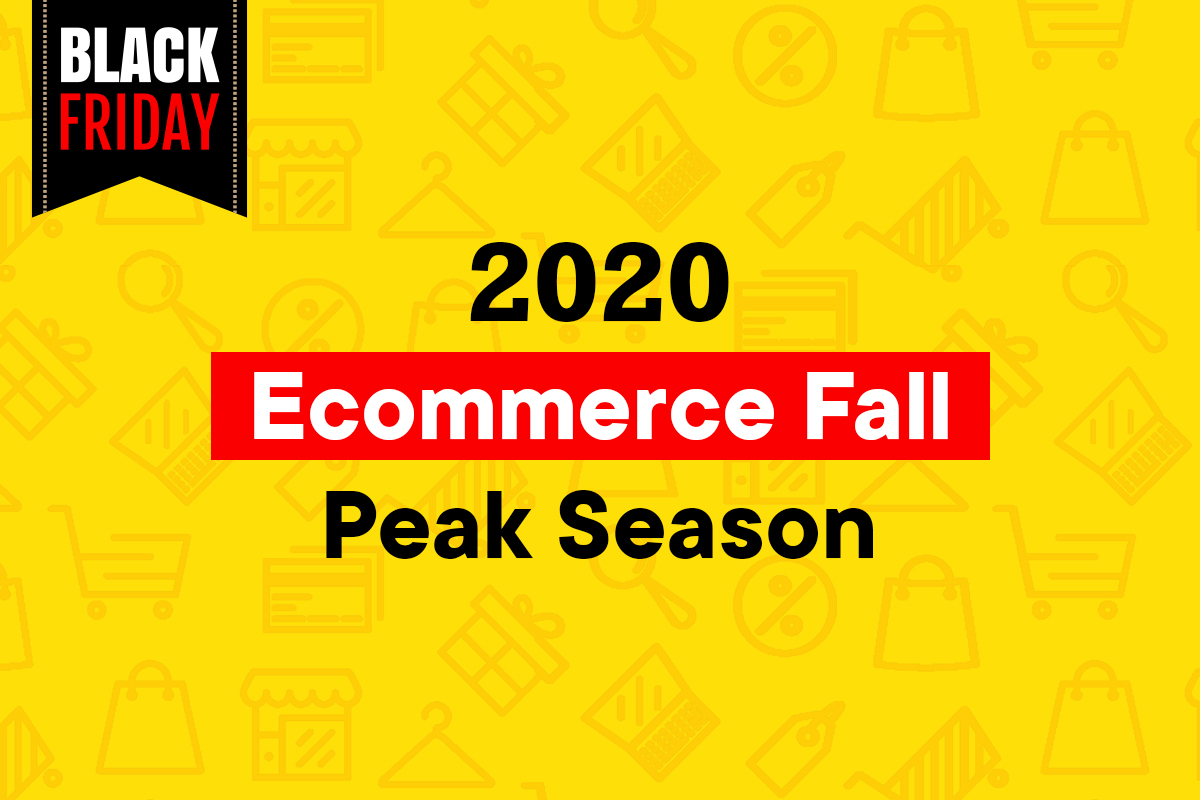 Is Black Friday as it used to be? Why not?
Do you remember the way we used to talk about Black Friday and the following holidays? It was mostly about the strategy of finding the best stores, the hottest deals, and the least insane lines. So, what changed? Most importantly, consumer behavior. Nowadays, buyers are spoiled because they have the luxury to avoid physical constraints of brick and mortar stores and have unlimited open hours. After all, the internet is available 24/7. They have access to millions of products, fantastic deals, and pleasant delivery fees.
Why is there a shift? Because it's all about the buyer. Meanwhile, online sellers are doing everything to go above and beyond and turn heads. It is time to rethink the "holiday" concept and accept the fact that "Black Friday" or "Cyber Monday" are just a part of a November "shopping fever." It is an extended sales season of customer-chasing that's getting even more powerful, prolonged, and competitive each year.
Below, you can see the graph representing the percentage of November revenue sales against our clients' total revenue sales over the last 3 years. The percentage grew from 7.97% in 2017 to 66.5% in 2019.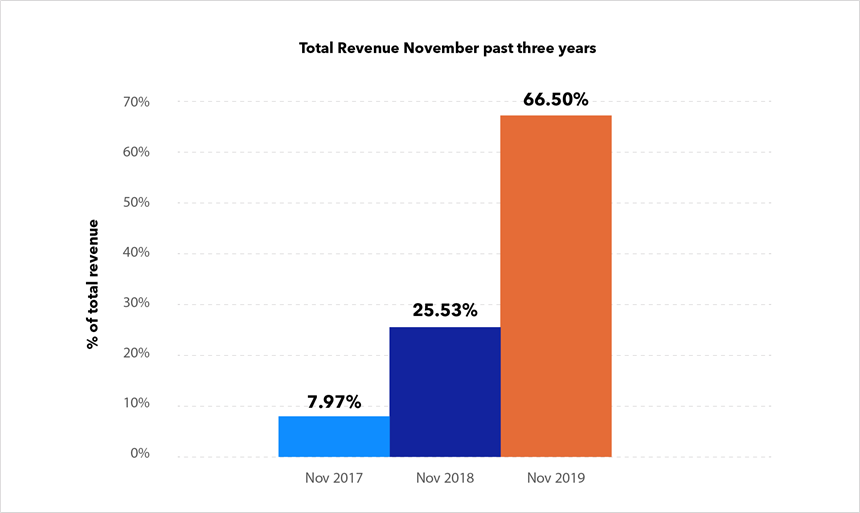 Figure 1. Total revenue November, past three years
A graph below represents a more detailed overview of the November revenue 2017-2019 divided by day. Dark bars indicate the revenue percentage on Black Friday over the past three years, rising from 5.01% in 2017 to 6.93% in 2019. However, we are sure that Black Friday sales 2020 will be a crucial time for many online sellers and will definitely set new records!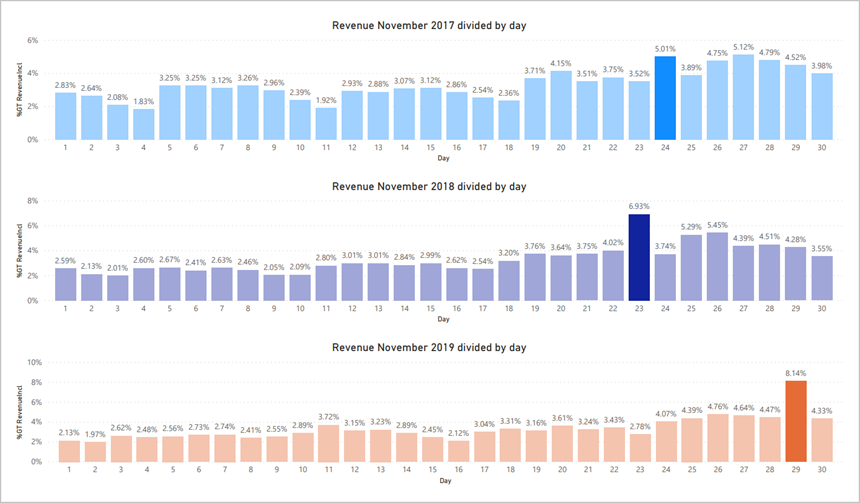 Figure 2. November revenue 2017-2019 divided by day
There is aggressive competition among the online sellers for customers' attention and buying fingers. So, jumping in the game with early sales has become part of the tradition. Make sure you know the latest trends and get ready to know yourself out during peak season 2020!
Did you know? Holiday trends
Popular products
The most popular European categories are tech and electronics, including video game consoles, televisions, smartphones, laptops, and smart tech. If you are one of the sellers in this segment, make sure to:
always use brand name and model number at the start of your title
have a generous return policy and list warranty details clearly
check restrictions on plugs and sockets before selling on Amazon
According to the 2019 research, the Netherlands' customers stayed true to the usual Black Friday trends, such as shoes, shirts, coats, and pants. All these categories tripled last year in comparison to the previous sale season. The graphic below shows the Indexed daily sales for retail in the Netherlands based on average sales in the previous three weeks of November.
Figure 3. Indexed daily sales for retail in the Netherlands, 2019
If you are selling these product categories, make sure to check the following before the holiday sales:
simplify the listing process and save up resources
match you catalog's categories with the marketplace categories to make sure your products are well-positioned
provide consistent product information regarding fabrics, treatments, fits, and accessories
Shopping mode
Throughout the last few years, mobile has strengthened its position as the primary device of choice during the fall shopping season in Europe. According to the recent study, mobile shopping mode has grown from 60.79% to 66.55% between 2018 and 2019. Desktop traffic, meanwhile, decreased by almost 3% over the year. Moreover, the study has shown that mobile shoppers not only order but spend more.
The shift towards browsing and buying on their mobile devices also means that buyers tend to spend less time allowing sellers to make an impression. Hence now, more than ever, you need to make sure you offer an A+ shopping experience to drive the results you want during one of the most significant shopping events this year. Understanding the following steps is crucial to cut through the competitive noise.
Holiday strategy or 5 crucial steps towards success
STEP 1. Review and optimize the structure of your shopping campaign
Ensure you know the priority of your product assortment and align a campaign structure to your goals. In other words, differentiate between high, medium, and low categories:
High priority products: your best-sellers and the products with top SKUs on sale
Medium priority products: here, you have the majority of your products. Segment them by brands or product categories
Low priority products: long shelf items that need to be 100% targeted at a low bid
How can we help?
Our customers have a complete statistics overview similar to the dashboard in a specific channel but then aggregated over all the channels combined.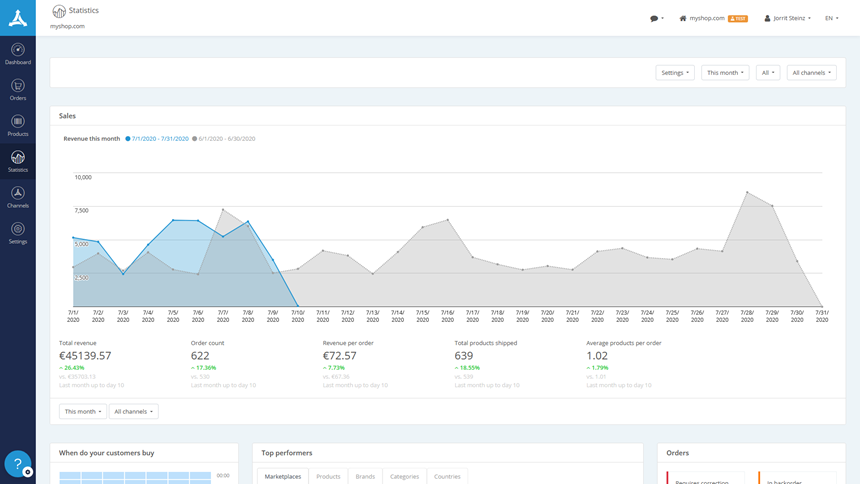 Image 1. Statistics dashboard
STEP 2. Make sure your products have rich, search proof titles
Being found amongst the wide-ranging plethora of goods and products is the first concern when you are selling during a holiday season. A good product title piques the curiosity of viewers and entices them to click through. Hence, strong and search proof titles play a significant role in the initial phase of the product set-up. But what do we consider a good title and how to make it visible on marketplaces? Here you have to make sure that you:
match the product title with the search results of the potential buyers (think about the order of the characteristics: for instance, brand - product name - type - size-etc.).
consider the length of the title based on title and data requirements from specific marketplaces
place the most relevant and essential information at the beginning of the title
remove trademark/copyright characters – buyers will most likely not
include these in their search
How can we help?
You can set up strong, search proof titles in smooth and efficient ways using smart rules with replacement tags option. Besides replacing the title field's value, you can also apply advanced actions on the replacement tag's content.
STEP 3. Make sure the product description is clear
With the increasing amount of products offered during the holiday season and the decreasing amount of time buyers spend on the platform, high-quality product description can be a real conversion booster. But how to make your product description work?
double-check it contains all the relevant information about the product.
tap into the emotions of the potential buyer. Why and how does your product make the life of the buyer better or easier? What can he or she do with the different functionalities?
when possible, tell a story, offer a solution, and promote a lifestyle. Make the product relate and appeal to the customer.
customize your product description in line with marketplace specifications. A product description that works for Amazon might not work for bol.com or the other way around.
use the product description to draw attention to the unique selling points (USP). At Amazon, it is possible to add (premium) A+ content. It is an additional section to tell customers more about your product with appealing images, diagrams, tables, and videos.
get details about the product compatibility with other items products
Look at different trends in your seller metrics:

Customer feedback
Customer service questions
Return reasons
How can we help?
To make sure that all your listed products for holiday sales have flawless content, you can apply content mapping to add the optimal data attributes. Here, you can see the required mapping. A color-coded system differentiates them. Green is required attributes that are completely filled and ready to be sold on a marketplace. Blue is the optional attributes, and orange is the required attributes that are not completely filled.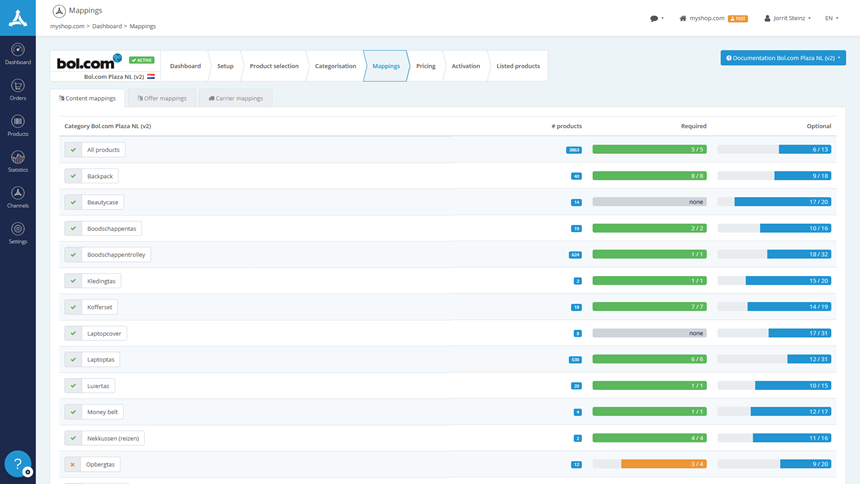 Image 2. Content mapping
STEP 4. Take advantage of your product bundles
Product bundles are offers made up of multiple products. They might be of interest to certain customer groups, cover a specific product area, or offer something completely new. Yet, do you know what else makes product bundles so powerful? Single-SKU offerings are a valid practice for competitive pricing and a great technique to differentiate from the competitors. By grouping products into competitively-priced packages, you will stimulate buyers to stretch their wallets. Think of the customers considering only one product to purchase. However, once they see your promotion, there are pretty good chances you will land a much bigger scale. Bottom line: product bundles require minimal efforts, refresh your purchase options, bring in more sales, while your customers appreciate the extra savings and added value.


Image 3. Product bundles
How can we help?
We offer an easy, customer-friendly set-up to create, view, list, and sell product bundles. Raise your order value and always win the buy box with a unique proposition!
STEP 5. Stay competitive
Marketplaces empower online shoppers by offering endless results for a single item. Within this scenario, your listing has to be on top to be seen and have a chance to end up in a shopping cart. To stay ahead of pricing trends during the coming holiday season, you need competitive data analytics that is easy to understand at a glance. Hence, visualization dashboards and tools for benchmarking are paramount. They will allow you to generate comprehensive reports and dive into your ranks next to the competitor's (based on SKU- and ASIN-level insights).
How can we help?
ChannelEngine has the option to 'reprice' your products on several marketplaces based on competitor prices. Usually, you have a few ways to 'target' your repricing:
Target lowest competitor
Target Buy Box
or Target fee reductions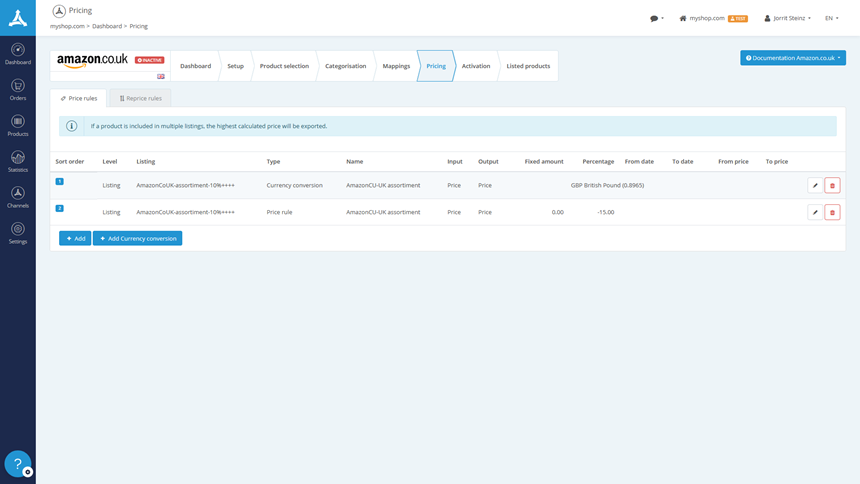 Image 4. Price rules dashboard
Conclusion
Online channels continue to grow and diversify, introducing new retail experiences. They trigger new breeds of sellers, expand customer options for more varied product offerings, and stimulate healthy competition. Along with this rapid flow, your holiday sales optimization becomes a crucial part of your marketing strategy. To stay competitive during the coming peak season, you have to review your shopping campaign structure, produce relevant marketplace content, and consider alternative offer formats. Also, remember that each marketplace is a dynamic system with unique customer behavior patterns. Make sure you know them.
Don't hesitate to contact us or request a demo. Happy Holiday season 2020!