The top fashion ecommerce trends in 2023!
Fashion ecommerce in 2023: Marketplaces, personalization, omnichannel sales, social commerce, and flexible payment options drive growth.
Summary:
Fashion ecommerce trends for 2023 include the growing importance of marketplaces like Amazon and Zalando, personalization strategies by brands like Zara and ASOS, the significance of selling through multiple channels, the rise of social commerce with influencers and user-generated content, and the importance of flexible payment options such as BNPL, credit cards and mobile wallets.
Fashion ecommerce remains at the heart of modern retailing, and as we approach 2023's final quarter, it is worth reflecting upon its ongoing growth and transformation.
Statista predicts that fashion ecommerce will experience a CAGR of 14.2% between 2017-2025, reaching an expected valuation of $1 trillion by 2024.
Clothing, footwear, and accessory sales figures have steadily increased worldwide, with US market sales reaching $204.9 billion last year. This upward trend is anticipated to continue this year; an estimated 13% increase is forecast. As such, consumers will allocate $204.9 billion towards fashion online purchases alone this year.
As 2023 nears its conclusion, this article will reflect on significant trends transforming fashion ecommerce. These developments have dramatically changed online consumer shopping behavior while helping brands stay relevant in ecommerce.
Importance of marketplaces in fashion ecommerce
Marketplaces are unsung heroes of fashion ecommerce, quietly revolutionizing how brands connect with their audience and drive sales. When discussing fashion ecommerce trends for 2023, we must recognize marketplaces' vital role.
One of the primary drivers behind fashion marketplaces' rising prominence is their unparalleled reach. These platforms serve as hubs that draw millions of potential customers - an asset fashion retailers could leverage into increased sales and brand exposure.
Amazon is the leading apparel retailer in the US. They generated $30 billion in sales during 2020, with 87% of listings coming from third-party vendors. Couple that with around 6 billion monthly visitors, and the opportunities are clear!


Zalando, a Germany-based online fashion marketplace, achieved an impressive revenue of nearly €8 billion in 2020. The company has operations across 23 European countries and boasts a substantial customer base of just under 50 million. What further enhances its appeal is its ability to gather and adapt to customer preferences, creating a self-reinforcing cycle that benefits sellers.
Marketplaces distinguish themselves by providing lower entry barriers into online retailing. Starting an independent store can be arduous and complex, filled with hurdles. However, marketplaces provide ready-made infrastructure, efficient payment systems and established customer bases - offering emerging fashion brands an easier path towards building their online presence.
North America's secondhand apparel market has grown eight times faster than the overall apparel market. Marketplaces are a significant driver, with around 70% of consumers stating how it is far easier to shop secondhand than three or five years ago.
Vinted and Depop are growing P2P marketplaces for pre-owned items in Europe. Both are incredibly easy for sellers to start listing items, with app downloads in the millions.
Trust and credibility are hallmarks of online retail. Marketplaces have earned their stripes by adopting robust buyer protection policies that build shoppers' trust, prompting more to purchase brands featured within it - increasing sales while decreasing return rates for fashion retailers.
Marketplaces also serve as an avenue for global expansion. Fashion brands looking to enter new markets quickly can use marketplaces as an efficient means of entering them without incurring the expenses and complications associated with setting up a physical presence in each region. Asos is a prime example. It is one of the biggest fashion marketplaces in the world, spanning 196 countries and having almost 1,000 brands available.
Marketplaces provide valuable sources of data and insight, with information available about consumer behaviors and preferences known to be exploited to make more competent inventory management, pricing strategies, and marketing efforts decisions.
Customizing marketing and product offerings for fashion brands
Personalization is quickly becoming a key strategy in fashion ecommerce for increasing customer engagement and sales. Below are how some top fashion ecommerce brands use personalization to their advantage.
Fashion brands like Zara use data from their customers to personalize their strategies. Zara offers tailored product recommendations online and in stores by analyzing the customer's browsing and purchase history. This allows them to provide a more personalized shopping experience.
ASOS's dynamic content is a unique feature in the fashion ecommerce sector. It adapts its website content to customer behavior. ASOS will ensure that users are shown relevant content if they frequently search for men's formal clothing.
Amazon Fashion uses recommendation engines heavily. These algorithms analyze the user's activity to recommend clothing, shoes, and accessories that match their preferences and styles. This personalizes customers' shopping experience and leads them to products they will likely be interested in.
Urban Outfitters is a leader in cultivating user-generated content. It encourages its customers to upload photos of them wearing its products on social media platforms. These images are featured on Urban Outfitters' website, creating a sense of community and showcasing unique customer styles.
Nordstrom is an iconic fashion retailer that offers sophisticated loyalty programs. The "Nordy Club," a customized program based on customer spending and purchase history, encourages repeat purchases.
Gucci provides responsive customer support across multiple channels, such as chatbots and live chat. These AI-driven tools offer customized product recommendations, assistance with size queries, and real-time customer support.
Fashion brands use personalization as a critical strategy in ecommerce. They can boost customer engagement and loyalty by leveraging data and technology. These examples demonstrate how personalized shopping can create a more meaningful experience for the target demographic.
Selling through multiple channels in fashion ecommerce
Brands increasingly acknowledge the need to expand beyond a single digital platform and develop an omnichannel strategy comprising various digital and traditional channels. Such an integrated approach to fashion ecommerce success is indispensable.
1. Extending reach
Fashion brands can cast a wider net and expand their customer reach by selling across various channels. Whether through ecommerce websites, mobile apps, marketplaces, or brick-and-mortar stores - each channel presents an opportunity to connect with different customer segments.

2. Exceed customer expectations
Consumers today demand seamless and unified shopping experiences across channels. An integrated approach ensures customers receive consistent quality of service regardless of whether they shop online, on mobile apps, or at physical locations.

3. Establish trust and credibility
Being present on established marketplaces such as Amazon, eBay, or Etsy can help businesses build trust with customers by increasing recognition and credibility of the brand in question. Customers tend to purchase more from an establishment they know and respect than one they don't recognize or trust.

4. Enhancing customer convenience
Offering multiple channels gives customers more choices to find what they want, from online browsing and checkout to trying in-store items before purchasing them online. With multiple channels catering to varied preferences, a company like ours provides customers with what they need!
5. Data-driven insights
With multiple channels producing valuable data that can inform decision-making, brands can tap into deeper insight into customer behavior, preferences, and trends by combining information from different sources.

6. Navigating market trends
Fashion ecommerce is ever-evolving, requiring brands to quickly adjust to shifting consumer tastes to stay ahead of the curve. An integrated ecommerce approach enables brands to pivot swiftly and stay current on changing consumer needs to remain at the cutting edge.
Social commerce in fashion ecommerce
Social commerce has emerged as a transformative force in fashion ecommerce, revolutionizing how brands connect with their audiences and drive sales. By seamlessly merging social media with online shopping, this unique platform provides fashion brands with a setting to thrive.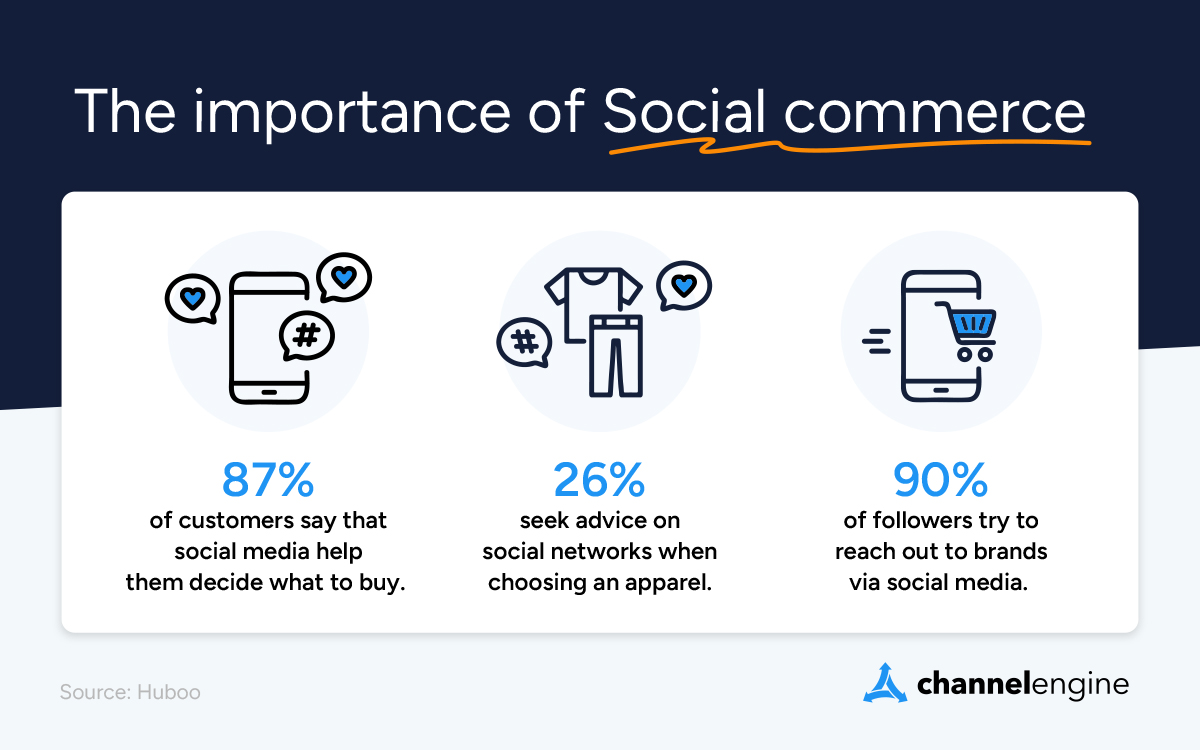 Social commerce provides a seamless shopping experience by breaking down barriers between social media platforms and online stores. Customers can discover and purchase products without leaving their favorite social apps - increasing convenience while encouraging impulse buying.
Influencer marketing has quickly become an integral component of social commerce. Fashion brands enlist influencers and celebrities as partners to market their products through social media directly. Influencers provide authentic endorsements that resonate deeply with their followers, providing fashion brands with invaluable brand ambassadors.
The graphic below shows the top fashion brands mentioned by influencers on social media.
User-generated content is one of the hallmarks of social commerce. Customers engage in this form of customer-generated media by posting photos and reviews of purchased fashion products via platforms such as Instagram and Pinterest, providing valuable social proof. Such user-generated material influences potential buyers while simultaneously building community spirit.
TikTok has revolutionized social commerce through its short-form video format. Zara and H&M have harnessed TikTok's shoppable features to showcase their latest collections, directly linking users to their online stores.
Although TikTok recently announced that their 'Storefront' is closing down, this certainly shouldn't be interpreted as scaling back on ecommerce, however. They are forcing brands to use TikTok Shop instead, ensuring that users don't have to leave their platform at all when purchasing items.
Social commerce is no longer limited to one platform. Fashion brands diversify their strategies by exploring various options such as Instagram Shopping, Facebook Marketplace, and Pinterest Shopping to reach different demographics and markets while increasing online presence and potential sales.
Flexible payment solutions in fashion ecommerce
As customers' preferences and financial needs shift, offering multiple payment solutions is crucial in driving sales growth and enriching the shopping experience.
Buy now, pay later
Buy now, pay later (BNPL) has quickly gained prominence in fashion ecommerce. It allows consumers to purchase goods immediately while spreading payments over time in interest-free installments - typically interest-free! Afterpay, Klarna, and Affirm have led this charge with this approach that makes high-end fashion more accessible across a broader audience - not only that, it reduces cart abandonment rates, resulting in increased conversions.
Image Source: prettylittlething
Credit cards
Traditional credit card payments remain a mainstay in fashion ecommerce, providing convenience and flexibility to customers who prefer full payment or take advantage of rewards or cashback offers from their credit cards. Brands often utilize secure payment gateways to ensure smooth transactions.
Mobile wallets
Mobile wallets like Apple Pay, Google Pay, and PayPal have quickly gained popularity thanks to their convenience and security. Customers can make payments using their smartphones to offer a contactless checkout experience for easy payments. Mobile wallets are particularly popular in China.
Installment plans
Beyond BNPL services, some fashion brands provide installment plans that break down purchase prices into manageable installment payments for customers to afford premium fashion items more easily.
Cryptocurrency
Fashion ecommerce websites like Overstock and Shopify have recently shifted into accepting cryptocurrency as payment, giving tech-savvy customers another means of shopping.
Offering flexible payment options is crucial in satisfying fashion ecommerce customers' varying needs and preferences. From BNPL services that democratize luxury fashion to traditional credit card payments, mobile wallets for convenience, or cryptocurrency for tech enthusiasts - brands offering multiple payment solutions will enhance the shopping experience and drive sales.