14 March 2022
ChannelEngine raises $50M to scale Ecommerce and Marketplace Management Suite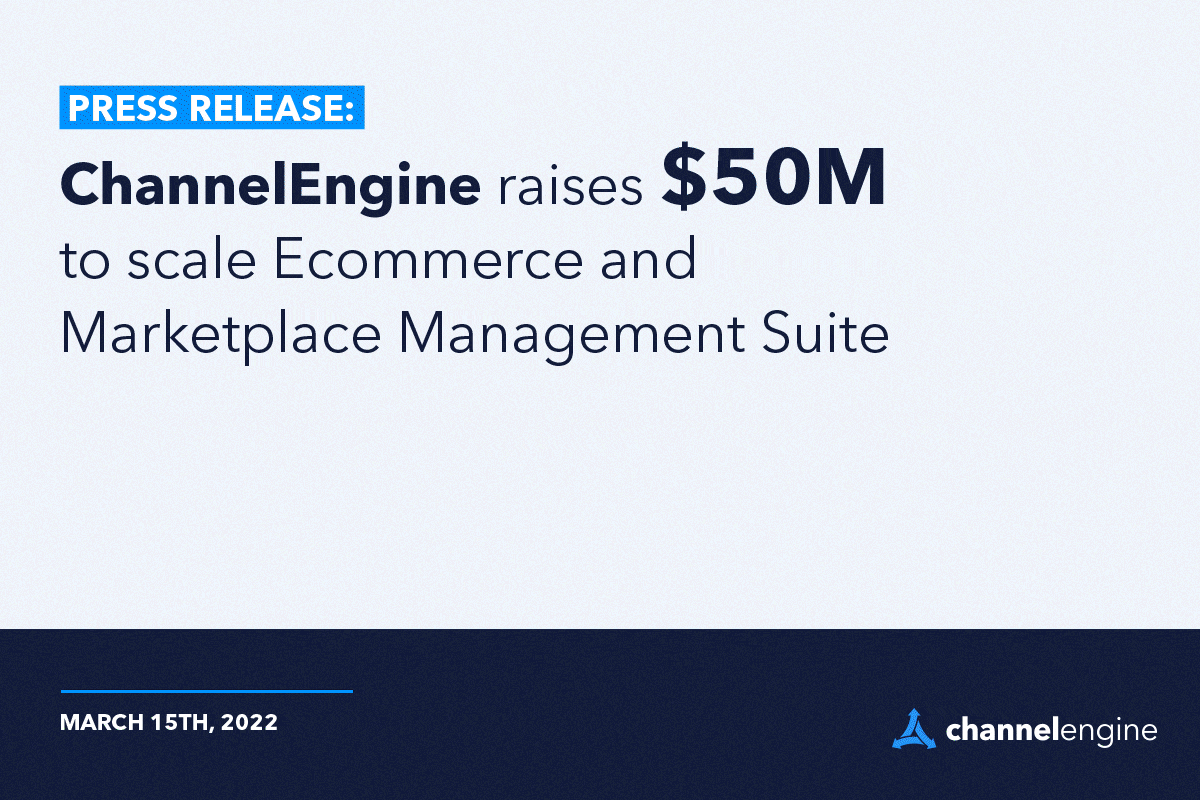 Today's round will enable the company to further develop its data-driven enablement, orchestration and automation layer, becoming the world's largest ecommerce network and operating platform.
Leiden, Netherlands — March 15th, 2022 — ChannelEngine, the global marketplace integration and operating platform, today announces the closure of a $50m Series B funding round. The funding is led by Atomico, with participation from General Catalyst, and existing backers Inkef and Airbridge Equity Partners. In addition, notable serial e-commerce founder Stephan Schambach - founder of Demandware, Intershop and NewStore - also joined this round as an angel investor. This raise brings the company's total investment to $57m, with Atomico Principal Luca Eisenstecken joining the ChannelEngine board, alongside General Catalyst Managing Director Larry Bohn, and Max Rimpel.
The ecommerce market is growing rapidly, projected to reach 5.9 trillion USD in 2023, with the rise of global marketplaces a dominant factor in that growth. Established players such as eBay and Amazon are increasingly being joined by large retailers becoming marketplaces themselves, as well as the rise of social media transactions on sites such as Instagram and TikTok. For sellers, connecting and managing all these channels is becoming more complex, but presents a huge opportunity.

"Over 60% of ecommerce sales globally are already taking place on marketplaces, with this figure estimated to grow to over 75% in the coming years, representing a total revenue of $4.4 trillion in 2023" said ChannelEngine CEO and founder Jorrit Steinz. "Brands, wholesalers, and retailers are looking to capture the ecommerce opportunity by delivering a seamless experience demanded by the modern customer. By acting as the ecommerce control centre, we enable brands, retailers and wholesalers to sell on marketplaces globally."
ChannelEngine is an ecommerce operating platform that connects the systems of brands, wholesalers and retailers to these global marketplaces providing a powerful management suite to boost their international sales with tools such as automated repricing, content, stock and order management. Brands and retailers can reach millions of new customers and benefit from ChannelEngine's thriving partner network and data-driven enablement, orchestration and automation layer to sell easily on marketplaces worldwide.
"Brands have gone from being online in one store – theirs or one big marketplace where the rules are made by others - to being everywhere their customers are, and being everywhere means you need control to offer consistent brand experience, ecommerce operations and availability. One of the biggest marketing challenges most brands and retailers face, as ecommerce business owners, when it comes to selling on marketplaces, is keeping their branding and messaging consistent across different channels. ChannelEngine customers are easily able to create, enrich, organize and manage their product listings and content as well as their ecommerce operations on marketplaces worldwide." Steinz added.
"The COVID-19 pandemic dramatically accelerated the adoption of ecommerce, which now accounts for 20% of all global retail sales. The global ecommerce market is expected to grow by over $500 billion between 2022 and 2023 alone," said Atomico Principal Luca Eisenstecken. "By building the largest ecommerce operating platform, ChannelEngine is set to capitalize on this opportunity by giving brands and retailers instant access to the global marketplace."
"As the use of e-commerce continues to accelerate, retailers and brands have to meet consumers where and how they shop. ChannelEngine has built out a complete, tech-first platform that's both robust and global. General Catalyst is excited to invest in ChannelEngine as they help leading ecommerce companies sell on marketplaces worldwide," said Larry Bohn, managing director, General Catalyst.
Since Series A investment, only a year ago, ChannelEngine has more than doubled its revenue through serving (450+) clients and tripled its employees (140+) and opened up offices in Munich, Dubai, Singapore, Melbourne, and New York. Currently, ChannelEngine enables the sales of more than 6 million products from 8,100 brands on 200+ sales channels. Clients include Bugaboo, Staples, JBL, Polaroid, Hunkemöller, Brabantia, Reckitt Benckiser, Bosch, JDE, Electrolux, Philips Domestic Appliances, Signify, Diadora, Glanbia, Oneill, and Safavieh.
The investment round will be used to further scale ChannelEngine's operations and cement its position as a market leader in connecting global ecommerce.
About ChannelEngine
ChannelEngine connects brands, wholesalers, and retailers to the global ecommerce marketplace; enabling the sales of more than 6 million products from 8,100 brands on 200+ sales channels. Headquartered in Leiden, the Netherlands, ChannelEngine has offices in Munich, Dubai, Singapore, Melbourne and New York. The company was founded by CEO Jorrit Steinz, a serial entrepreneur with over two decades of ecommerce and marketplace experience from his previous ventures.
About Atomico
Atomico invests in ambitious tech founders at Series A and beyond with a particular focus on Europe, leveraging deep operational experience to supercharge their growth. Founded in 2006, Atomico has partnered with over 100 ambitious teams - including those at Klarna, Supercell, Graphcore, Compass, MessageBird, Masterclass, Attentive Mobile, Pipedrive and Hinge Health. Atomico's team of founders, investors and operational leaders have been responsible for global expansion, hiring and marketing at companies from Skype and Google to Twitter and Uber. The firm currently has $4B in assets under management.
About General Catalyst
General Catalyst is a venture capital firm that invests in powerful, positive change that endures — for our entrepreneurs, our investors, our people, and society. We support founders with a long-term view who challenge the status quo, partnering with them from seed to growth stage and beyond to build companies that withstand the test of time. With offices in San Francisco, Palo Alto, New York City, London, and Boston, the firm has helped support the growth of businesses such as: Airbnb, Deliveroo, Guild, Gusto, Hubspot, Illumio, Lemonade, Livongo, Oscar, Samsara, Snap, Stripe, and Warby Parker. For more: www.generalcatalyst.com.