Five reasons why you should be selling on the Walmart Marketplace
Start selling your products on Walmart Marketplace and reach a broader customer base. Here are a few tips to help you start selling on Walmart.
Summary:
An insight into the unique benefits that sellers can enjoy when selling on Walmart's online marketplace.
Few brands in the world of commerce hold more authority than the US behemoth Walmart. Second only in ecommerce market share to Amazon, Walmart's online marketplace offering has grown at an unprecedented rate, particularly throughout the pandemic years where the number of sellers doubled between July 2020 and July 2021.
A considerable number of savvy acquisitions later - the purchase of Jet.com perhaps the most notable - and 13 years after launching its own marketplace, Walmart now has a huge, growing number of sellers.
Despite Amazon dominating for so long, Walmart has emerged as a high-performing alternative, or additional, sales channel.
Below, we'll highlight a few of Walmart's biggest USPs and explain why you should be considering the platform as your next ecommerce sales channel.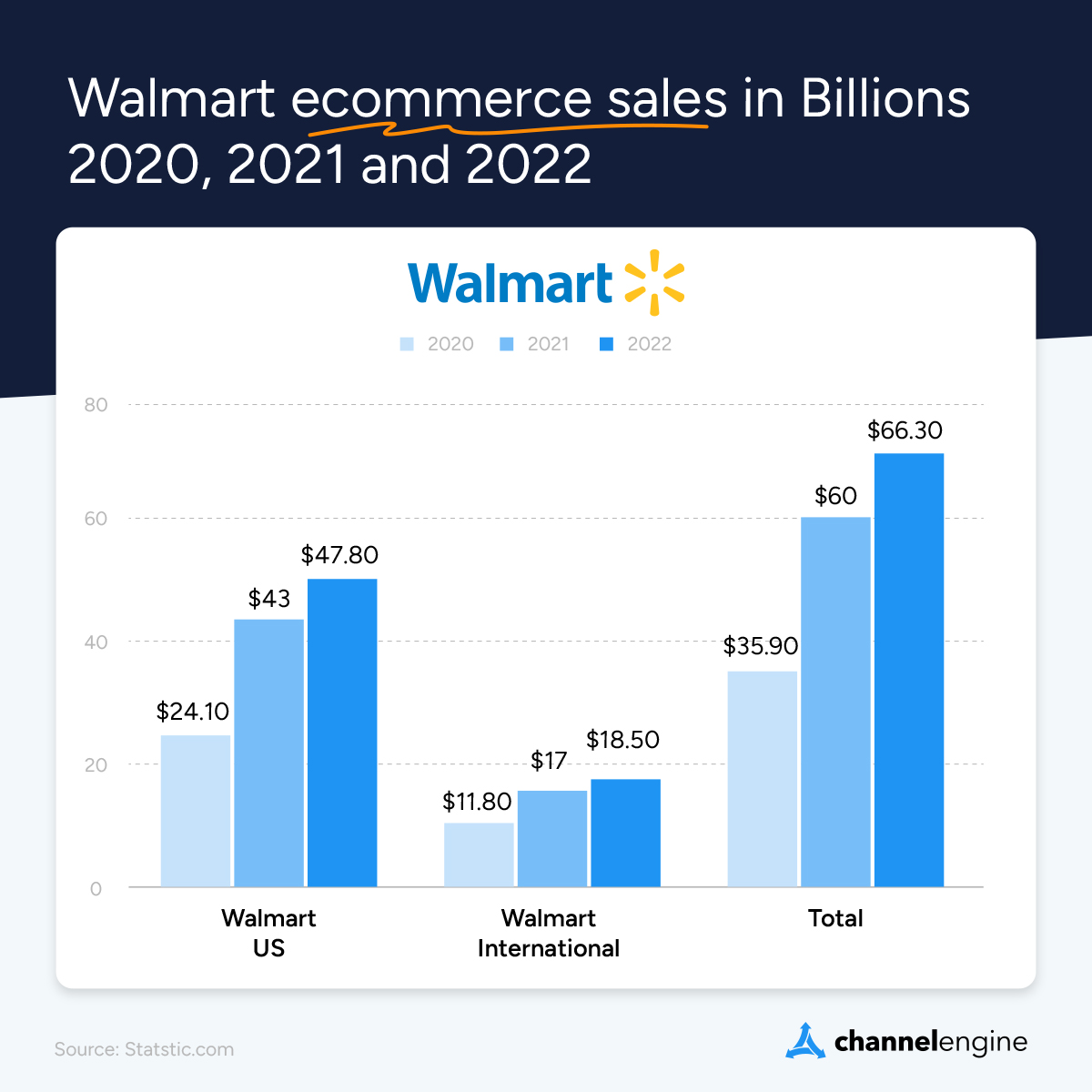 Graph 1: Walmart online sales 2020, 2021 and 2022
Pros of Selling on Walmart Marketplace
1. Tap into a huge, loyal customer base
As mentioned above, not many names hold the same weight and authority that Walmart does. This has been largely driven by its long-established bricks-and-mortar reputation, meaning anyone selling on the Walmart marketplace gains access to a vastly loyal customer base, many of which are repeat customers, and more than 100 million unique monthly searches.
Over the last year, a massive 89% of people in the US shopped at a Walmart. Along with that, 85% of shoppers make at least one purchase per month and 39% buy from Walmart.com at least once a week.
Affinity remains strong among this customer base, too, with 88% of users saying navigating Walmart.com is easy, 72% feel they're getting the best deal possible and 62% think Walmart's digital channels provide helpful recommendations.
Graph 2: Number of Walmart Marketplace sellers between May 2019 and May 2022
2. Fees are low and transparent
Seller expenses are one of the biggest considerations businesses must weigh up when deciding what platforms they want to sell on, and Walmart is particularly tempting when it comes to this factor.
While other major marketplaces charge monthly fees regardless of whether you make sales or not, along with the usual referral or item fees, Walmart only charges a referral fee when you sell a product, with these fees ranging from 6%-20% depending on the category. It's a fairly unique trait for a marketplace of this size, making it an ideal option for anyone working on a strict budget, or looking for a way to grow their business with minimal risk involved.
3. A less saturated marketplace
Selling on Amazon is incredibly competitive. There are around 6.5 million sellers operating on the platform, many of whom are selling the exact same product. Breaking through that noise, particularly as a new seller with a tight budget, is very difficult.
While Walmart's total number of sellers has snowballed in recent times, it's still much smaller than Amazon's total. Combining this with Walmart's tendency to be pickier about which sellers they allow on the platform, winning the Buy Box and becoming a trusted seller can often be a much more achievable feat.
A lower number of overall sellers can also mean less reliance on advertising spending to set yourself apart from competitors, a tactic that regularly becomes a necessity for many Amazon sellers in crowded segments.
4. A growing cross-border offering
While Walmart's cross-border ecommerce capabilities are still in their relevant infancy, the chance to get in before competitors make them more than worthwhile considerations.
It's clear the platform has big plans on this front. Last year Walmart opened up its marketplace to non-US sellers, granting an entry point to one of the world's biggest and most lucrative geographical markets.
Most recently, over the summer, Walmart made a particular push for UK sellers to begin joining the platform, offering a dedicated onboarding team to help them scale across the Atlantic. Walmart and the UK already have strong retail links through Asda supermarket, and as the British government seeks to promote local goods beyond the EU, this partnership is certainly welcome news for UK-based sellers.

Image 1: How Walmart Fulfillment works
5. Streamlined fulfillment options
As you'd probably expect, Walmart has an impressive, in-depth fulfillment network that sellers can take advantage of.
Like Amazon's popular FBA and FBM shipping options, sellers wanting to outsource the fulfillment process can do so by using Walmart Fulfillment Services (WFS). All a seller has to do is ship their inventory to a WFS facility, then, when an order is made, Walmart fulfills, manages returns, and provides customer service on the seller's behalf.
WFS also grants access to Walmart's two-day shipping program, in turn boosting chances of winning the Buy Box and increasing product visibility. WFS users can also access in-depth real-time data and sales performance dashboards.
It's time to make the move and start selling on Walmart
Like most ecommerce platforms, the pandemic supercharged Walmart's growth predictions in a way that would have been impossible to predict prior. The business has firmly grasped that opportunity though, using it as a springboard to gain an unlikely amount of ground on Amazon, and lay out ambitious plans for the coming years.
Combine Walmart's entrenched international reputation as a highly-trusted platform with a much less saturated playing field when compared to Amazon, and it offers sellers an incredibly appealing landscape to reach engaged US consumers.
The new found openness to embracing overseas sellers will no doubt trigger another sizable jump in growth figures, so anyone considering the platform may want to do so before the inevitable influx of new sellers.