Maximizing Sales on Amazon Prime Day 2023: 8 Insider Tips for Brands
Boost your Amazon Prime Day sales for 2023! Explore key strategies for optimal listings, effective ads, and unparalleled brand growth.
Summary:
Boost your Amazon Prime Day 2023 sales with our expert guide. Uncover essential strategies from optimized product listings to effective advertising, and turn this retail phenomenon into a golden opportunity for your brand's growth and success. Start your preparations today!
Amazon Prime Day has become one of the most important days in the ecommerce calendar, providing unrivaled brand opportunities to skyrocket sales and expand market presence.

We've compiled eight highly impactful tactics to help you make the most of the opportunity that Prime Day 2023 offers. But before we dive into those tactics, let's take a quick look at how Prime Day has evolved into a pivotal event in the world of online retail.

Amazon Prime Day: A Retail Phenomenon
Prime Day, occasionally called "Black Friday in July," is a two-day shopping event for Amazon Prime members. While the specific dates for Prime Day 2023 have yet to be revealed, it has traditionally occurred in mid-July. The event attracts millions of eager buyers worldwide by offering a wide range of deals and discounts across a broad spectrum of product categories.

Amazon Prime Day 2022 was an enormous success, with global sales reaching $12.09 billion in just 48 hours. Consumers from 20 nations purchased almost 300 million goods, contributing to this incredible statistic. Notably, spending per consumer increased by 16.8% (a total of 8.04%) between Prime Days 2021 and 2022, demonstrating the growing popularity of the yearly event.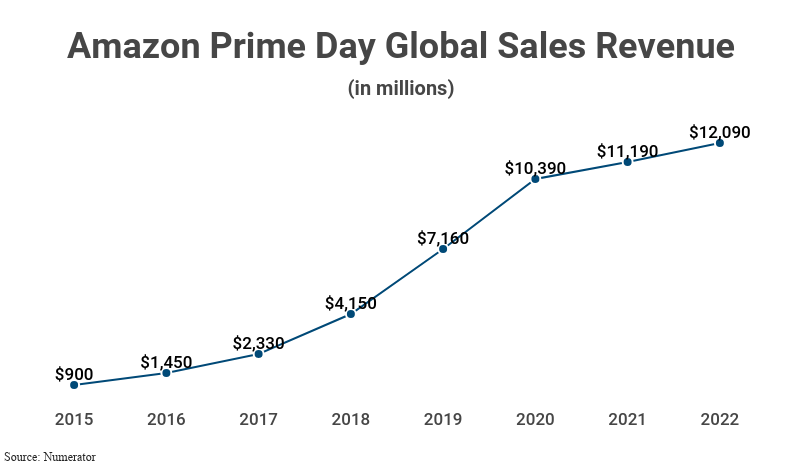 Prime Day Early Access Sale: A Second Amazon Prime Day
After such astonishing sales figures, in 2022, Amazon took the surprise decision to run a second Prime Day in the Fall. This event, known as "Prime Early Access Sale" took place on October 11-12 and was widely considered to be a success, with Amazon claiming Prime members ordered more than 100 million items during the sales period.
Amazon is planning on repeating the sale event in 2023, with sellers saying they've been given a deadline of August 11 to submit deals.
Prime Day Early Access Sale is designed to jumpstart the holiday shopping season, so it's understandable that the toy category performed particularly well, with more than 8 million toys purchased during the 48 hour event. Apparel and Home categories also saw very strong performance during the second Amazon Prime Day in Fall 2022.
When preparing for the year, it's critical for brands to take this second Prime Day into account, especially those that sell in the three high-performing categories mentioned above.
Eight Tips To Set Your Brand Up For Prime Day Success

For brands to succeed on Amazon Prime Day 2023, they must plan their marketing strategy meticulously. Many products are thrown at consumers in a short time, and it is essential to stand out from the crowd. In the following eight tips, we've suggested some winning tactics that the best Amazon brands utilize to great effect.
1. Build engagement before Prime Day kicks off
Consumers like to do their homework. Research from Periscope by McKinsey shows that 75% of consumers conduct research before purchasing. Brands can't wait for Amazon Prime Day to begin before increasing engagement. Get those products out there and ensure potential buyers add them to their wishlists, ready to hit the buy button as soon as Prime Day arrives.
2. Ensure that you leverage positive customer reviews
In the McKinsey survey, 98% of respondents say that authenticated customer reviews are the most crucial influencer of their buying decision. Work on gaining those testimonials to get your products front-of-house when Amazon Prime Day 2023 arrives. Many five star reviews also help your products to win the Buy Box.
3. The Amazon Buy Box: Your Gateway to Prime Day Success
The Buy Box is the white box on the right of an Amazon product description page where shoppers can add things to their cart for purchase.
Only sellers with strong metrics have a chance to acquire a part of this precious real estate due to stiff competition and Amazon's customer-obsessed attitude.
Securing the coveted "Buy Box" is one of the essential elements for success on Prime Day. To win this valuable real estate, marketers must provide competitive prices, as Amazon's algorithm considers price, availability, and seller performance. According to recent data, Buy Box products make up 82% of Amazon's total sales.
4. Create Irresistible Product Listings
Product listings must be captivating in order to stand out in the crowded Prime Day marketplace. Brands should put time and effort into improving their listings by including high-quality photos, appealing product descriptions, and relevant keywords.
According to reports, 40% of consumers return a product due to poor information at the point of sale. An excellent description should persuade potential customers to purchase the goods. It must be clear, concise, and engaging. At the same time, it must appropriately portray the product so that the buyer is not surprised when they receive it.
5. Prime Time for Inventory Clearance
Prime Day is an ideal chance for brands to get rid of surplus inventory and increase cash flow. Businesses can free up important warehouse space while also generating cash and building brand goodwill by giving big discounts on slow-moving or seasonal products.
It is also imperative to manage new and current product inventory. With over 100,000 items sold per minute during Prime Day 2022, without effective inventory management, brands risk losing business when the market is hot.
This year, Amazon is using its newly introduced capacity management system to allocate storage space for FBA sellers. This means there will be a single monthly storage limit rather than separate weekly limits for storage and restock items. Sellers can also request additional capacity for a fee specified by their capacity manager.
Amazon says the move will simplify inventory management for FBA sellers, provide them with more control, and limit unproductive use of capacity.
In other words, FBA is improving its user experience, but also ensuring that its warehouse space is being used for SKUs that sell quickly!
So what does this mean for FBA sellers? Amazon says the IPI (Inventory Performance Index) affects capacity allocation, but unfortunately they don't provide any more detail than that. Experienced sellers believe that product sales is a more influential metric to capacity allocation, so ensure that you're focusing on maximizing sales of your top SKUs ahead of Prime Day.
It's also crucial that your stock levels on the marketplace accurately reflect your stock levels in the warehouse. You don't want to oversell products, and likewise, you want to be back up and running the moment you have inventory ready to go. With ChannelEngine, your stock levels are instantly synchronized across all product listings, and all incoming orders are sent to the correct location for fulfillment. This way, ecommerce brands can effortlessly ensure that their marketplace stock levels are accurate, even when using a 1P/3P hybrid fulfillment model.
6. Bundle Up for Prime Day!
Creating appealing product bundles is a successful method for increasing sales on Prime Day. Bundles enable brands to group complementary products in a package, often while offering an overall discount on the products. This creates high perceived value for the consumer, while increasing your average order value.
With ChannelEngine, brands can use the power of artificial intelligence to automate this process, enabling you to create attractive product bundles in seconds, complete with relevant titles and descriptions.
7. Harness Amazon's Advertising Tools
Brands can use Amazon's advertising and promotional options to increase visibility and traffic to their products. Sponsored Product Ads, Lightning offers, and Prime Exclusive Discounts can help increase product discoverability and appeal to Prime Day buyers actively seeking offers. A portion of the marketing budget should be allocated to strategic Amazon Advertising efforts.
Sponsored brand ads are another highly important promotional method for companies looking to maximize revenue on Prime Day 2023. These ads provide the ability to funnel traffic directly to your Amazon Storefront or a landing page, without distractions from competitors, helping you to close the sale.
Brands can use product collection, store spotlight, and video formats in their sponsored brand campaigns, with video being a particularly impactful format to help your products stand out on the crowded Amazon search results page.
Sponsored brand ads have a longer attribution window in the lead up to Prime Day (14 days instead of 7 for sponsored products). This is because a lot of window shopping takes place ahead of Prime Day, as shoppers plan for purchases but wait until the day itself to buy at a discount.
Reaching consumers during this period is critical for the success of your sponsored brand ads, so ensure you have your ads approved and running well ahead of time. Turn around time has been reported to be longer this year, so don't leave it to the last minute to publish.
Amazon Prime Day 2022's average cost-per-click was 40% above normal rates, and the most expensive clicks happened in the morning. Advertisers investing their budget into evening hours could benefit from lower costs.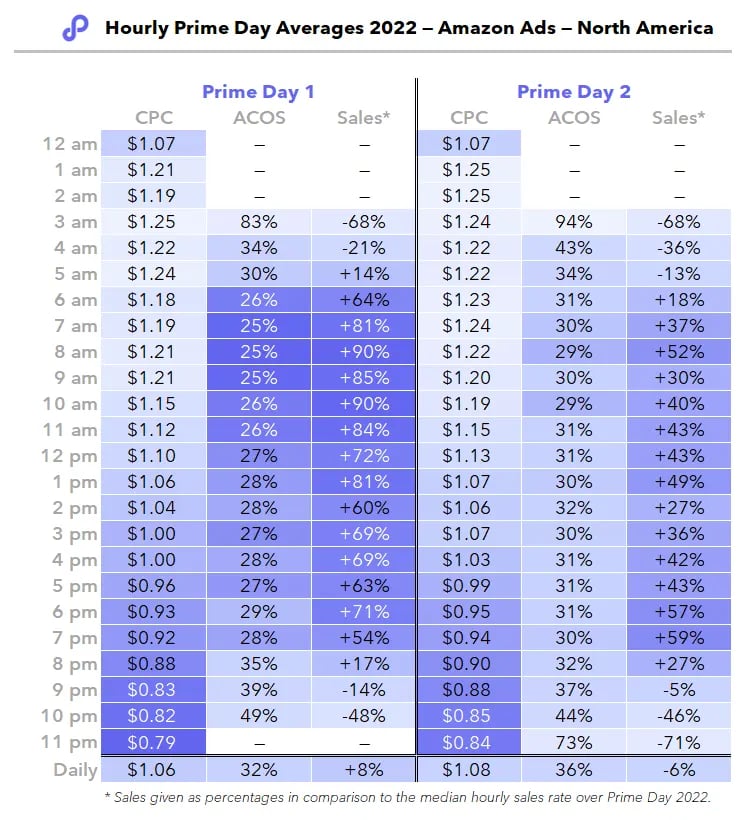 Advertisers should remember that the strongest ACOS (Amazon advertising cost of sales) and sales will likely occur on Day 1. Therefore, the ad budget should be distributed appropriately over two promotion days. According to the data from Prime Day 2022, those who invested on Day 1 made the most revenue.
During such a period of intense selling, brands should consider using automatic targeting for their sponsored product campaigns. Due to its quick set-up, some have dismissed this targeting method as 'only for beginners' but this certainly isn't the case.
Automatic targeting has many benefits; it provides a lower CPC (cost per click), better reach, and reduces the risk of missing keywords. But make sure you give yourself time to fine-tune your automatic sponsored product campaigns ahead of Prime Day. Just because the targeting is automatic, it doesn't mean the campaign can be set up then left alone. They require as much attention as their manual targeting counterparts, to maximize performance.
8. Leverage social media
Using social media effectively and collaborating with influencers can significantly impact Prime Day's success. 50% of Instagram users say they visited a brand site after viewing their Instagram Stories, and 70% of users are open to seeing ads on their feed.
Brands may broaden their reach and engage with a larger audience by implementing well-planned social media campaigns and working with relevant influencers, driving sales during Amazon Prime Day 2023.
Final Thoughts
Amazon Prime Day provides marketers with a unique chance to reach a vast client base, drive sales, and increase brand recognition. Businesses should position themselves for success for Prime Day 2023 by executing critical strategies such as competitive pricing, optimized product listings, inventory clearing, product bundling, and leveraging advertising tools.
It is also critical for advertisers to realize that Prime Day is about more than simply the instant sales that occur during the event. It provides an opportunity to gain new customers, strengthen brand loyalty, and generate long-term growth. Delivering on-time shipments and nurturing a great post-purchase experience can make a lasting impression on customers, leading to repeat business and favorable word-of-mouth recommendations.
Finally, based on data-driven insights, brands should constantly analyze and adapt their Prime Day initiatives. Brands may make informed decisions and deploy resources more effectively by tracking critical indicators such as conversion rates, customer acquisition costs, and return on ad spend. Long-term success in the dynamic e-commerce landscape requires adapting and evolving strategies based on performance data.
Amazon Prime Day is a retail phenomenon with enormous potential for companies to achieve unprecedented revenue and brand exposure. Brands can capitalize on the opportunity given by Amazon Prime Day 2023 and emerge victors in the highly competitive e-commerce industry by applying the crucial ideas and strategies in this article.