24 June 2020
RESEARCH: What is the effect of ChannelEngine repricer on the clients' sales on Bol.com platform?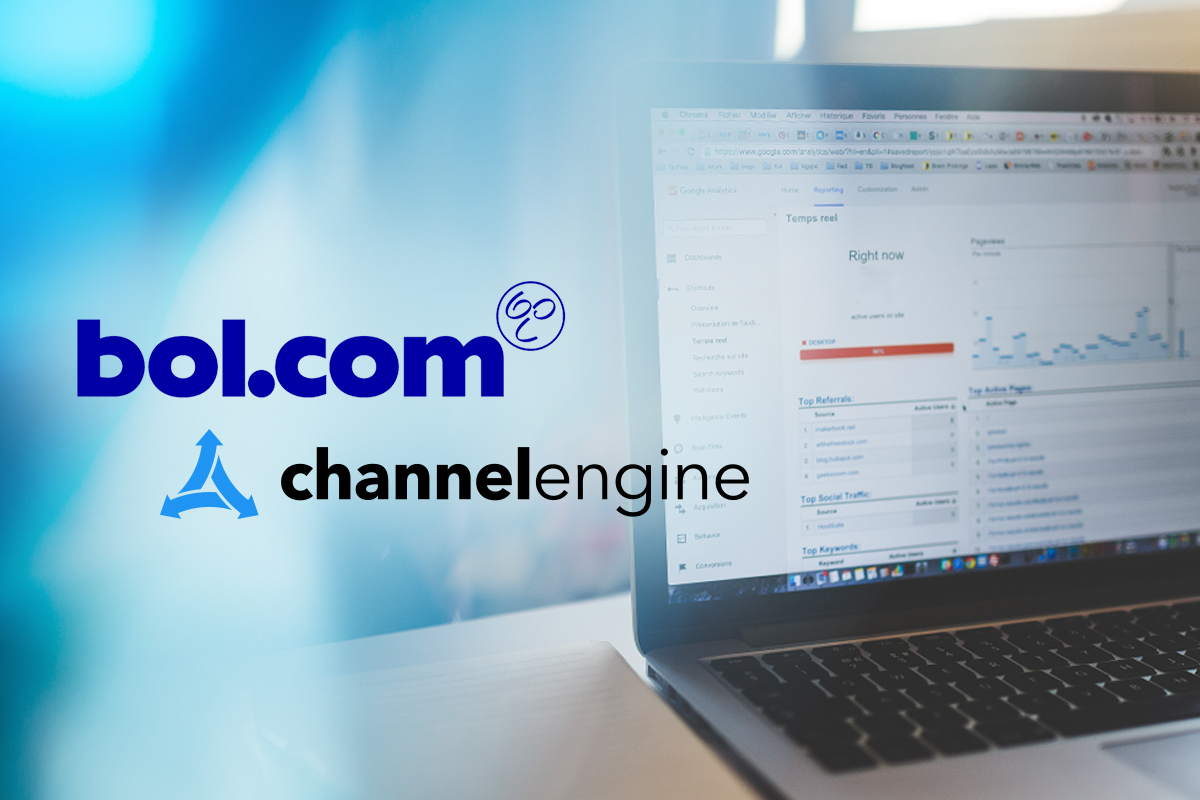 The golden partnership between ChannelEngine.com and Bol.com became even more reliable and determined. Together, we collaborated on the repricer analysis to look into the sales results before and after using it. The Bol.com research team commented: "Together with ChannelEngine we saw a positive change in getting and keeping the Buy Box position. It shows that the usage of smart tools helps partners to receive a better position on our platform".
Manual vs. automated repricing
Now more than ever, it is crucial to have a structured pricing strategy in place. With rising pressure and the sheer volume of the competition, the right price grants you a distinct advantage in the sales field.
This article is for those who are still following the old-school routine. Are you relying on manual methods or spreadsheets? Well, then it is time to discover the revenue-boosting magic of the automated repricer. Having product prices automatically adjusted based on numerous factors can have a significant impact on consumer buying decisions. This study has shown clear results about the effects of the automated ChannelEngine repricer on client sales on the Bol.com platform.
The study
With the growing prominence of automatic repricing, online sellers are looking for some proof and numbers. Bol.com, analyzed data from 20 online Dutch sellers to address this demand. Despite the small sample size, there was an effect of the repricer, confirming the assumption.
Analysis settings:
Assortment:
- the study compared only items that partners had already supplied 28 days before the repricer
- the study investigated only articles with multiple selling offers (products that are offered by multiple sellers). Products with a single seller (and therefore 100% buy button) were not included in the analysis.
Period:
28 days before and after the clients started using the repricer.
Results
After using ChannelEngine's repricer:
17 out of 20 sellers expanded their assortment with on average 1.45 times more articles than before usage of the repricer
sellers changed their prices 10 times more often (on average) and took over the Buy Box considerably more often. Whereas in the 28 days before using the repricer 164K price mutations took over the Buy Box, afterward, 283K price changes led to a Buy Box position
on average, sellers had 50% more often the Buy Box position
In Figure 1 below, you can see two lines referring to the percentage of having a Buy Box of the client before using the repricer and after. The difference between these lines is uplift.
To read this figure correctly, refer to this example:
Client 14 had 32,23% of having a Buy Box before using the repricer and 49,44 % after using the repricer
49,44- 32,23 = 17,21 (difference)
17,21 / 32,23 = 53,39%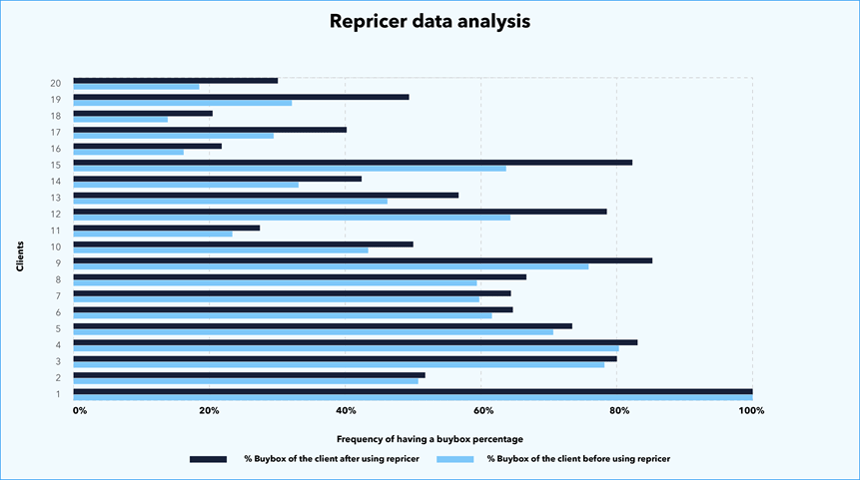 Figure 1. Results of repricer analysis
Why did it work?
An e-commerce repricer ensures that you're competitive and profitable. ChannelEngine.com has multiple options to adjust the price of the product.
Price decrease: this tactic assumes applying regular repricing rules first, proceeding to the gradual price decrease until you get the Buy Box or until the minimum price is reached. Decrease timing depends on the price dynamic and Buy Box change by the marketplace (can vary between an hour and a day).
Price increase: you can enable this option if you set the value to increase the price with each step. There is a good chance to lose the Buy Box, so you must place a threshold to trigger the increase.
Also, you can set up the repricer based on your purchase prices or margin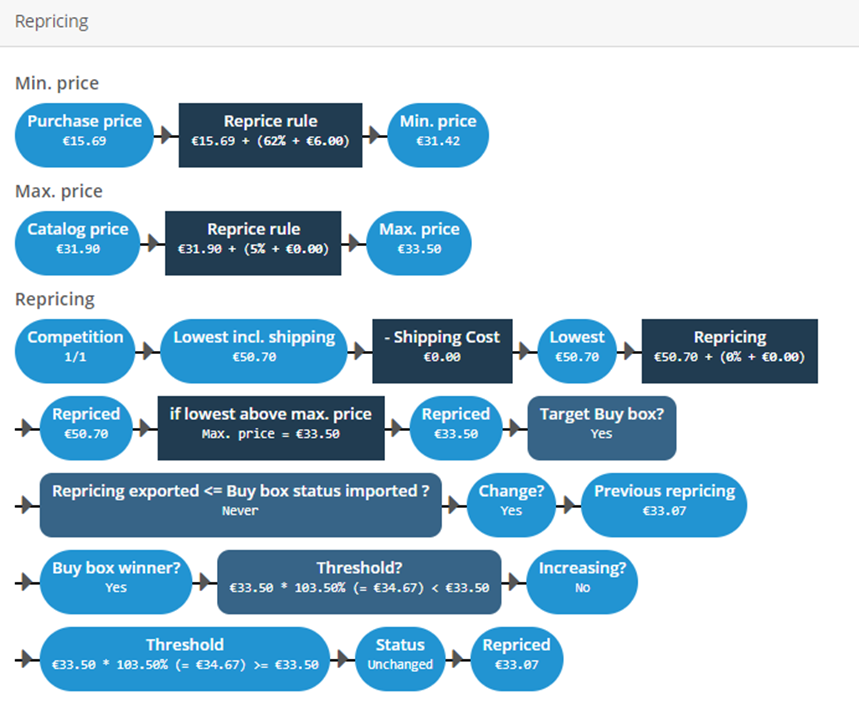 Figure 2. ChannelEngine repricer
Price rules can be applied on two levels:
On channel level = these rules apply to all its products
On listing level = these rules are applicable on a specific listing for a particular channel
We offer an easy, customer-friendly set-up to deal with price rules. Next time you plan to do it manually, think about saving time with a more sophisticated and intelligent repricing strategy. It might be a fun routine with pretty surprising findings for the next study!
If you are convinced of our repricer's benefits for your business, book a demo to see how its features work in a real environment. Do not let prices compromise your sales!