1p Vs 3p: The Benefits & Challenges Of A Combined Selling Approach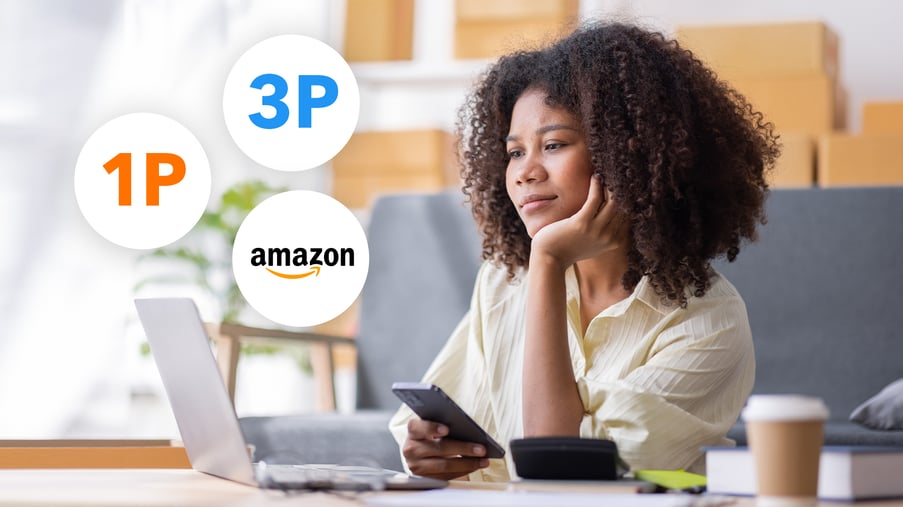 When expanding onto a new marketplace or online sales channel, most brands will face the question - what's the most profitable way to sell our products?
There are three potential selling models for brands to choose from. The first two are the first-party vendor model (1P), and the third-party seller model (3P) — both of which bring their own set of pros and cons to consider. The third option, a hybrid 1P/3P selling model, sometimes known as 2P, is a more flexible solution that allows you to take advantage of both benefits.
Before we offer our recommendations, let's take a deeper look at the three types of selling strategies you could employ:
The 1P Model
In the 1P (vendor) model, the business is a wholesaler to their chosen marketplace. Brands that operate this way are commonly known as first-party sellers (1P) and deal directly with the marketplace rather than the consumer.
Most brands adopt the 1P selling model when they sell to Amazon. In this situation, they offer their products to Amazon, which goes on to sell them to the consumer. Your brand will be invited by Amazon to act as a supplier (also known as a vendor or wholesaler). Amazon will send you POs (purchase orders) that you'll accept, fulfill, and use to ship the product.
Benefits of a 1P (first-party) relationship with Amazon (or similar marketplaces):
Streamlines sales & fulfillment: Since your sales are made directly to Amazon, you can sell in bulk, bypassing many challenges that come with ecommerce operations. This makes processing and fulfillment easier as you're only dealing with one large buyer.
Lowers risk: Selling in larger quantities reduces any risk of your stock waiting to be sold, thereby reducing inventory management issues. This is particularly useful for FMCG products or fashion items (as trends evolve pretty quickly).
Allows brands to indirectly sell to a large, established audience: When you sell to Amazon, you can tap into their existing customer base without needing to spend too much time, effort, or money on your own.
Simplifies cross-border expansion: Whether it's international fees or customs, selling directly to Amazon or your chosen marketplace takes out any extra hassle that comes with cross border ecommerce.
Reduces time spent on marketing/sales strategies: Since Amazon takes care of everything once the product reaches them, brands can focus on other things important to their growth, whether increasing production or improving their products to encourage more POs.
Challenges of selling as a 1P vendor on Amazon:
However, despite all the benefits, there are several business and growth risks when it comes to adopting a 1P model with Amazon:
Low margins: Selling wholesale to Amazon results in lower margins, meaning that most brands will have to sell more products to hit their preferred profit margins (as opposed to selling directly to the consumer in the 3P model).
Loss of additional revenue: Once the products are owned by the marketplace, Amazon can use its algorithms to adjust prices, often breaking Minimum Advertised Price agreements (MAP) — this means there is a constant risk of the vendor losing out on additional revenue.
Loss of control: Since Amazon now decides how to market, sell, and fulfill your products' orders, your brand doesn't have any say on essential factors that build a good customer experience.
Let's explore this better with an example. Here's a Burberry perfume on its own website. The photography is sharp, and the description is highly-detailed, aligning with the identity you'd likely associate with a luxury brand. Meanwhile, the same product on Amazon is almost unrecognizable in comparison. The brand name is in capitals, the image and pricing are different, and there is no product description.
Burberry's perfume on their own website
Burberry's perfume on Amazon
This loss of brand identity and ownership of customer experience is the tradeoff brands get when they choose to sell directly to Amazon.
Once you're invited to sell to Amazon, you can access Amazon's Vendor Central, where you can view and manage info about your products. While you can't control prices anymore, you can update & add to the product listings to help consumers make better purchase decisions. In addition, you can run promotions and advertisements to attract more consumers to your products, which will increase Aamzon's sales, making them buy more from you. This is a Co-op agreement, but it's important to know that Amazon will collect fees for any chargebacks, return issues, etc.
The 3P Model
The 3P (seller) model allows your business to retain its status as the retailer, offering greater control over your product information, pricing, stock, and fulfillment methods. It is worth noting this does naturally translate to a heavier workload.
In this case, you'd be an Amazon Seller (as opposed to selling to Amazon), which means you'd have more control over your products and the way they're presented to consumers. Let's take a closer look at some of the benefits of adopting this selling strategy.
Benefits of the 3P selling relationship with Amazon (or similar marketplaces):
1. Sell directly to customers on marketplaces: The first and most obvious benefit is that your brand now has full control over its presentation and distribution. This means you can control how to entice and attract consumers across different funnel stages.
2. Flexible fulfillment options: Just because you don't sell to Amazon doesn't mean that you can't take advantage of its fulfillment options. When you sell in a 3P (direct-to-consumer) model, you can decide how to fulfill and ship your products according to what works best for your brand. For example, you can choose Fulfilment by Amazon (FBA), Fulfilment by Merchant (FBM), or in the case of advanced FBM sellers, Seller Fulfilled Prime (SFP).
3. Control over prices: When you own your stock, you can choose to price your products however you want in order to meet sales or profit targets. You can also choose to maintain an equal price across all channels and marketplaces or set limits for the lowest prices you'd be willing to sell at to ensure you pull the profits and revenue you want.
4. Sell with your own tools & software: You can integrate software that boosts your revenue into your Seller account. For example, brands that sell D2C or have a 3P relationship with Amazon, can use ChannelEngine's repricer to create dynamic pricing rules to factor in shipping costs, different marketplace fees, and scheduled discounts. This also provides in-depth competitor insights and is invaluable in maximizing profits with reduced competition. Another useful tool in your brand's arsenal when selling as a third-party seller on Amazon is to create unique virtual bundles to stave off competition and attract consumers with better, cost-effective offers.
5. Create your own customer experience to build customer loyalty: Since you have a direct connection with your buyers, your brand can utilize this to offer great customer experiences. From packaging to clear information in product descriptions, you can control your consumers' experience interacting with your product in several ways.
The most obvious drawback of the 3P seller model is the work that goes into selling directly to consumers, which can be incredibly time-consuming. Sellers are also subject to several marketplace fees, such as referral fees, variable FBA costs, etc. On top of that, you also become responsible for your advertising, which brings added overhead costs and requires time and skills to operate effectively.
When you're a 3P seller on Amazon, you can access its Seller Central to manage every aspect of your product listing and marketing needs. From creating product detail pages to managing and monitoring inventory levels, you can do it all from one dashboard. Your brand can also check the status of your orders and adjust pricing (useful during peak season sales).
The question arises: 1P vs 3P - which is the best one for your business?
Well, what if you don't have to choose?
A hybrid 1P/3P selling model combines the benefits of both the seller and vendor models into a single strategy.
A Hybrid 1P/3P Selling Model
Employing a hybrid selling model when it comes to selling on marketplaces allows you to act simultaneously as a vendor and a seller. You can take advantage of both 1P and 3P selling and move between them with agility when needed.
Let's clarify this with an example:
Your brand has a 1P relationship with Amazon, which frequently purchases a certain amount of your product, thereby reducing any need for inventory forecasting. However, due to unforeseen circumstances, Amazon's latest PO only requires 3/4ths of your stock.
Now, instead of letting the last quarter of your stock go to waste or lie waiting in your warehouse (taking up precious space and costing money), you can choose to sell it as a 3P seller on Amazon itself. From offering discounts to the aforementioned unique virtual bundles, you can ensure your remaining inventory sells smoothly directly on Amazon (or your chosen marketplace).
Given how frequently Amazon, Bol, and other online marketplaces change their algorithms and product priorities, the flexibility a hybrid 1P & 3P selling model affords businesses can be vital to their growth and profitability.