04 February 2022
TOM GROUP: "If you want to grow your company, you have to go cross-border"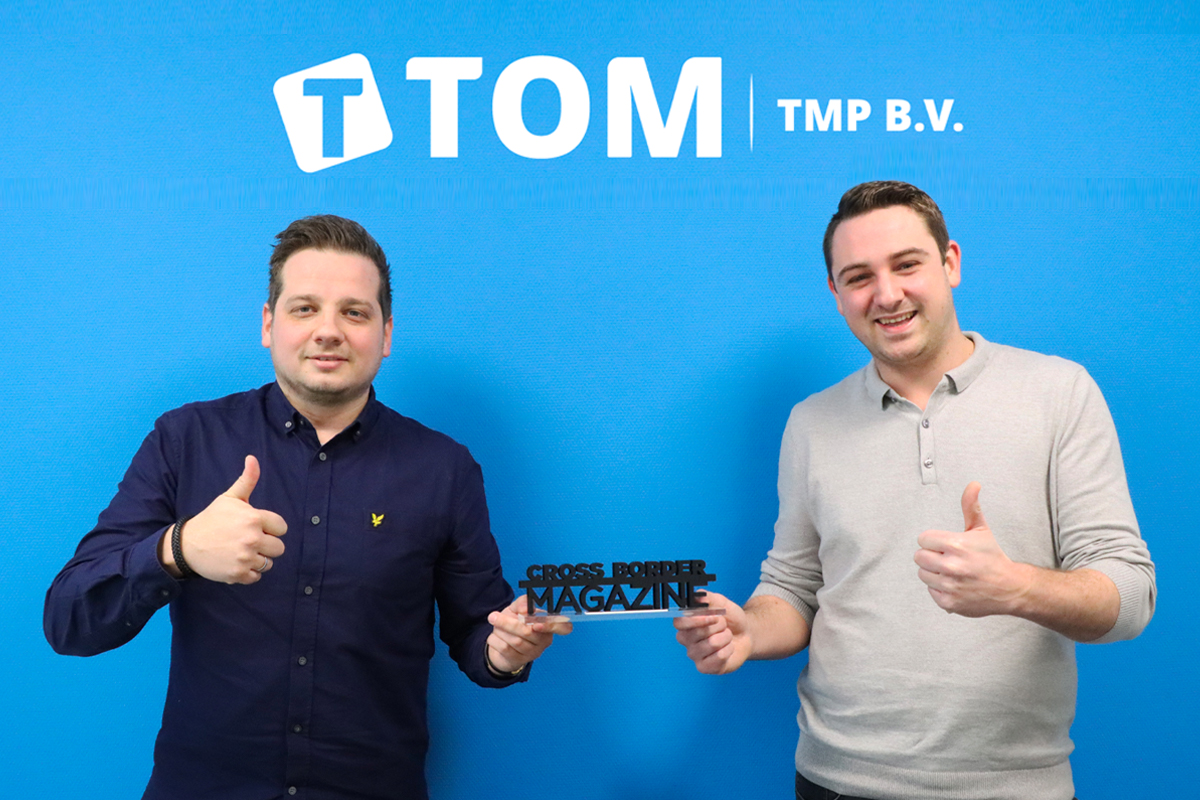 Beginning life as a physical bicycle store back in 2005, the TOM Group's incredible journey over the last 15 years has seen the business develop into one of the most renowned and rapidly-growing entities within the Dutch e-commerce landscape.
TOM TMP is the organization's marketplace division. We caught up with Tommy Kriellaars (Business Unit Manager at TOM TMP) and Gertjan Vosters (Marketplace Business Developer) to discuss the company's ongoing success, challenges that come with selling crossborder and being picked as winners of the 2021 Cross-Border Magazine Awards.
Where it all began
"After four successful years of selling bikes from our physical store, it became obvious that internet shopping was quickly taking over, so in 2009 we started selling online through our own webshop (Internet-bikes.com). That too became a big hit for us, so we began to introduce new items, starting with toys in 2011—to date, those two segments, toys, and bikes are still our best-selling." Tommy says.
He continues: "Now, we have a total of 14 different product groups spanning over 410,000 SKUs. We have around 14 webshops spread across B2C, we have TWM, which is our unit for the B2B market, and we have TOM TMP, which is for all sales via marketplaces. At this moment, we're selling across 21 marketplace platforms—though we always lose count as that number is constantly increasing as we expand into other countries."
Pivoting to success
"Besides growing our assortment, we've extended across a variety of different sales channels throughout the years. In 2013 we started selling on Bol.com, which was the first marketplace we launched on. A year later, we expanded our business to Amazon Europe." The pair explain.
"During 2014, we also launched a dedicated B2B website for our TWM division. TWM uses a slightly different strategy, targeting higher sales volumes by offering lower selling prices specifically for business customers. This operation has grown significantly throughout the years. For example, we now offer dropshipping service for business customers and have recently launched a new concept that enables companies to set up personnel shops where their employees can buy products."
"Two years ago, as our growth accelerated, we decided that we needed a more specialist approach to manage all those different sales channels. We launched a new organizational structure focused on four separate business units set up as independent legal entities: TOM TMP B.V. (marketplaces), TOM TWM B.V. (B2B sales), TOM B2C B.V. (B2C sales), and TOM Retail B.V. (physical stores)."
"Right now, our physical shop only accounts for 2.5% of our total sales volume, which means that 97.5% of our sales are being handled through e-commerce. Back in 2009, the numbers were the complete opposite."
So... How have they managed it?
"First of all, we have a long-tail strategy; we don't just sell the best-sellers in each category, but also the slightly less popular products. There's far less competition on these items, so despite the sales volume being lower, because we have such a vast number of products, the value is actually very high when they're combined. I think that's one of the big things that distinguish us from our competitors." Tommy reveals.
He adds: "We have all of the products in stock ourselves within our warehouses. That's another big advantage in comparison to a number of our competitors."
Tommy also points out how vital the business' own label has been to the operation: "We have our own brand, AMIGO. That covers things like bikes and e-bikes, sporting and outdoor items, and toys, all under our label. The biggest advantage of this is that you don't have any competition on the product itself. You can really set your prices and market the products without having any direct competitors on the same items, and without having to join the race to the bottom."
"Around 25% of all of our revenue from the marketplace side of the business comes through AMIGO. Overall, its products account for less than 5% of our entire stock, but the revenue it contributes is huge. So that is the power behind a unique product with which you can shape your strategy and not be crowded out by high-spending competition." Gertjan highlights.
"I believe another reason behind our success is our partnership with DHL. You need a courier that can compete in terms of transit times and rates. DHL allows us to ship to all European countries, and because of our sales volume, they're able to offer us good rates. The transit times are typically between 2-5 days for E.U. countries, meaning we can also compete with domestic sellers."
The importance of cross-border selling
"It's crucial to us. Because we operate in Holland, it's not the biggest country in Europe. If you want to grow as a company, you generally have to go cross-border. In the Netherlands, there are only around 17 million people—if you expand to Germany, you already have five times that total number, so way more potential consumers." Tommy says.
"We're also capable of filling in grey spots in other countries. What often happens is we stock certain products which are either very expensive or difficult to get hold of in other markets." Gertjan adds.
"The AMIGO brand is particularly good when it comes to filling those gaps in other countries. We buy and develop these products ourselves, which allows us to target specific markets we know are lacking a certain product. For example, with our bikes, we know they're not being produced often enough in certain countries across Europe, meaning we can focus on them, which is a big part of our model."
Dealing with the pitfalls
"The biggest problem we have are returns. DHL makes it incredibly easy for us to ship to other countries, but returning parcels is always an issue. It's a general challenge right across e-commerce, but it is particularly hard when it comes to larger packages, which is a common occurrence given our product offering," Gertjan says.
Expanding on that, Tommy adds: "Because we sell via marketplaces, we have to offer free returns as part of the platform's terms and conditions. This costs a lot of money and a lot of time—especially due to the size of items we deal in. You can't just print off a label. You have to plan a pick-up appointment for the consumer."
"Language barriers can also be a problem, so having good translating software is a must when it comes to delivering good customer service in other countries. Also, VAT can still be tricky. It used to be way more complicated, though it has become easier with the One Stop Shop. If you can join that program, then it's not quite
Predicting the future of e-commerce
Quizzed on the future of the landscape, Gertjan had the following to say: "I think we'll see the continued rise of the platform economy; the trend that consumers start their search on marketplaces directly, and will not divert to search engines like Google. It's common practice in the USA already; customers will start their search on Amazon rather than Google.
"I believe that is something that will take over here as well. We're already seeing it in the Netherlands; it's much easier for customers to do all their shopping in one place, and much harder for new e-commerce companies to make their websites compete with sites like BOL."
Expanding on this idea, Tommy says: "You now have a lot of big e-commerce companies turning into marketplaces—sites like Zalando, which has now converted to a marketplace model. More and more big companies are going down this route as it allows them to offer a wider variety of goods to their consumers without really shouldering any risks themselves, particularly when it comes to stock levels."
Why marketplaces and why ChannelEngine?
"For a seller, being able to capitalize on the already-established reputation and traffic of the marketplace is a big part of the appeal. Payments are also handled through the marketplace, and you don't necessarily have to spend any money on ads. It's really low-risk and really low-entry in comparison to other channels." Gertjan says.
"Then if you mix in an integrator, like ChannelEngine, they take care of all the technical work, they're responsible for the integration which again, makes it very low-entry.
"With the help of an integrator, you can scale your business at a much faster rate. You'll have all the necessary information, you just ask them to add a new channel, and it'll be standardized through the integrator. You can launch multiple new platforms every year, making it easy to expand while risk levels stay low."
"We picked ChannelEngine because we noticed how rapidly they were growing, much like ourselves. Their software is set up in a really user-friendly way—almost everything is tweakable. The advanced attribute mapping options help us create even better product content, in turn significantly increasing our product visibility. Their support is great, and the flexibility of their software allows us to solve problems quickly and efficiently—that's been a major factor in allowing us to grow as rapidly as we currently are."