23 June 2022
Expert insights: The secrets to winning the BuyBox in 2023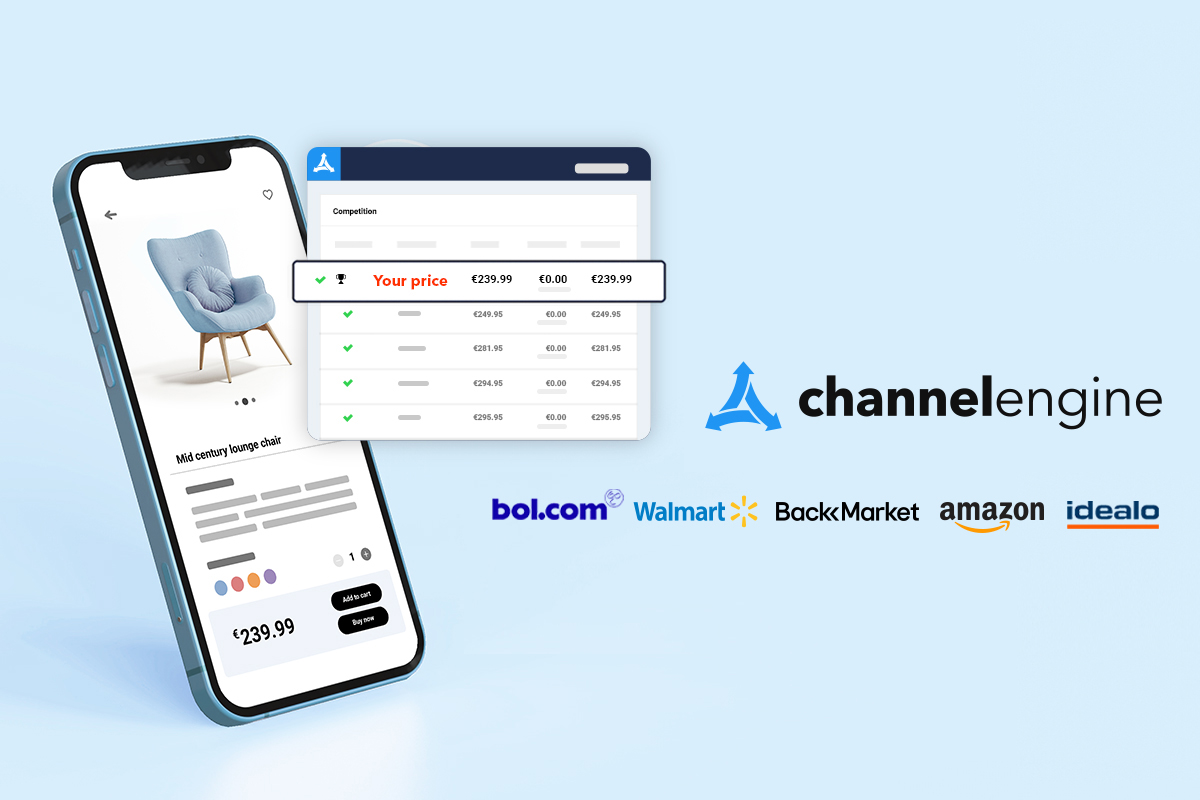 | | |
| --- | --- |
| | Jorrit Steinz | CEO at ChannelEngine |
| | Feike Groen | VP Product & Tech at ChannelEngine |
When selling via online marketplaces, 'winning the BuyBox' is a massive part of any successful sales strategy. However, at a time when competition among sellers is fiercer than it ever has been, achieving this brings many unique and often tricky challenges to navigate.
The BuyBox exists across a number of marketplaces that host multiple sellers offering the same product on their platform. Sites like Idealo, BackMarket, Mercado libre & Walmart, and, of course, Amazon all use their own algorithms to decide who appears in the coveted BuyBox space, constantly rating sellers on various performance factors.
From the price of a product and delivery speed to seller performance and stock levels, a seller must successfully hit several criteria to be considered ahead of your competitors.
Below, we caught up with ChannelEngine CEO Jorrit Steinz and VP of Product and Technology Feike Groen to highlight precisely why the BuyBox is so important and the key considerations to take when competing for it.
Why the BuyBox is king
The BuyBox refers to the purchase area on the right-hand side of the product page, the space where you're prompted with calls to action like 'add to cart' or 'buy now' from a specific seller.
Unsurprisingly, whichever seller owns the BuyBox takes a significant share of sales for that product. Figures vary slightly from marketplace to marketplace, but the BuyBox share is consistently king—on Amazon, 80%-85% of sales go through the BuyBox, while BOL it's as high as 90%-95%.
Where once you might have had comparison sites linking out to multiple retailers, that's all now combined within the marketplace, meaning you might have 40/50 sellers all competing for that same space, and if you don't own it, especially as a reseller, making sales on that product is going to be incredibly tough.
Seller performance: Reputation and speed go a long way.
A mixture of variables is factored in when sites like Amazon decide which seller appears in the BuyBox for a particular product. Generally, these fall into three key overarching categories; seller performance, delivery time, and price.
As the name suggests, seller performance covers metrics related directly to your reliability as a seller on the marketplace. This includes things like stock levels, fulfillment scores, number of returns, reviews, on-time delivery, pre-fulfillment cancellations, and customer response times—for every logistical KPI. There is a set percentage you need to maintain. If you drop below that, your sales score is negatively affected.
We still see many businesses overlooking the value of this metric, not realizing how big an impact it can have on your BuyBox share. You actively have to build effective fulfillment and automation processes to become and stay competitive on these platforms. Sure, some newer marketplaces only factor in price and stock levels. However, the more advanced platforms—like Amazon and Bol—use smarter algorithms to assess all of these contributing factors.
Delivery: 24 hours or bust and tactical fulfillment
You'll almost always need to offer 24-hour services to be competitive in the buy box when it comes to delivery times. There are occasional cases, with specialist items like furniture, where this doesn't apply—but typically, if it's a popular product, next-day delivery is a must.
When shaping your delivery strategy, you'll also need to decide on Marketplace Fulfillment—for example, Fulfillment By Amazon (FBA) / Fulfillment By Bol (FBB—or Fulfillment by Merchant (FBM) / Merchant Fulfilled Network. This can be tricky, as the method favored by the marketplaces regularly switches, particularly as we approach major shopping holidays like Black Friday or Prime Day.
Normally, Marketplace Fulfillment would be favored by the platform, as naturally, they tend to trust their in-house services. It also allows retailers to make use of services like Amazon Prime, again, a big boost when battling for the BuyBox. However, during these busy periods, marketplaces need to ensure they don't overload themselves, so the preference often switches to FBM.
That would mean as a seller, if you had relied solely on Marketplace Fulfillment for your shipments, any chances you had of winning a share of the BuyBox suddenly disappeared during one of the busiest online shopping days of the year. This is where hybrid fulfillment solutions become priceless, allowing you to switch between both Marketplace Fulfillment and FBM easily.
Realistically, you need to be able to support both methods, which places huge importance on really understanding your stock levels. At ChannelEngine, we know exactly how much stock is in each fulfillment channel, allowing you to switch and prioritize accordingly quickly.
There is also a third option that falls somewhere between the two: Seller Fulfilled Prime. This allows a seller to ship from your own warehouse, with the valuable benefit of displaying the Amazon Prime logo. When enrolling in this program, a seller commits to fulfilling orders at speed required by Prime, gaining access to Amazon's recommended transport solutions to make that possible.
In addition, factoring in the delivery methods used by other sellers is crucial to competing. For example, if you opt for Marketplace Fulfillment on a product that you're also selling at a similar price, to win that BuyBox, it's almost inevitable that you will need to do the same. Otherwise, you're unlikely to win until your competitor has run out of stock.
Price: Compete but resist racing to the bottom
Last but not least, you have the all-important metric of your product price. If you and your competitors have a similar ranking in all of the KPIs we've previously discussed, then ultimately, the BuyBox goes to whoever's product is cheaper.
However, things aren't always as straightforward as this. Sometimes, a seller's performance rating is lower than yours, and to compensate for that, they drop their price. That doesn't necessarily mean you have to drop your own price to match, as your higher seller rating is already boosting your overall BuyBox score, so you can afford to be a little more expensive.
This is where ChannelEngine's automatic repricing engine proves so valuable to businesses, allowing you to truly optimize your product prices and maximize your chances of winning the BuyBox. To effectively carry out this process manually would simply be impossible, especially when talking about keeping track of and updating thousands upon thousands of listings many times a day.
Again, this doesn't just apply to ensuring your prices are low enough to compete with others. Suppose you've already won the BuyBox thanks to an initially low price. In that case, once your competitor runs out of stock, you can automatically increase your price, boosting your profits while still securing the BuyBox spot.
Clearly, there is much that needs to be factored in as you compete for the BuyBox. It's not as simple as merely making your product cheaper than everyone else, nor can you rely on Marketplace Fulfillment and expect your BuyBox space to be secured as a result. More, it's about finding the balance between all of these elements, and being agile as you adapt to any shifts in the algorithm utilized by the platform to decide on BuyBox position.
ChannelEngine specializes in empowering brands, retailers, and wholesalers to connect you to marketplaces and other sales channels worldwide. It offers the complete ecommerce and marketplace management solution with seamless integration so businesses can expand your reach internationally and grow your customer base and sales, all while staying in control of branding and optimizing profits. ChannelEngine clients include Bugaboo, Hunkemöller, Brabantia, Bosch, JDE, and Reckitt.