01 July 2021
How to succeed selling on Zalando (PART 5): Pricing, returns & marketing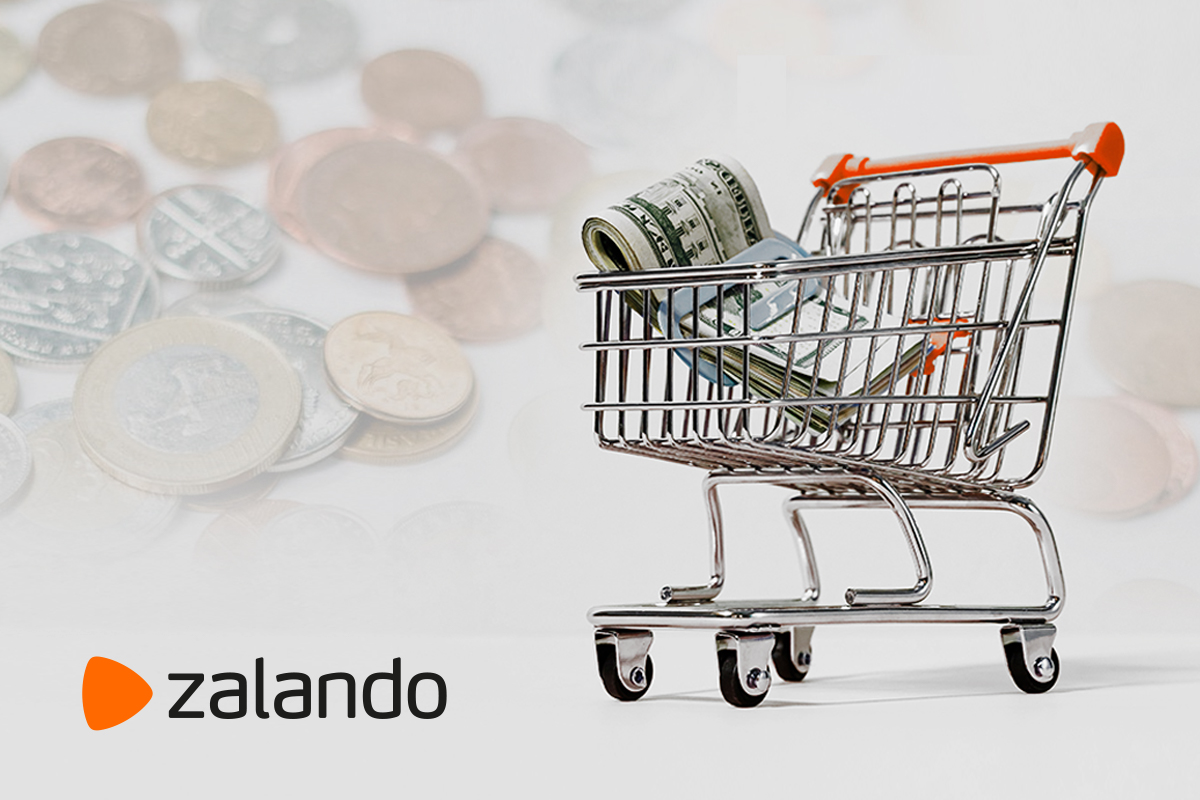 Zalando Pricing Checklist
Selling on a new marketplace always requires special attention to the customer expectations of the marketplace, including pricing, returns, and promotions (or other marketing).
Your pricing strategy should consider the launch period, variations in currencies, and different prices in different countries. The pricing strategy on Zalando is quite different from other marketplaces like Amazon. Shoppers on Zalando will complete their purchases there without shopping around and are focused on finding new high-quality products and brands.
There are several aspects to consider when setting your prices, and getting this right will increase conversion and sales.
RRP
Your Recommended Retail Price is the basis for your pricing strategy because it puts all other prices on a 'relative scale' compared to the RRP. Keeping a consistent scale will increase conversion and ensure that you have a baseline that can be raised or lowered to account for your return rate or promotions, thereby ensuring profitability.
Things can go wrong here, especially if your integrator or software doesn't offer suitable options. It should be possible to see the RRP across the entire range and every product right down to the style or color.
If the same basic item price differs too much for slightly different styles, sizes, or colors, your customer will lose confidence, and the chance of a return will increase.
To address this, pay attention to the technical side of your integration and make sure you can maintain a consistent RRP for items within the same basic range.
Sale Price
From the RRP, it is sensible to set a predefined 'sale' price, which is relatively easy if you have the correct integration solution. Customers are extremely sensitive to discounting, and it can stimulate short-term sales and long-term interest and 'stalking' behaviors in shoppers. The importance of having a good RRP structure becomes especially apparent here because the discount is only visible to them if the structured price is already established.
Dynamic pricing
One of the most effective tools is the use of dynamic pricing. You can use dynamic pricing to ensure your products retain visibility during the intense sales driven by 'Black Friday' and other critical selling periods. If your sales start to drop off, our competitors may be offering your product for less – dynamic pricing is a solution to this.
Price consistency
For third-party (3P) sellers, it is quite likely you sell across multiple platforms; many brands sell across 20 or more platforms, for example. So how do you handle pricing across these different marketplaces and markets?
Amazon is a more price-competitive market. However, it comes with a lower service burden and returns rate. In contrast, Zalando customers are happy to pay more, knowing they can expect high quality and return anything they are not satisfied with.
For this reason, it is an excellent strategy to sell items for a higher price on Zalando – this will let you absorb the commission/fees and the costs of returns and promotions while also enjoying a (possibly) higher margin.
Sales events/Campaign calendar
You should devote time and resources to scheduling all your sales events and promotions in advance, especially if selling across multiple platforms. These events will provide a boost for your overall sales. Although the instinct for reaching full price is quite natural, refusing to offer promotional prices will hurt your sales (for most brands).
These events are great opportunities to shift overstock and reduce your returns service burden. In addition, Zalando will often reduce the fees that they charge you if you offer discounts of a certain amount, so in some cases, it is just as profitable for you to provide a discount of 30% instead of 25% because of the savings on selling fees.
Image 1. Sales event example
Zalando returns checklist
Zalando has a relatively high return rate compared to other marketplaces – and this can be easily compensated for by a reasonable pricing structure. However, reducing your return rate should still be an ongoing goal as it results in more sales and a higher profit margin.
Here are some easy, regular steps you can take to get your Zalando returns rate under control:
ZDirect Return dashboard
The ZDirect Dashboard provides a wealth of valuable insights to show you how your products perform across different categories. Paying attention to these, particularly your returns rate, can help you identify actions that will reduce returns and costs.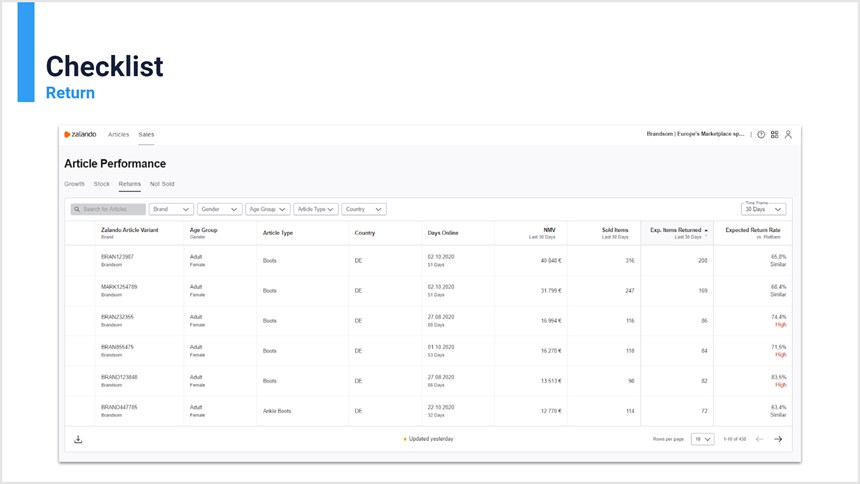 Image 2. Article performance
Returns analysis
You can analyze your return rates based on each country and product details such as size, color, or style. If you notice outliers, you can investigate the product content, sizing, and pricing. You can also promote these items with additional advertising. If you still see no improvement after taking remedial action, it is probably better to remove the item from Zalando.
Size advice
This can be a common reason for returns, so make sure your size advice gives people a realistic expectation and guides them to the right purchase. If you use a model in your photos, it can be helpful to state a point of reference, such as the model's height and size worn by the model.
Product content and attributes
Check your content and attributes to make sure it all lines up. For example, a simple mistake can lead to the wrong photo or description for a particular product, which would naturally increase returns.
Pricing
If your premium prices indicate that you are a premium product, customers will have much higher expectations. This will naturally lead to a higher return rate, so consider this when setting out your pricing strategy.
Marketing
Marketing will increase your brand awareness, and this reduces returns. Compared to Amazon or Bol.com, Zalando offers a much more extensive range of possibilities for marketing and branding.
Strategy
Define and align the campaign calendar
Marketing costs money, so you should make sure you are using it at the right time. Look at your campaign calendar to ensure the maximum synergy is achieved.
Set your marketing goals
Your goals should be clear, and each goal should have its marketing strategy and options. For example, there is a big difference in marketing approaches if your goal is to increase sales compared to raising brand awareness. Measuring success for each goal is also, therefore, more accessible.
Determine your marketing tools
You should use the right tool for each task, such as CPC for specific products or CPM for brand-based banner campaigns.
Track performance
Make sure you get reporting on your marketing offensives from your agency or contact person. This will help you see how successfully you are meeting your marketing goals (above). Compare marketing events with your return rate – you should see a drop in the return rate as more people are familiar with your brand.
Pro Tips
Retagging.
It is a vital regular task to keep your products online. For example, Zalando retags products every season to keep up with search trends, so make sure you do the same.
Manage product performance and reviews.
You should be aiming for a high number of reviews and a 4-star rating or better because this will increase sales and decrease returns.
Experiment with price points and Zalando special events.
This can be done monthly and not just during defined promotional periods. Sales data across pricing variations should help you define the optimum price point based on stock.
The fashion segment will continue to grow in the next few years, with more than a third of sales going through the online channels. Don't hesitate to contact us or request a demo.
Are you interested in more tips on how to sell on Zalando? Check our previous article about Expansion & conversion.