13 November 2019
A definitive guide: how to boost your sales on Amazon in 2020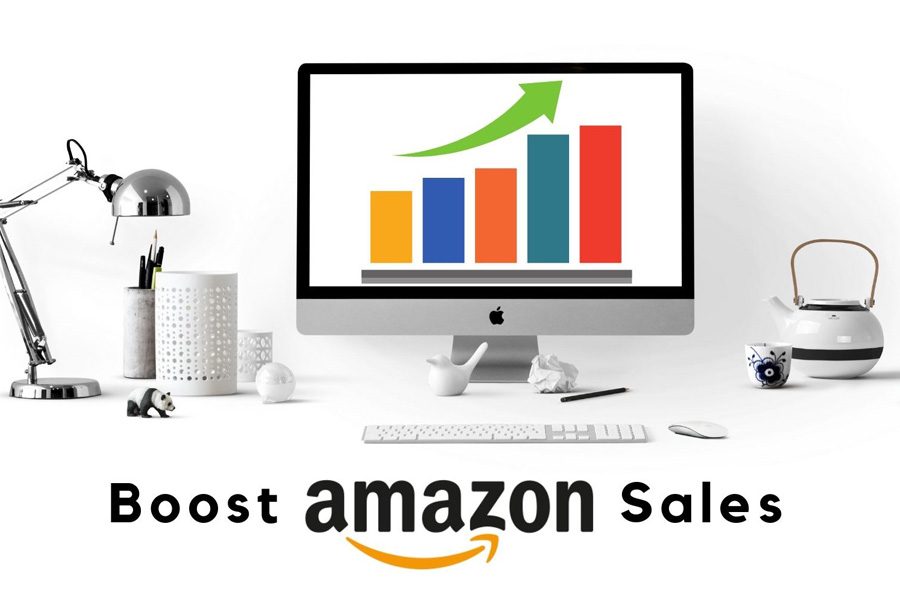 Index
How to get started on Amazon?

What kind of opportunities are there for you?
Step 1. Understand how Amazon works with brands and retailers
Step 4. Get to know Amazon exclusive brands and private label brands
Understand all the relevant terminology
How to get started on Amazon?
What kind of opportunities are there for you?
We all know about Amazon, but are we aware of all the opportunities it has for retailers?
Amazon is currently the largest online retailer in the world. Reliable data from Statista and Retail TouchPoints also reveals that the company presently has over twelve million products for sale and makes more than $232 billion yearly in revenue.
With more than 150 million monthly unique visitors, according to research by Comscore, Amazon's ever-expanding business has various opportunities for willing retailers. Amazon is also growing fast in the European market according to the numbers of SimilarWeb. Here is a monthly visitors overview of a couple of countries in the E.U.:
Amazon.de: 1.498 billion visitors

Amazon.co.uk: 1.385 billion visitors

Amazon.fr: 642.2 million visitors

Amazon.nl: 2.044 million visitors
Because of Amazon's growth and success, there are lots of opportunities for retailers & brands. The first one is the massive audience size a retailer or brand can reach through Amazon. As we said earlier, the German Amazon website had 1.498 billion visitors between May and July 2019 and is the 37th most visited Amazon website in the world.
According to a poll conducted by NPR and Marist, Amazon is the most common starting point for online shoppers. With 44% of shoppers starting on Amazon (11% more than Google) and 40% of Americans buying products on the website at least once every month, Amazon has become the central hub for online shopping. Simply put, Amazon is where most of your consumers go to for online product research and discovery. So, if you're not part of it, you're missing out on the big pie.
Apart from the selling aspect, Amazon also provides retailers with other valuable opportunities on its platform. They include giving you a chance to easily manage, monitor, and control your brand representation. This can be carried out with the aid of several tools that helps sellers and companies to make trademark-registered content on the products they are selling on the Amazon platform. You can easily manage all your product listings across all Amazon websites through a tool like ChannelEngine.
If you're currently in the eCommerce industry, selling on Amazon is your best bet for maximizing your reach and, ultimately, your revenue. We've created this ultimate guide to help you learn about Amazon, list your products, set up your shipping options, promote your products, manage your reviews, and analyze your performance. Follow the steps in this article, get to know Amazon better and get your sales up.
Step 1.

Understand how Amazon works with brands and retailers
What is the difference between Vendor Central and Seller Central?
Deciding whether to sell on Amazon as a Vendor or Seller can be quite confusing, especially if you're new to this huge online marketplace. To help you find the best option for your business, we'll evaluate both options, compare them side-by-side, while discussing some of the benefits and drawbacks of each method of selling.
Amazon Vendor Central (AVC)
The Amazon Vendor Central is the portal used by brands and manufacturers to sell wholesale to Amazon through purchase orders. These companies are also referred to as first-party sellers or Amazon vendors. Registration on Vendor Central is by invitation only. Going through Vendor Central simply means that Amazon is your retailer and they are buying your products in bulk, which they will then list on their marketplace. In this case, you are not directly transacting to the consumer or handling customer service. You are able to be a bit more hands-off, while still making sales.
For vendors on this platform, the phrase "ships from and sold by Amazon" appears on the product's order page. Once a purchase order is placed to the distributor or vendor, the products will need to find their way to an Amazon warehouse or Fulfilment Center. Whether it is Amazon that picks the order up or the vendor who ships it is defined during the initial contract negotiations.
With Vendor Central, Amazon's retail team buys and resells your products to their customers. With Seller Central, you are selling directly to Amazon's customers.
Pros AVC

Fixed logistical options

Amazon controls retail pricing

Sell to Amazon in bulk

Traditional sales process

Increased advertising and marketing opportunities

Access to programs like Prime Now

Ability to self-manage promotions

Cons AVC

Difficult to launch products using Vendor Central alone.

Comes with some Inventory Concerns

Slower payment terms

Can be more expensive

Less control over pricing

More complex and inflexible fulfillment requirements
Amazon Vendor Central is changing. In the process of streamlining its retail process and make it more effective, Amazon made some changes in early 2019 regarding how it handles vendor relationships. In March 2019, Digiday reported that Amazon was diligently taking out vendors that are no longer profitable to manage, hurt the customer's experience, and sell low-quality products without proper authorization.
Amazon Seller Central (ASC)
Amazon Seller Central is used by merchants (also known as marketplace or third-party sellers) to market and sell their products directly to customers within the Amazon marketplace. The Amazon seller is responsible for setting up and maintaining their seller account. Statista reported that as at Q1 2019, more than 50% of sales on Amazon came from these merchants or third-party sellers on Amazon.
As a third-party Amazon seller, there are two options for fulfilling orders that are received through the Amazon marketplace. You can handle all of the tasks of shipping, customer service, and returns for the orders yourself or through a third-party logistics provider (3PL) you choose. Or you can choose to allow Amazon to handle this process by enrolling in the Fulfilled by Amazon (FBA) program. If you use FBA, your company name can be added to the order page; your customers will see "sold by BRAND X and Fulfilled by Amazon" when they buy your products.
Pros ASC

Control of the seller account

Open to everyone

Sell directly to Amazon's customers

Brand controls retail pricing

Limited advertising options

Complex sales process

Flexible logistical options

Enhanced Brand Content

Quick payment terms

Cons ASC

Less advertising opportunities

Potential for high fulfillment costs

Typically lower sales
How do you get paid?
What is the difference between the individual and the professional plan?
Amazon Seller Central has two main payment plans:
The Individual Plan

The Professional Plan

The Individual Plan
The Individual Plan is made for sellers who sell only a few items (less than 40 items) per month and operate on a pay-as-you-go basis. Sellers on this plan don't pay any monthly subscription fees except for the 1 Euro they are charged for every item sold. There are also additional fees for shipping, referrals, and closing costs for any sold item.
The Professional Plan
In this plan, sellers are allowed to sell an unlimited number of products and also get access to 10 additional product categories. Professional sellers are not charged by item, rather charged a monthly subscription fee of €39.99. The main advantage to this third-party selling approach is that sellers have more control over the retail experience. This includes messaging, packaging, and beyond. But that's not all. According to a Digiday report earlier this year, Amazon introduced new features like Subscribe and Save and automated couponing to further help third-party sellers. This will improve the overall selling experience for these third-party merchants.
While the professional seller accounts require a monthly subscription, most businesses will opt for it as it offers analytics tools, preferential marketing treatment, and a host of other features a professional Amazon seller will need to scale their business.
Brand Registry for sellers
Can I register my brand at Amazon?
Amazon Brand Registry is designed for a brand owner to help enroll his/her brand with Amazon to access enhanced marketing features and have complete control over the brand. The goal of this program is to help manufacturers and brand owners protect registered trademarks (on Amazon) and create an accurate and trusted experience for customers. Whether a manufacturer is small or big, they can register their brand with Amazon and gain complete control over the product listings.
According to Amazon, more than 60,000 brands around the world are registered in Brand Registry, and on average, they're finding and reporting 99% fewer suspected infringements than before the launch of Brand Registry.
There are lots of incredible features and benefits of this program and they include:
Accurate brand representation

Additional proactive brand protections

Powerful search and report tools
However, this program does not provide cover for a brand in a situation where distributors divert your product and sell it on Amazon under a different brand name without permission.
Brand Analytics
An additional perk of Brand Registry is the access to Brand Analytics.
Brand Analytics is a free report available within Seller Central for sellers in Amazon's Brand Registry program. According to Amazon, "Brand Analytics is a feature that contains valuable insights to empower Brand Owners to make informed, strategic decisions about their product portfolio and marketing/advertising activities". In other words, it gives you data that helps you make smarter choices that can lead to more sales.
You can find Brand Analytics under the Reports tab in Seller Central. Sellers can also access brand analytics by going to brandanalytics.amazon.com and using their Seller Central credentials. Data is generally available in Brand Analytics within 72 hours of the close of a given period.
Amazon Brand Analytics is open to all brand registered owners with active listings. If you don't yet have a registered brand on Amazon, you'll need to button up first. Some of the additional benefits you get from being a brand registered owner on Amazon are:
Also commonly referred to as the A+ tool, this enables brand owners to change the product descriptions of branded ASINs. Using this tool, you can describe your product features differently by including a unique brand story, enhanced images, and text placements. Adding EBC to your product detail pages can result in higher conversion rates, increased traffic, and increased sales when used effectively.
Sponsored Brands are ads that feature your brand logo, a custom headline, and up to three of your products. These ads appear on the search results and help generate recognition for your brand and product portfolio.
Promote your brand and products with your own multi-page Store on Amazon.
Amazon Live is Amazon's streaming service for retailers to hold live sales, similar in fashion to QVC or other in-home shopping shows
This report shows a brand owner how customers are searching for their items and competitors' items on Amazon. This is the keyword an Amazon shopper uses when looking for a product. The keyword can be individual words such as "shoes" or a phrase such as "women shoes".
Search Frequency Rank (SFR)
Search Frequency Rank calculates the popularity of one keyword relative to keywords around it. Amazon ranks search terms based on their frequency, with #1 being the most common search, #2 following and so on. This means that the keyword with a SFR of #2 is more popular during the given timeframe than a keyword with a SFR of #4. Amazon does not provide the number of searches for a particular keyword, but the relative rank is still very helpful.
Item comparison reporting
This report shows brand owners the top five products that were most frequently viewed on the same day as your products. It also shows the percentage of time that each of those products was viewed.
The Demographics report shows brand owners the breakdown of their Amazon customers (in aggregate) by age, household income, education, gender, and marital status.
This field is designated for the ASIN that received the most clicks from shoppers who searched this keyword. When you look at this metric, it'll tell you which ASIN got the most user clicks when searched for products with specific search terms. This field does not mean that the product was ranking in the first organic position.
Using Brand Analytics, sellers can also view:
Competitor Performance

Keywords with Potential Search Volume

Customer Shopping Behavior

Most Click/Conversion Share for Specific Search Terms

Keywords (based on searches by Amazon customers to find their products).
With access to these more detailed insights and analytics around performance, sellers can make smarter, data-informed decisions about strategy and marketing moving forward.
Step 2

: Advertising on Amazon
How important is advertising on Amazon?
Due to the fierce competition witnessed in the marketplace today, plus the thousands of products competing for consumer's attention, many sellers and sales consultants believe advertising on Amazon is the best decision you'll ever make. One of the biggest reasons brands are dedicating more advertising spend on Amazon is because it has become the central hub for online shopping. Amazon has loads of first-hand consumer purchasing data that can be used to improve its ad target across the entire purchase funnel.
According to James Thomson, "You have to have advertising and a larger marketing strategy in place if you want consumers to find your products. Because if you're not on the first page of organic search results, you're going to struggle."
There are 300 million Amazon users. Are you selling a tangible product that consumers can purchase online? If the answer is yes, then the answer is yes, you should be advertising on Amazon. Amazon will just supply you with another way to get more eyes on your products and likely more buyers. Another compelling reason to advertise on Amazon is that if you're doing Amazon PPC, your organic Amazon rankings will likely improve as well. "We've repeatedly seen that organic ranking has been considerably improved for those keywords that were used successfully in Amazon PPC ads," says Sellics. "This is in part due to extra sales that have been generated by 'Amazon AdWords' enhancing the sales history of the product. Sales history is a very strong ranking factor. If a product sells better, then Amazon will place it higher up in the ranking of search results."
So not only is it possible to boost your product sales by investing in Amazon ads, but it could also boost the organic rankings of your products. Could life get much better?
Amazon Advertising Costs
How much do ads on Amazon run?
According to Rob Sieracki at Practical Ecommerce, the average cost per click on Amazon is rarely more than €0.35, making it more cost-effective on a CPC basis than search ads on AdWords or Bing Ads and comparable to some of the lowest CPC's on Facebook ads or Google display. Considering that Amazon searches show a lot of commercial intent, those are promising numbers!
The three most used advertising formats for ads on Amazon are:
Sponsored products Ads
Sponsored ads allow you to reach Amazon customers as they research and discover products. These ads help vendors promote item listings, pairing them with items potential customers are already looking at. These are the ads that drive Amazon searchers directly to a specific product you're selling on Amazon.
Using Sponsored Product Ads, you can also use automatic keyword targeting, which leverages an algorithm to target the most relevant keywords for your product ads. To gauge the performance of your ads, Sponsored Product Ads offers a reporting tool that displays your ads' clicks, spend, sales, and advertising cost of sales (ACoS).
When shoppers click on your sponsored product ad, they'll be directed to the ads product detail page. Sponsored product ads are typically displayed above or below the search results page, as well as on other product detail pages. These ads are keyword-targeted, and advertisers have the option of choosing from exact, phrase, or broad match types. Advertisers also have the control of setting a daily budget, as well as the campaign duration. While the campaign can be paused at any time it must run for at least 1 day.
With Sponsored Product Ads, your business can manually or automatically target keywords relevant to your target shopper. If you utilize automatic keyword targeting, Amazon determines and targets the most relevant keywords for your products. Like other PPC advertising options, you only pay for your Sponsored Product Ads when a shopper clicks on them. With that feature, Amazon provides your business with maximum control over your advertising budget and bids for keywords.
Who can use sponsored product ads?
Sponsored Product Ads are only available to the following parties:
Professional Sellers

Retail Vendors

Kindle Direct Publishing (KDP) Authors
How do you create a Sponsored Product Ads campaign?
Log in to your Amazon Advertising — also known as Amazon Marketing Services — account

Select "Choose a Campaign Type," then "Sponsored Products"

Choose the products to advertise from a list or by search

Add your campaign name, average daily budget, and campaign duration

Set bids for recommended keywords from Amazon or your custom list of keywords

Click "Launch Campaign"
2. Sponsored brands
Sponsored brands are banner ads that appear at the top of the search results. They were formerly known as headline search ads. They feature the retailer's brand logo alongside three products and are often used to build brand awareness. Retailers can also target these ads to appear above competitors' products, making them a powerful way to capture new revenue.
Sponsored brands can direct shoppers to a product page, a customized landing page, or an Amazon Store – a multi-page, branded storefront. In order to advertise using sponsored brands, the retailer's brand must be verified on Amazon. They help increase awareness around products by driving clicks to a specific Amazon store.
Like other types of Amazon ads, Sponsored Brands follow a PPC advertising model. When a shopper clicks on your ad, Amazon charges your business for the ad. You don't pay Amazon to display it, but you do pay for it when a user clicks on it. Keywords are another component of Sponsored Brands. In your Sponsored Brands campaign, your team targets and bids on keywords relevant to your product. If you sell goat soap, for example, you may target the keyword "cat soap," but not the keyword "goat soap," in your campaign.
This type of Amazon ad also features automatic or manual bidding. With automatic bidding, Amazon optimizes your bids automatically — but only by lowering them, it never increases your bids. If you choose manual bidding, your team or advertising agency oversees your keyword bids.
Amazon displays Sponsored Brands in the following locations on desktop devices:
Above search results

To the left of search results

Below search results

In the Amazon app for mobile users, Sponsored Brands also appear within search results.
Like Sponsored Product Ads, Amazon requires a minimum daily budget of €1 for Sponsored Brands. However, Amazon recommends that you operate your campaign for at least one month, so you can expect to spend at least €30 on a campaign. In most instances, your team will spend more than €1 a day on your Sponsored Brands campaign. Why? Amazon features more than five million sellers, which means you're competing with several other brands to display your advertisement.
It's essential that you place competitive bids for keywords relevant to your brand and product. Otherwise, you won't receive any return on your investment.
How do you create a sponsored brands campaign?
Log in to your Amazon Advertising account

Click "Choose a Campaign Type," then "Sponsored Brands"

Choose your Sponsored Brands landing page, either your Amazon Store or your eligible products

Set your campaign name, bid, and budget

Select your campaign duration and pacing

Add your keywords and keyword bids

Create your ad headline

Upload your ad image, which should be at least 100 by 100 pixels

Submit your Sponsored Brands for review
Amazon approves Sponsored Brands within 24 hours, though it can take up to 72 hours.
3. Product display ads
These ads operate differently than the sponsored ad formats in that they are not keyword-targeted but rather interest or product targeted display ads. The ads appear on product detail pages and are targeted to individual products, product categories, or shopper interests. Display ads can also appear on external sites that are part of Amazon's advertising network and are also priced by a cost-per-click method. Typically, retailers use these ads to build brand awareness or retarget shoppers who searched for similar products.
To get the best possible results with Amazon advertising, it is important to have different channels driving traffic to your Amazon store combined with any advertising efforts. Ads alone often aren't enough.
Product Display Ads use PPC to promote a product by targeting shopper interests or similar products.
Amazon refers to these targeting options as interest- or product-based targeting.
What is the difference between interest or product based targeting?
With interest-based targeting, your team targets shoppers by their broader interests. That helps your company reach a wider audience and build your brand, which can have positive impacts on your bottom line.
With product-based targeting, your team targets similar, complementary, or competitor products on Amazon. It's helpful if you're looking to undercut your opponent's sales or promote your product's usefulness as an add-on purchase.
Compared to Sponsored Brands and Sponsored Product Ads, Product Display Ads take a new approach to reaching your target shopper. Instead of focusing on keywords, this type of Amazon ad looks for similarities between your product and shopper interests, product categories, and individual products.
Like Sponsored Product Ads and Sponsored Brands, however, Product Display Ads operate using a PPC advertising model. Meaning, your company only pays when a shopper clicks on your Product Display Ads. Instead of bidding on keywords, though, you're bidding solely on clicks.
Amazon places Product Display Ads in the following locations:
Related product detail pages

Customer review pages

Merchandising emails
Product Display Ads can also appear outside of Amazon, such as in the following places:
Amazon websites, such as IMDb

Amazon devices, like Amazon Fire TV

Amazon Demand-Side Platform (DSP)
With Product Display Ads, your company can reach a wider audience.
Who can use product display ads?
Product display ads are exclusive to the following Amazon vendors:

Hardlines vendors

Softlines vendors

Supplier Express or Vendor Express vendors

Media vendors

Book vendors

Consumable vendors
KDP authors
Advertisements on Amazon, not only boost impressions and clicks on your products, slipping to higher conversion rates but also improves organic rankings of the products which is an added advantage. Amazon advertising empowers merchants to help push sales in a measurable way that is rarely available on other channels. With some smart structuring and careful analysis, there is a ton of potential for merchants willing to invest in these ad platforms.
Step 3

: Optimize your sales
How do I win the Buy Box?
To start selling on amazon is relatively simple, but how do you optimize your product listing and generate more sales? By optimizing your product listing, you are increasing your chance of winning the buy box. Based on all the factors that Amazon takes into account, you get a "shopscore". This score will give you an idea of how optimized your product listings are and the chance of winning the buy box.
You have specialized online marketers that are focused on optimizing every product listing on Amazon to generate more sales. However, a lot of companies don't have this expertise in house. Luckily, you can use a good recpricer to automate your product listings and bids.
Step 4:

Get to know Amazon exclusive brands and private label brands.
What are 'our brands' on Amazon?
Amazon has employed multiple tactics to expand the exclusive products it has to offer consumers. It is among these efforts that Private Label and Exclusive Brands emerged. Amazon describes both its private-label brands (those owned by Amazon) and its exclusive brands (those owned by a third party but only sold on Amazon) as "Our Brands" on its websites.
According to a TJI Research in January 2019, (a firm specializing in Amazon analysis and insights), Amazon has 135 private-label brands and more than 330 Amazon exclusive brands across several of its largest categories, including technology, clothing, and household products.
With Amazon's Exclusive and Private Label brands, it can easily access all the data on products and performance. This is seen as a great advantage as it enables it to spot gaps in the market and pinpoint which products to launch and at what price. Here is the difference:
Private labels
With private-label brands, Amazon trademark, develop, produce, market and distribute products on its own. Amazon's range of private-label brands offers customers better pricing while forgoing name recognition and often glitzy packaging. Private label brands will feature either "Prime" or "Amazon" in their brand names (an example is AmazonBasics). In some cases, the brand name will just contain a plain and explicit statement regarding the fact that they're Amazon-affiliate. The product titles of some items may read "Amazon Brand – (Insert Brand Name Here)."
Amazon-exclusive brands
Amazon-Exclusive Brands are brands that are advertised by Amazon using an "Our Brands" tagline but that are not owned by Amazon itself. Exclusive brands let Amazon shoulder some of the work, and resources, required to roll out new products. The brands that are a part of this program do not offer consumers 100% refund guarantees should they be dissatisfied with their items; private label brands do.
Step 5: Understanding Amazon lingo
Understand all the relevant terminology
The vocabulary of Amazon can be complicated for outsiders. This is why we have put together a definition list of common terms, programs, and acronyms that are related to selling on Amazon.
ASIN stands for Amazon Standard Identification Number, is a unique 10 character alphanumeric identification number allotted to each type of the product by Amazon. The system helps users to operate on advanced search and get results in no time.
Each seller and Vendor has to find ASIN of their product, missing this will not allow Amazon search engines to find your products. ASINs change with the marketplace for the same product i.e. selling glass chairs in the USA and UK will have different ASINs even if the product is the same (glass chairs in this case).
Amazon gives products a score based on their sales, this is the Best-Seller Ranking. Amazon created this to show the rank of products in (sub)categories. As a result, this brings attention to popular products.
This is the icon you click on when you want to add a product to your shopping cart. More sellers sell the same product, but only one can get the buy box. Who gets the buy box? The seller with the best price, product information, good reviews, and fast delivery. When you get the buy box, you will sell a lot more than other sellers.
Buy-One-Get-One Promotion (BOGO)
An Amazon promotion template which allows you to offer two products for the price of one to spotlight a new product or to get your current customers to buy differently.
A tax levied by a government on imported and exported goods and services
This program gives customers the chance to review the product they have bought, whether it's in a positive or negative review. The Early Reviewer Program helps to confirm social proof of those products and which stimulates the sales.
Enhanced Brand Content (EBC)
This feature helps brand owners to change the descriptions of ASIN's. This makes it able for sellers to add a description to their product in a new way with images, text and a brand story. The Enhanced Brand Content is only available for Professional sellers which use the Brand Registry.
A division of restricted products locked to sellers without prior approval from Amazon.
Conclusion
Amazon is a marketplace where every e-commerce seller can expand their marketplace, and it's the first place people go to search for a product. The marketplace Amazon brings a lot of opportunities for sellers. If you plan to sell on Amazon, it is important to know how this marketplace works, because there is a lot of strong competition between sellers. There are several types of Amazon seller accounts and payout options you can choose from. To achieve the highest sales volume, you have to make strategic choices. Besides that, advertisements are necessary to draw attention to your products. A full product description can't be forgotten. The more information you give about your product, the faster consumers will find this product on Amazon. You can also use online tools, such as ChannelEngine to manage all your product listings and start winning that buy box.