25 August 2020
GUEST BLOG: BetterAMS Amazon Advertising Checklist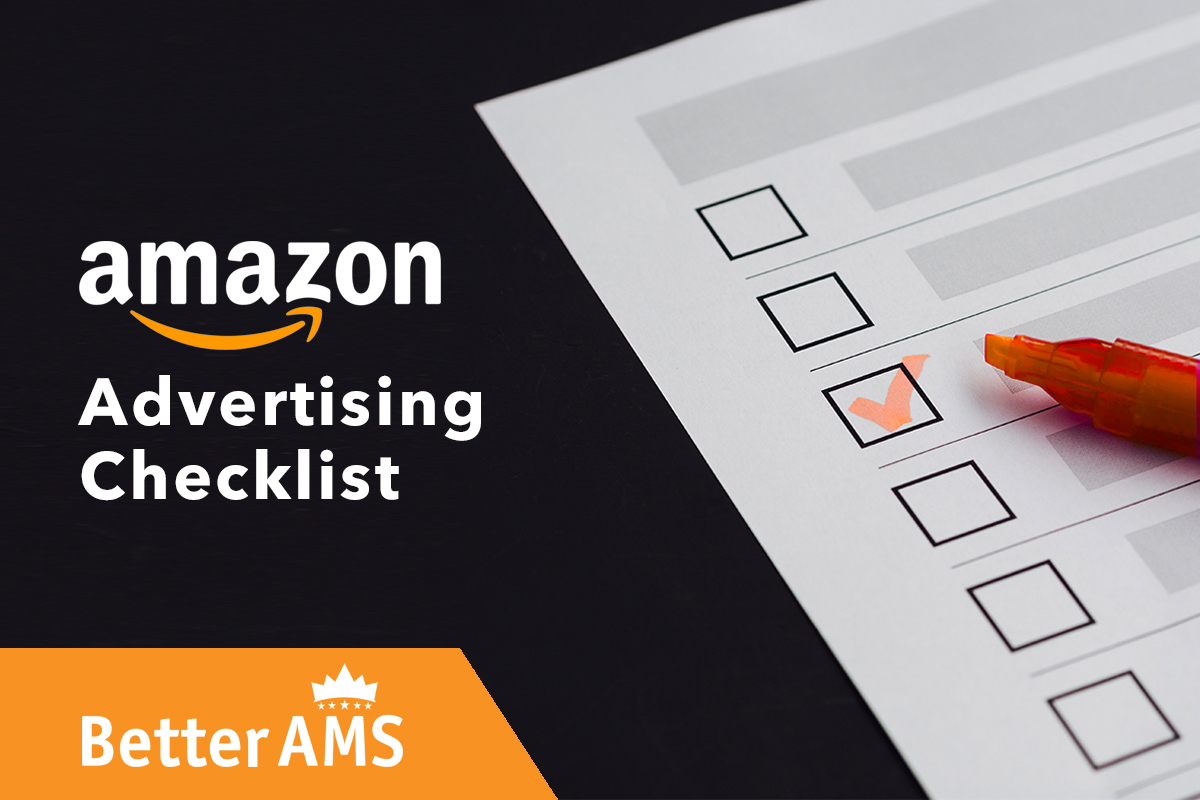 Amazon Advertising at scale is not easy. For anyone's unique product, there are at least 50 different campaign strategies that can be run. To make sure you are covering all of your basis, BetterAMS put together an updated list of the foundational strategies and quick tips we use for every single unique product grouping.
Brand Protection Campaigns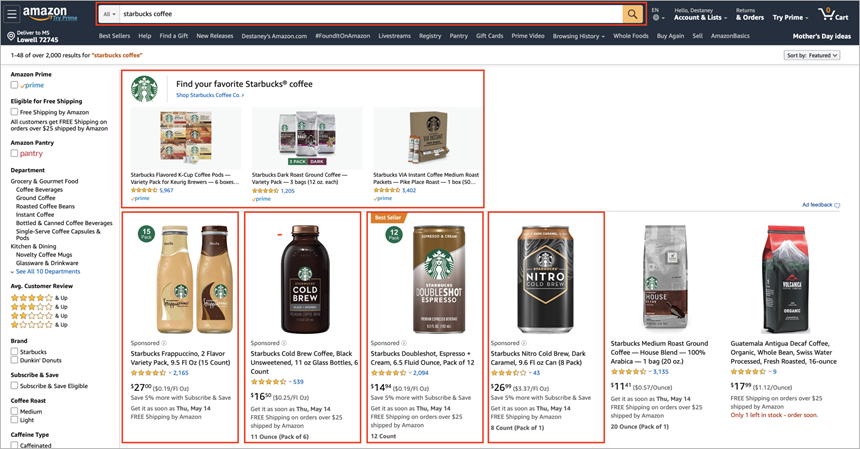 If someone is searching for your brand name, and you are not winning the headline search ad, and the top sponsored product placements, the first listings a consumer will see will be your competitors, regardless of your organic rank.
You need to protect these placements.
Strategy
We create specific brand defense campaigns in Sponsored Products, Sponsored Brands, and Sponsored displays. The goal is to run them in tangent with each other and make sure we are winning all placements that include our brand name.
We like to run Display product targeting ads (or ASIN targeting ads) on our own listings to showcase the rest of our brand to consumers and protect those placements from competitor ads.
If you are bidding on top of the funnel brand name terms, test driving the traffic to a store page or a store spotlight page.
Target the same keywords with different products to win multiple sponsored placements and to showcase your whole line or products (Like Starbucks is doing above)
Quick Callouts
Do not combine your branded keywords and non-branded keywords in a campaign. Keep these keywords separate to better analyze performance from a high level and make budget allocation more precise.
"If they are already searching for my brand name, won't they convert on my organic listing?" - Possibly. But I don't want to take the chance of them converting on a competitor listing if that is the first thing they're seeing when searching for my product.
Branded campaigns are low cost and high conversion. That's a small price to pay to maintain market share.
Ranking / Indexation Campaigns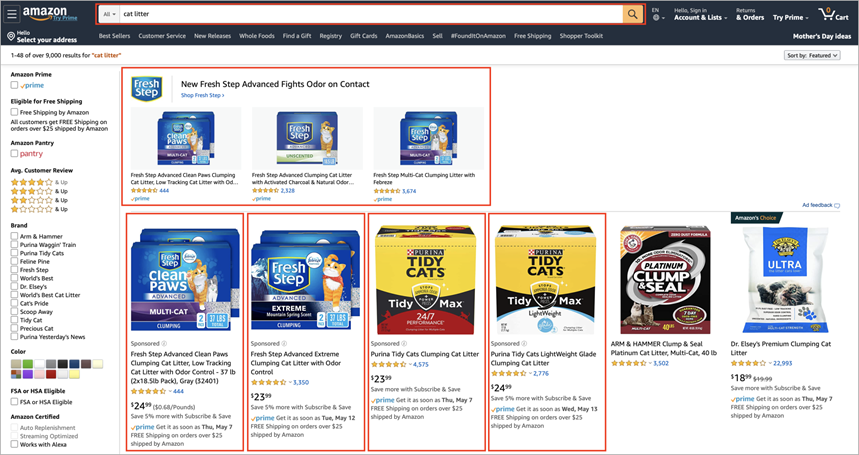 PPC plays a role in your organic rank and indexation. At its core, you want to drive as much traffic as financially possible to all of your high traffic, top keywords.
Strategy
Have a separate campaign focusing on your high impression, ranking keywords to better control the bids and budget for those keywords. If you have your strongest keywords mixed in with your long-tail keywords, performance will be skewed, and you won't be able to distribute your budget to the right keywords appropriately.
Our focus for these campaigns is less on profitability, and more on sales and keyword conversion rates. We are typically willing to break even on these campaigns to drive as many orders as possible for our top keywords. Ideally, we make up for the lack of profitability with our other ad strategies.
Quick Callouts
You will hear many, many, different recommendations on the best way to rank through your Amazon Advertising. No one size fits all solutions to ranking. Test and find out what works best for YOUR brand.
If you have a highly competitive, top-ranking product, you can bid on more competitive keywords, and push for the top of search bid adjustments. OR if your product, or your budget, just can't compete for those top keywords, look for longer tail keywords that you can really help drive rank at lower CPC's and spend.
Keyword Research Campaigns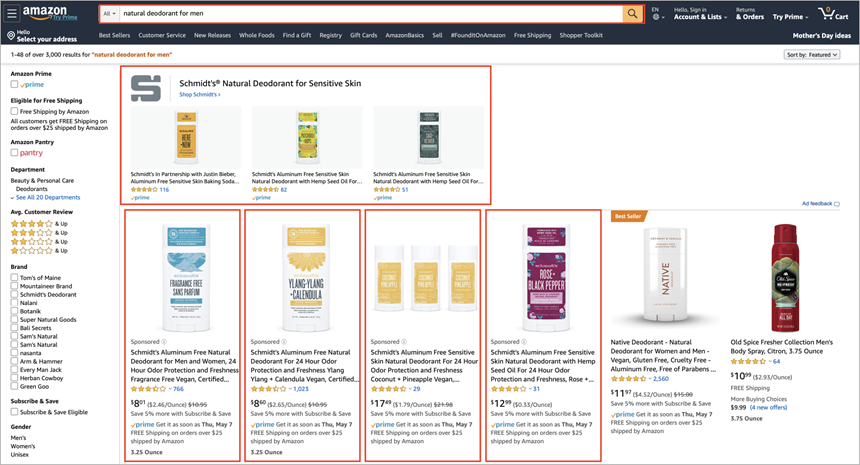 You must invest time in your keyword research. Investing in long- tail keywords allows for lower CPC's, highly profitable conversions, and the opportunity to win more market share. It is arguably one of the most valuable strategies in Amazon Advertising, and the process is ongoing.
Strategy
You have unlimited potential for finding new keywords. You just have to put in the work. Last month alone, we had 812 unique search terms drive at least one order, all for the same product. Your consumer is creative, check out some of the searches that lead them to your listing!
Test in all match types. And give your keywords enough time to collect data. With the correct bid and enough time, you can make most relevant keywords profitable.
Check out the screenshot above. Schmidt's can dominate all top of the search for the longtail keyword "natural deodorant for men." If Schmidt's were to attempt this for the keyword "Men's deodorant," it would more than likely be MUCH more expensive with suggested bids upwards of $12 for that term. That may be sustainable for Old Spice, but not likely for others.
Quick Callouts
We test in all match types from the beginning—one part due to data collection, another part due to higher impressions, and more search terms.
Just because a keyword does well in an auto campaign, or a certain match type, does not mean it will do well if you move it or try to replicate those results elsewhere. It is almost impossible to directly replicate the variables that lead to a particular keyword's success from one placement to another. Conversion and competition are always changing.
Competitor Targeting Campaigns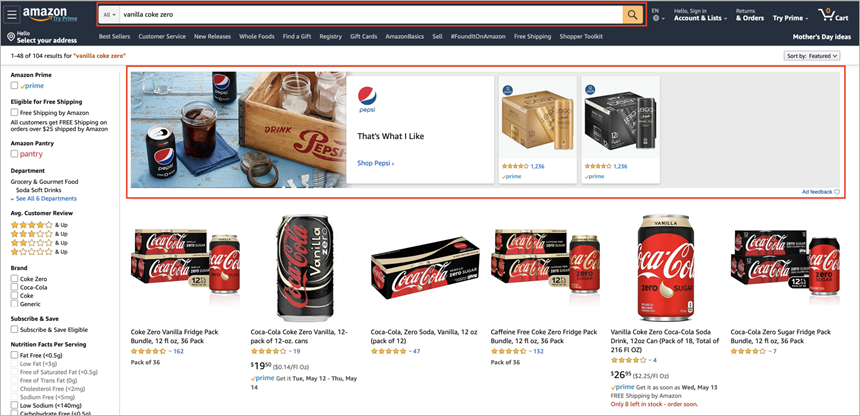 Targeting your competitor's keywords and ASINs is a great way to win market share and increase brand awareness. Like Pepsi is doing above.
Strategy
Bid on your competitor's brand name keywords in both Sponsored products and Sponsored brand campaigns.
Utilize any of the available tools to pull a list of top-ranking ASINs for your major keywords. Then, target those ASINs with a Display Product Targeting ad. (Pro Tip - Advertise your coupons through Product Targeting ads to increase CTR and Conversion).
Play around with category targeting and the refine feature to target competitors with a competitive advantage over.
Run Sponsored Product competitor ASIN targeting, Sponsored Brand competitor product Targeting, Sponsored Brand competitor keyword targeting, Sponsored Display competitor product targeting, VIS competitor keyword targeting…
Quick Callouts
Your ads may not receive impressions for your competitor's brand names early on, but continue to let the ads run in the background and play around with bids and budgets to get the keywords to stick.
If you have the option to run ads under the Advertising Console, run your Display product Targeting ad from that platform to gain the ability to write copy.
Auto Campaigns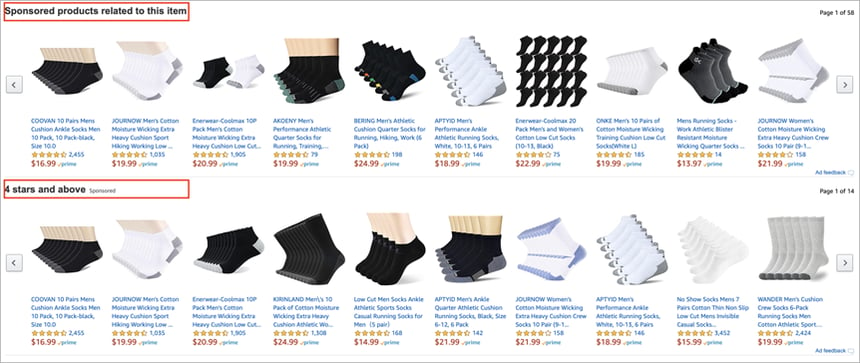 Auto campaigns have the most ad inventory, typically convert well, and act as an evergreen keyword research method. There is really no excuse not to have at least one auto campaign running per unique product grouping.
Strategy
We typically recommend running at least one auto campaign per unique ASIN.
If you want to get super incremental to have better control over auto campaign performance, you can run four auto campaigns per unique ASIN. One auto campaign per targeting type - Close match, Loose match, Substitute match, Complements match. We often run this strategy to improve control over where our auto campaign budget is being distributed to, and to make sure we can scale each individual targeting type.
Quick Callouts
Close match and Loose match will drive search terms in your STR.
Substitute match and Complements match will drive ASINs in your STR.
Make sure you optimize your targeting groups closely. Usually, one of them performs much better than the others, and you can cut wasted spend by adjusting bids or pausing the hemorrhaging targeting type.
We do not negate keywords we pull from auto campaigns and put into manual campaigns (Why stop something that is working).
We will negatively exact a keyword if it has ZERO relevance. For example, if I am advertising an iPhone charger, but I am showing for Android phones.