22 April 2020
Selling refurbished on marketplaces, how big is this opportunity?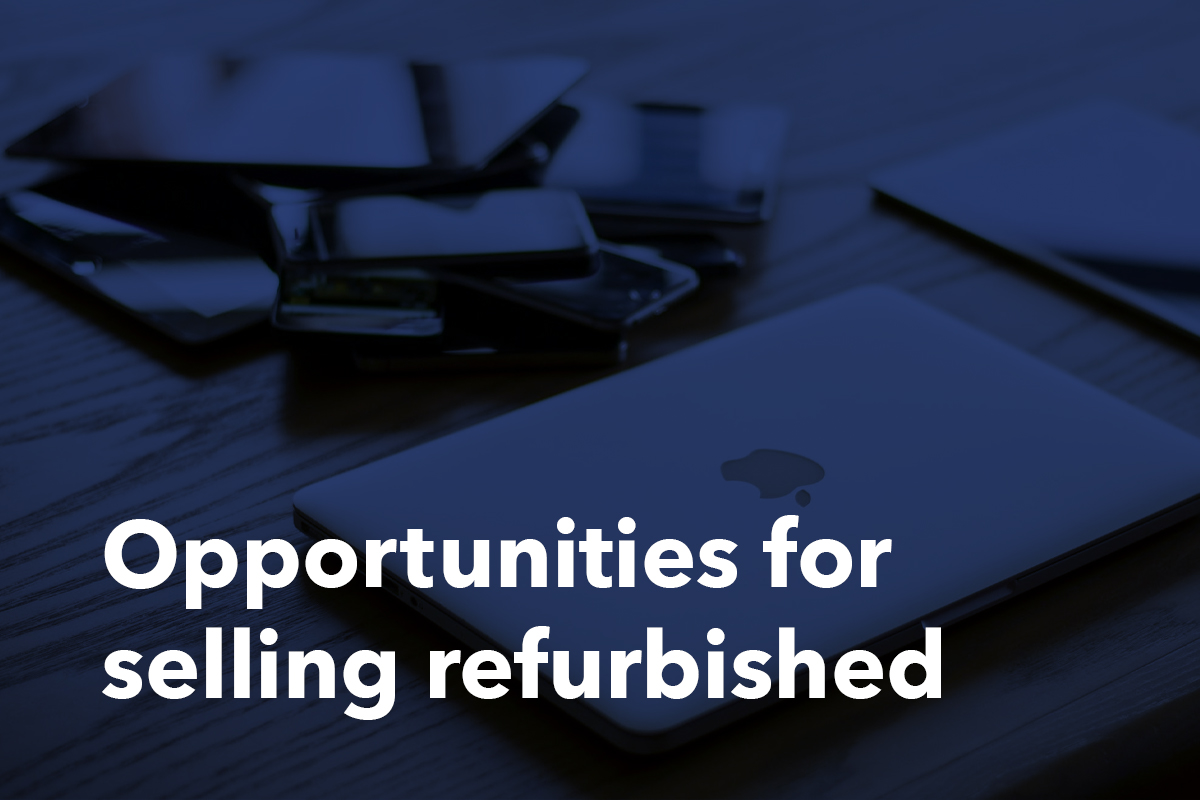 Selling refurbished products on marketplaces is growing rapidly. The refurbished electronics market is bigger than you might think. It is currently valued to be a $10 billion industry—and that's only expected to grow as consumers realize that refurbished cell phones, laptops, and TVs can provide quality products at more affordable price points. Looking to tap into the growing refurbished electronics market? In this article, we will explain what refurbished products are, which sales channels there are, and how to use them effectively.
What are refurbished products?
Refurbished devices are pre-owned consumer electronics that have been restored to a condition to be sold again. With the ever-changing consumer preference on consumer electronics, there are several devices that returned or exchanged. This tendency leaves companies with various conditions and models of consumer electronics.
Consumers are currently buying and plan to continue buying used devices. These products are readily accepted as an option for electronics. Despite traditional taboos, refurbished products are becoming a viable option for modern-day consumers. Consumers are trying to save money on their devices by finding alternatives to purchasing new.
There are many benefits of refurbished products and refurbishing in general. Probably the biggest one is "Sustainability" as the overall electronic waste, which we produce through destroying used products, as well as that the usage of raw materials, will be drastically reduced.
While consumers are price-conscious, they are also clearly concerned with the way their buying behavior impacts the planet. More importantly, many consumers understand there is a connection between buying refurbished products and being sustainable. Companies who understand that consumers are motivated to be green and emphasize this quality of the refurbished product in an honest and transparent way
Marketplaces for refurbished electronics
Marketplaces are catering to the growing consumer demand for refurbished products globally. There are many opportunities for you as a seller. Generic marketplaces developed focus segments for refurbished electronics, some of these marketplaces even reporting that more than 30% of their electronics sales is coming from refurbished products. Specific refurbished landing pages are a perfect example of this. Amazon has a unique renewed section as well as well known marketplaces eBay and Fnac.
New marketplaces BackMarket and Refurbed are fully focused on giving products a second life. These marketplaces are growing rapidly. Refurbed recently raised 17 million in funding, BackMarket added 48 million to its capital to expand globally.
Refurbished specialist?
Sell even more on marketplaces
How to sell on these marketplaces effectively
To be able to sell refurbished products on marketplaces has some unique challenges that can be solved by using a marketplace integration platform.
Here is an overview of the challenges you face when selling refurbished products:
Specific products have various condition levels that need to be mapped to meet the marketplace requirements.

Limited stock per item. Selling products with limited stock on multiple marketplaces at the same time requires advanced automation to connect orders to your systems, and synchronize stock levels between the various marketplaces. That means, adjusting stock levels on all marketplaces as soon as an item is sold on one of them, avoiding double sales and unwanted cancellations.

Manage your product margin over different marketplaces based on the selling price and stock levels.
Requirements, condition, and content
To sell refurbished goods on marketplaces, you need to meet some strict requirements. You can find how to qualify to sell on Amazon Renewed via this link. Also, Back Market and eBay specified requirements you need to meet before being allowed to sell.
In short: These marketplaces (as well as Fnac and Cdiscount) require professional product checks and a warranty for your refurbished offer. One thing to watch is the agreement between Amazon and Apple. You need to be an Apple Authorized Service Provider to list your products on Amazon Renewed, and the implemented T2 chip ensures that the device will be locked if it is repaired by a third-party. Your company can sign up to become one here.
Refurbished products are available in various condition grades, providing accurate information on the product condition and linking them to the right condition type on the marketplace will result in more satisfied customers. Confidence in the product being sold is also a relevant factor. When buying refurbished, in a recent survey, 68% admit that warranty information is vital, which demonstrates that the seller that is willing to back the quality of its refurbished products for a given amount of time. This statement often separates the quality of refurbished products from non-quality products in the eyes of consumers.
Automation
Getting the best out of all these different marketplaces in an effective way can be done by connecting your systems to a marketplace integration and management platform that gives you the tools to handle order management, content mapping, stock synchronization, and price management at scale.
Refurbished marketplaces on ChannelEngine:
Join our webinar to learn about possible solutions