25 August 2020
Interview with Jorrit Steinz: Digital marketplace trends in Q3 and Q4 2020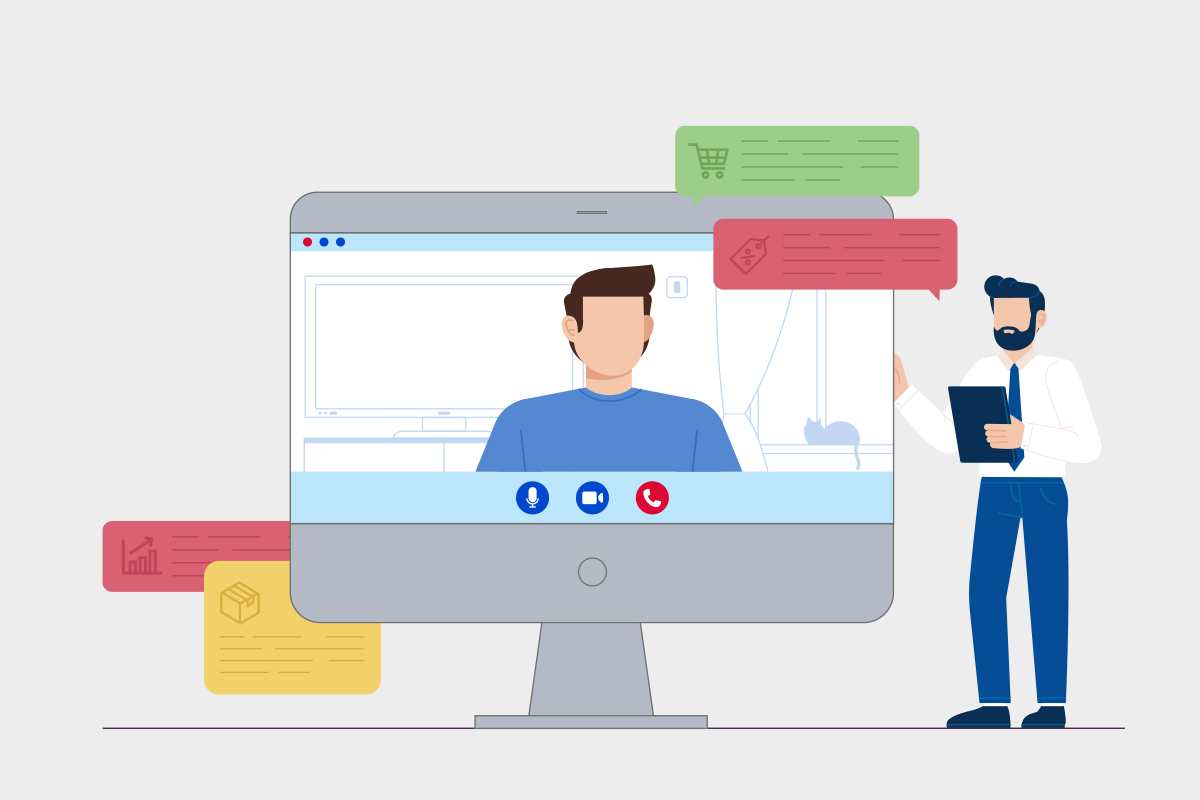 Since the beginning of 2020, sheer eCommerce businesses in Western and Central Europe showed constant fluctuations in their weekly growth rates. Throughout February, the percentage change in revenues was mostly under 40 percent. However, April brought a year-over-year increase of up to 75 percent. The highest growth in revenue took place in the week ending May 17.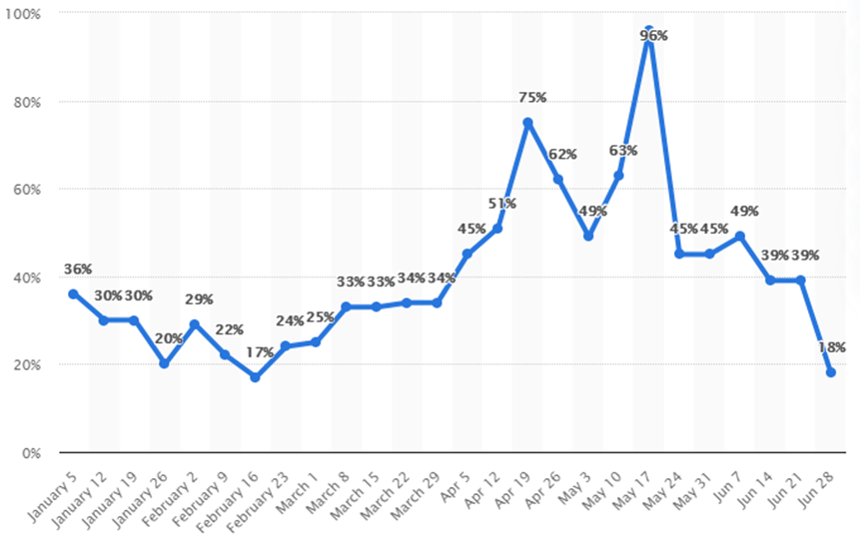 Figure 1. Year-on-year weekly growth trend in the revenue of online-only retailers in Europe from January to June 2020
What business strategies will work in the coming weeks and months? How is the e-commerce landscape changing? What trends are foreseeable? We spoke with Jorrit Steinz, CEO & Founder of ChannelEngine.com.
Q 1: How do you see B2C marketplaces behaving towards their seller partners?
Steinz: Most B2C marketplaces are currently more flexible in their requirements. Think relaxing delivery times or even lowering fees—something eBay has done temporarily.
On the other hand, Amazon ran into serious fulfillment problems. Due to the sudden increase in demand, they responded by prioritizing the fulfillment of essential products in Amazon warehouses.
It was a big blow for the users of the FBA (Fulfillment by Amazon) program whose products weren't deemed essential. It pushed the latter to use their own warehouses or 3PLs (third-party logistics providers).
We've helped many brands and retailers shift towards the marketplace seller model in the last few months. It helps them become more independent from Amazon and gives more options going forward.
A lot is happening, so it's best to follow your marketplace policies carefully and to act immediately.
Q 2: What about B2B marketplaces? Any trends that stand out?
Steinz: There's a massive opportunity for a global B2B marketplace catering to all verticals. The main reason? The B2B space is less developed than B2C and the revenues are even higher.
B2B is usually more complex, so it's not hard to see why. Tiered prices and specific pricing terms are common. And don't forget that sellers and buyers in many verticals are still used to working with quotes.
We see initiatives like Amazon Business gaining traction, and there are several specific marketplaces for all kinds of industries. But overall, it's far from where it can be.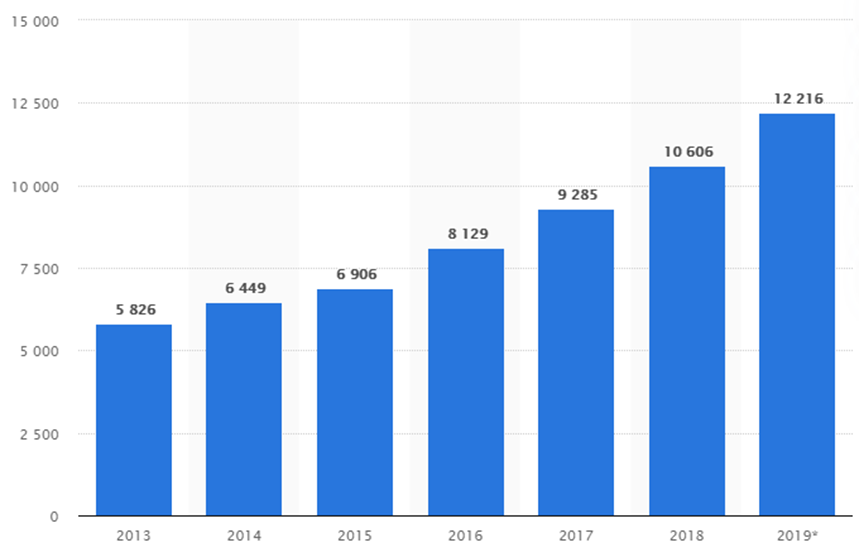 Figure 2. Global B2B e-commerce gross merchandise volume (GMV) from 2013 to 2019 [Source]
Q 3: What's the main effect on B2B/B2C marketplaces of all the lockdown measures we've had so far?
Steinz: We see an increasing number of brands moving faster than ever to sell directly to consumers via marketplaces. Don't get me wrong, it was already happening before COVID-19 happened, but the lockdown measures have had a catalyzing effect.
Those measures sped up decision making across the board, from small companies to global brands.
Q 4: And for the seller partners on the marketplaces? Anything that stands out?
Steinz: Many different categories of products have increased their sales.
As you may have guessed, this applies to categories like toilet paper and food but also medicine and water.
Another category seeing their sales increase significantly during the lockdowns is health & entertainment at home. Think fitness equipment, protein powders, board games, kids' toys, and games.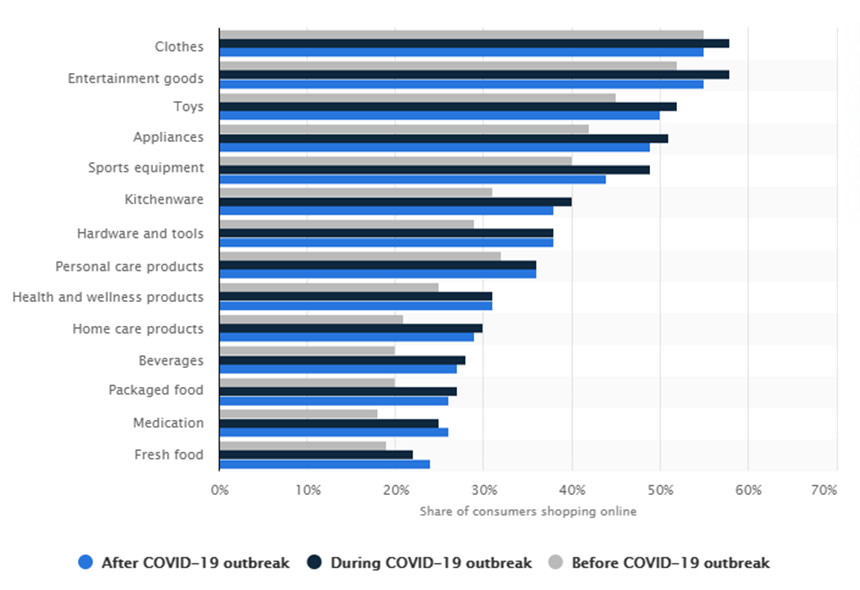 Figure 3. Online shopping behavior before, during and after the coronavirus outbreak in the Netherlands in 2020 [Source]
Q 5: How do you view the trend that places like Pinterest, Instagram, and WhatsApp are becoming order channels?
Steinz:This is a long-term trend. Instagram and Pinterest are already driving many e-commerce sales, especially for fashion, home, and garden products. Beware, though, these sales are usually impulse buys driven by inspiration.
These places are slowly turning into marketplaces because the orders are placed, and the money is collected on, say, Pinterest, after which they send the order info to the sellers. It's the same playbook Amazon uses and will have a big impact on clicks driven to D2C shops.
Q 6: What's the best advice you can give new B2C sellers or brands?
Steinz: Sellers need to make sure they either have a very unique and desirable product or go out of their way to scaling their operations and optimize their margins as a result.
Scaling sales and operations will in turn enable sellers to purchase products against an optimal rate while automating as many processes as possible to decrease operational and fixed costs per shipment. And most importantly, make sure you can ship fast and reliable.
For brands it's essential to position products on all relevant marketplaces by optimizing the content and promoting the product in categories and relevant searchresults.
Brands need to transform themselves from vendors to sellers to succeed. They can start in a hybrid mode if necessary and switch to being a pure seller later on. But don't wait. You'll have to do this sooner or later. Your survival should be of the sooner variety.
Q 7: What advice can you give someone starting in B2B right now?
Steinz: Make sure you are ready for digital and international sales. A great start would be implementing a Product Information System (PIM) and using a channel integrator to distribute your product information to your resellers and marketplaces.
Conclusion
I. Although most marketplaces partially loosened up their partner policies, make sure you utilize them, and have a backup strategy ready for the coming months.
II. B2B has a massive opportunity for a global marketplace catering to all verticals:
The global lockdown measures will most likely contribute to further sales of the current popular categories (such as groceries or health & entertainment).
Make sure to tidy up your presence on platforms like Pinterest or Instagram, which are steadily becoming more important for ecommerce.
If you're a newbie to marketplaces and D2C, implement a PIM, and have a marketplace integrating platform in place.
III. Regardless of your ability to provide unique, highly desirable products, automation is the magic word for new B2C sellers and brands.
Still have questions? Ready to get more out of your marketplace strategy and become more competitive? Don't hesitate to contact us or request a demo.