28 May 2021
How to succeed selling on Zalando (PART 4): Expansion & conversion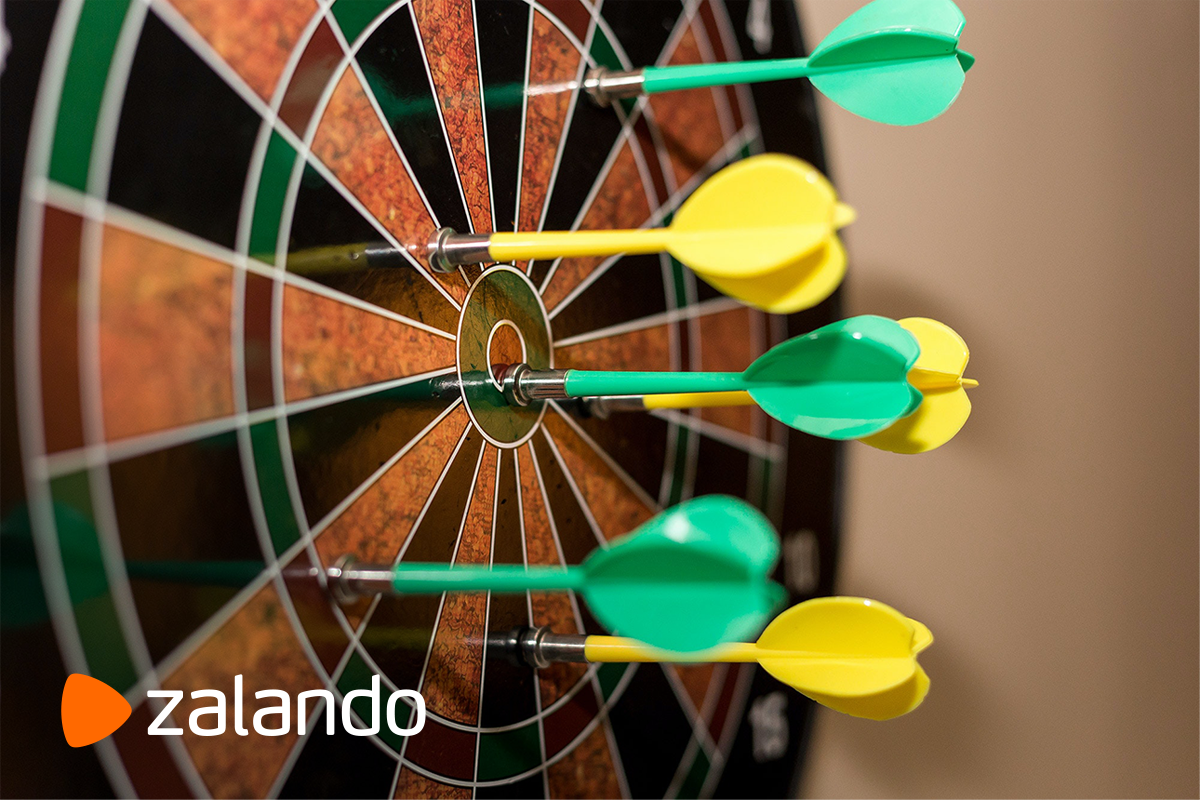 Zalando is the biggest fashion marketplace in Europe and should be a top-priority target for advanced sellers who want to expand sales. By increasing your sales via Zalando, you will reach the most potential customers, and you'll be well-prepared for future market expansion on new, additional marketplaces.
Zalando expansion checklist
Zalando makes it pretty easy to expand sales throughout Europe. If you are already selling in one of their main markets (like Germany), the process is even more straightforward. However, you should still retain control of what you as a brand choose to sell in each area and ensure this is justified with a sound business case.
Required Carriers and Fulfilment
This is a key point. Zalando has a list of required carriers for each country for delivery and returns (it can differ). So you need to make sure you have contracts with these carriers before you start selling to new countries, or you can use one of Zalando's fulfillment options, ZFS or ZSS.
ZFS (Zalando Fulfilment Service)
This is a total fulfillment option, with (at least) part of your stock warehoused and sent out by a Zalando fulfillment center. This requires some more work from the stock management side, and you need to evaluate if this is the best option for each SKU, but it guarantees service standards, and customers appreciate this.
ZSS (Zalando Shipping Service)
This is a re-shipping (cross-docking) option, which requires you to dispatch the order from your own warehouse to Zalando in Germany, from where it is sent to the customer. This can alleviate some of the difficulties of arranging contracts with multiple carriers to serve every country.
Shipping Templates
Your shipping templates will need to be translated into the required languages and formats for each country. Address formats can vary from one country to another, and return slips will need to match the requirements for each destination country.
Product Content Translation
Your primary content information should be available in German or English, and these can then be easily translated for each new market you expand into. Zalando can translate content for you, but it is worth checking this afterward for accuracy. Unlike Amazon, there is less choice about the words used in the product title, but this should reflect how your customers are looking for your item and align with internal processes.
Prices
Consider the currencies for each country you're expanding into. Your prices will need to be converted into EUR, SEK, DKK, GBP, and CHF. Thankfully ChannelEngine can help make this easy and profitable by automatically converting and rounding up favorably, based on your preference. This is based on a live currency price, which is regularly updated.
Go-live Strategy
Your launch is super-important and needs to be considered carefully because you only get one opportunity to launch.
Look carefully at each specific target market and think about how to have the most impact. This may mean special 'launch' pricing such as a discount or some other kind of event or offer that captures the attention of your new customer base. Zalando customers can become loyal repeat clients if you can make an excellent first impression. It has been seen many times over that the traction you get initially defines the commercial success in the longer run.
Zalando conversion
The new Zdirect Dashboard gives retailers valuable analytics that can help improve sales and optimize profitability.
Perhaps the most significant metric is the Conversion Rate because it can give a clear indication of when improvement is needed.
You should start monitoring this from the outset to see the effects of changes over time and understand your relative sales performance. It is extra important to benchmark your conversion rate concerning the product category – because the variation can be huge. As a general rule, most categories have a Conversion Rate between 4 and 5%, but this can be much higher or lower depending on the category.
If you are not happy with your conversion rate, you should go through a quick content Checklist to make sure you are up to scratch.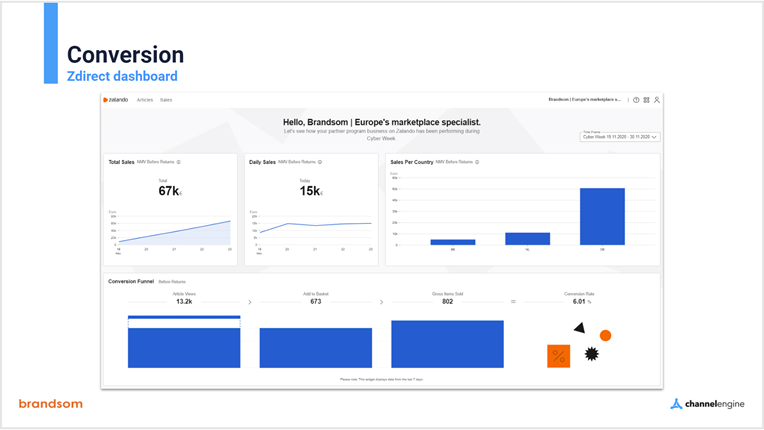 ​Image 1. Zdirect dashboard.
Zalando content checklist
Product Defining Attributes
These are the key bits of information that help customers to find your product based on what they are looking for. You need to pay attention to this and make sure the correct attributes are in place to get listed in all the right categories and filters.
Think carefully about each item and how it is going to be used. This is especially important for sportswear which might be very specifically-filtered, based on the sport or style.
The material or technology can occasionally be an essential part of this, especially if it is a part of the brand identity, but in any case, it is easy to imagine someone looking for a jacket to filter results by 'waterproof' or include this in their search. Zalando will not psychically know that your jacket is waterproof if this is not included in the product attributes, even if it is in the description. If your item is a recognized brand, this should also be a part of the title and attributes. You don't get much freedom with the keywords used in titles, but this kind of detail can make all the difference.
Images
There are limitations on the images you can use, partly due to COVID restrictions. Rules will always change somewhat over time, so you should check on the current regulations and see if this might affect your conversion rate. There are specific 'product views' that may be needed for different product categories too. Making sure your images compare well to top-performing peers can be a good way to gauge if there is anything obviously wrong.
Sizes Grids and Size Advice
Product size is a major factor in product return rates, and the failure to give accurate or clear size advice can lead to suboptimal customer experiences. If a customer is uncertain about the sizing, they may order multiple sizes and return them after choosing the right one at home. This will affect your metrics and erode margins.
You can avoid this by giving detailed size advice using the "special text" field. Remember that customers in different countries will be familiar with varying grids of size, so give a conversion that will help them choose the right fit for them.
The fashion segment will continue to grow in the next few years, with more than a third of sales going through the online channels. Don't hesitate to contact us or request a demo.
Are you interested in more tips on how to sell on Zalando? Check our previous article about Logistics or the following article about Pricing, returns & marketing.